Why You Shouldn't Use WD-40 to Lube Your Locks
by Team eLocal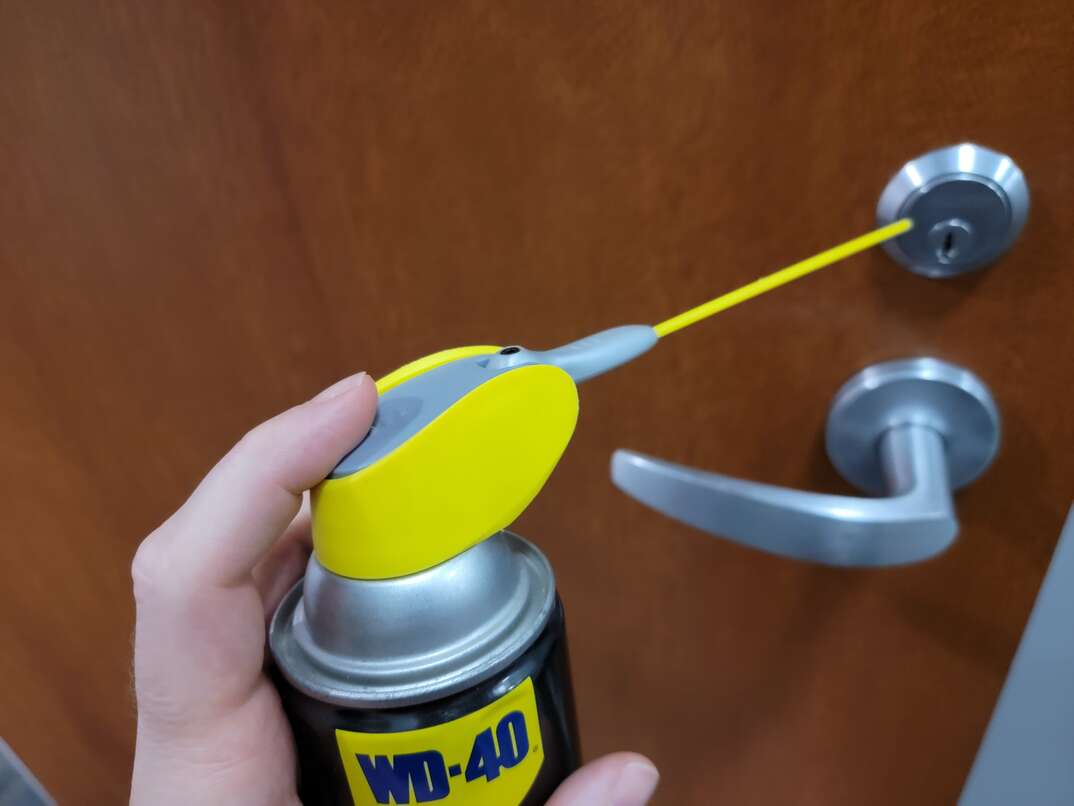 Of all the products designed for home maintenance, WD-40 is one of the most versatile. There are multiple uses for WD-40, from softening leather to cleaning stainless steel and even lubricating snow shovels. However, one task this hero product can't do is lubricate locks.
If you rely on WD-40 to fix squeaky door hinges, it stands to reason that you could also use it to lubricate a sticky lock. But that's not the case. In fact, using WD-40 for this purpose could have a negative effect.
Why Can't You Use WD-40 on Your Locks?
Understanding how WD-40 works can help you understand why you should never use it for locks. So, what is WD-40?
WD-40 makes several products, but most people use the term WD-40 to refer to the company's multi-use product. Multi-use WD-40 is actually a solvent that removes water and oil, so it isn't a true lubricant. However, it's great for cleaning dirt and other substances off tiles, metal and leather.
When you apply multi-use WD-40 to a lock mechanism, it can remove any preexisting lubricant and dry out the lock. Therefore, it may actually increase the likelihood of the lock sticking. It can also create the ideal conditions for dust and dirt to accumulate, potentially leading to stuck lock pins.
More Related Articles:
What Should You Use to Lubricate Locks Instead?
The ideal lubricant for locks is one that repels water and dust. These lubricants protect the lock against rust caused by moisture and can prevent dirt and grime from building up inside the mechanism and causing it to stick. Dry or aerosol Teflon-based lubricants are ideal for this purpose.
Alternatively, you could consider a graphite-based powder or liquid lubricant. Liquid graphite lubricants work well in cold climates because they can prevent locks from freezing, while powder lubricants are easier to apply. In a pinch, you can even rub a graphite pencil tip over your key and insert it into the lock to lubricate the mechanism. However, powder lubricants can form a paste-like gunk when exposed to moisture, so they're not a great choice in humid climates.
While the original WD-40 formula is unsuitable for locks, the company produces a specialist lubricant that resists moisture and dust. You can use WD-40 specialist lubricant on virtually any lock type.
Elocal Editorial Content is for educational and entertainment purposes only. Editorial Content should not be used as a substitute for advice from a licensed professional in your state reviewing your issue. Systems, equipment, issues and circumstances vary. Follow the manufacturer's safety precautions. The opinions, beliefs and viewpoints expressed by the eLocal Editorial Team and other third-party content providers do not necessarily reflect the opinions, beliefs and viewpoints of eLocal or its affiliate companies. Use of the Blog is subject to the
Website Terms and Conditions.
The eLocal Editorial Team operates independently of eLocal USA's marketing and sales decisions.