8 Benefits of Installing Smart Locks
by Team eLocal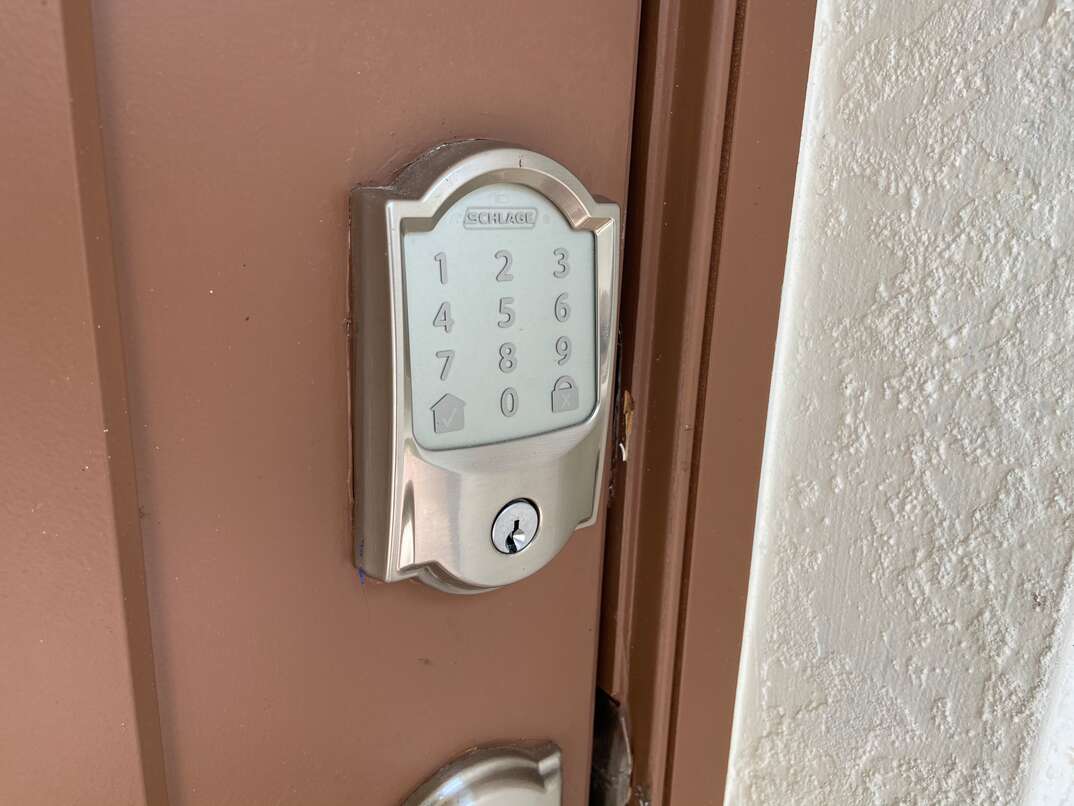 Nowadays, seemingly mundane household items are getting a smart makeover. From lighting and security systems right down to kettles and microwaves, integrated Wi-Fi connectivity is revolutionizing the way many people use their homes.
Installing smart locks can add an extra layer of convenience and security to your home, and some of the benefits might surprise you.
8 Reasons to Install Smart Locks
1. Improved Security
Many smart locks let you keep track of who enters and exits your home via a smartphone app, and you can even receive notifications when someone unlocks the door. You can also change the passcode if you're concerned about security without the hassle of changing the locks or having your locks rekeyed.
Keyless entry smart locks are also more secure than traditional mechanisms because they stop potential intruders from getting to the deadbolt. Therefore, it's much harder to pick or tamper with a smart lock than with a regular model.
2. Smart Home Integration
Another key benefit of installing smart locks is that you can integrate them with other smart home systems via Wi-Fi. Connecting your lock to your smart security system can make it easier to detect unauthorized access or other suspicious activity around your home. Some models let you automate functions like turning the lights on whenever someone opens the door.
3. Smartphone Control
Controlling your smart lock via your smartphone means you can lock and unlock your property from anywhere, even if you're miles away. You'll never need to dash home again if you can't remember whether you locked the door or not. Instead, you can check the lock's status on your phone and lock the door remotely to keep your home secure.
4. Keyless Access
A smart lock could provide the ideal solution if you're always forgetting your keys. Traditional methods for preventing lockouts, like hiding a spare key under the doormat, can be risky because they may help an intruder access your house. A smart lock lets you get inside your home using the code without compromising security.
Another advantage of keyless access is that it makes it easy to give friends and family access to your home while you're away. For example, giving a trusted person the code means that they can come in and feed your pets without getting a spare key cut. Some models even let you limit access for specific users to particular days so you're not handing over unlimited access to your property.
5. E-Key Capability
Many smart locks let you create E-keys so you can grant access to your home on short notice. For example, you could send an E-key to a delivery driver if they arrive while you're out, set one to be active when the dogwalker needs in or let an estate agent in to show your home to a prospective buyer without being there in person. You can create as many E-keys as you like and delete them when you no longer need them, making it a cheaper and more secure alternative to handing over a spare.
6. Accessibility
Sometimes, older adults or people with certain illnesses and disabilities find it hard to unlock a regular door lock. Installing a smart lock can make it easier to gain access to your property if you struggle to use a key. Some smart locks let you open the door using your fingerprint if you're unable to enter the code manually.
7. Multiple Designs Available
Whatever your aesthetic preferences, you should be able to find a smart lock design to suit you. Some smart locks have a futuristic design to create a contemporary and stylish look. However, you can also get more discreet models that look like a regular deadbolt if you don't want everyone to know you have a smart lock.
8. Ideal for Second Homes
If you own a second home or holiday rental, a smart lock can help you grant and restrict access to the property without having to visit. For example, you can give the access code or E-key to a cleaner or house sitter and only allow them to use it at agreed times. If you're an Airbnb host, you can also provide a temporary E-key to rental guests, which means you don't need to pay someone to come and hand over a physical key.
Elocal Editorial Content is for educational and entertainment purposes only. Editorial Content should not be used as a substitute for advice from a licensed professional in your state reviewing your issue. Systems, equipment, issues and circumstances vary. Follow the manufacturer's safety precautions. The opinions, beliefs and viewpoints expressed by the eLocal Editorial Team and other third-party content providers do not necessarily reflect the opinions, beliefs and viewpoints of eLocal or its affiliate companies. Use of the Blog is subject to the
Website Terms and Conditions.
The eLocal Editorial Team operates independently of eLocal USA's marketing and sales decisions.