Installing a New Deadbolt? Here's Everything You Need to Know
by Team eLocal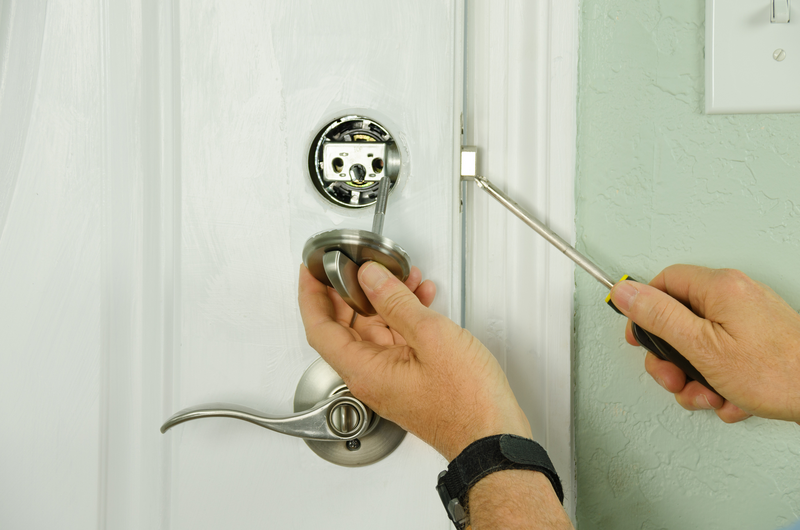 Deadbolt locks are some of the most secure locks you can use for your home. Many older front and rear doors come with much less secure styles of lock, and simply switching to a deadbolt could be a significant security upgrade.
Here, we look at how to install, so you can decide whether to try the job yourself or call in a locksmith.
Deadbolt Installation
If you've not changed door locks yourself before, you may be wondering how to install a deadbolt lock. Fortunately, installing a new lock is not a complicated project, as long as you measure the door properly and take your time on each step.
Is Installing a Deadbolt a DIY Project?
It is possible to install a deadbolt yourself. Before you start, make sure you know what kind of door you have and measure it properly. The instructions differ slightly for how to install a deadbolt in a hollow-core door versus a solid door, for example.
What Tools and Materials Do You Need to Install a Deadbolt?
To install a deadbolt into a door, you will need:
Tape measure
Carpenter's square
Utility knife
Power drill and drill bits
Screwdriver
Tape
Hole saw kit
Chisel
How Much Does a New Deadbolt Cost?
A new single-cylindrical deadbolt will most likely cost between $20 and $70 (CAD 25 to CAD 90). Double-cylindrical deadbolts start at $40 (CAD 50). The key difference between single- and double-cylindrical deadbolts is that single-cylindrical deadbolts have just one lock on the outside. Meanwhile, double-cylindrical locks have a cylinder on the inside and outside, which means you will need to use a key to unlock the door from the inside too.
What Size Hole Do You Need for a Deadbolt?
The standard size for a deadbolt is 2 1/8 inches (5 centimeters). However, not all deadbolts follow this standard. The exact size of any deadbolt you buy should be included on the packaging or in the manufacturer's instructions. Be sure to check the size before you start cutting into the door.

What Are the Steps Involved in Installing a Deadbolt?
Installing a deadbolt is a relatively simple process, and one that should not take more than a couple of hours, assuming you have all the tools to hand. Here's what to do:
1. Position the template in the correct location on the door and tape it in place.
2. Use a power drill to cut a hole into the door, carefully following the template.
3. Drill the latch hole onto the side of the door, following the template.
4. Chisel out a place for the strike plate and bolt on your door.
5. Screw the lock into place.
6. Screw the strike plate into place.
7. Test the lock for smoothness and accuracy, and make adjustments if required.
The most difficult parts of installing a deadbolt involve cutting the space for the lock to sit in. It's important to measure carefully and follow the template properly. If the hole you cut is too big, it may be difficult to recover from that error.
If you're not confident in your ability to cut your door or install the lock accurately, consider hiring a locksmith to do it for you, especially if this is your main exterior door. You may pay a premium compared to the cost of simply purchasing a deadbolt for yourself, but this cost would be far less than the cost of replacing a door if something goes wrong. In addition, it means you won't have to worry about any stress or securing your property if you're unable to complete the job quickly.
Installing a deadbolt is just one of many security measures you can take to protect your home. Consider fitting a chain on the door and using an alarm for extra peace of mind.
All CAD conversions are based on the exchange rate on the date of publication.
Elocal Editorial Content is for educational and entertainment purposes only. Editorial Content should not be used as a substitute for advice from a licensed professional in your state reviewing your issue. Systems, equipment, issues and circumstances vary. Follow the manufacturer's safety precautions. The opinions, beliefs and viewpoints expressed by the eLocal Editorial Team and other third-party content providers do not necessarily reflect the opinions, beliefs and viewpoints of eLocal or its affiliate companies. Use of the Blog is subject to the
Website Terms and Conditions.
The eLocal Editorial Team operates independently of eLocal USA's marketing and sales decisions.