What Are the Different Types of Locks?
by Bea Johnson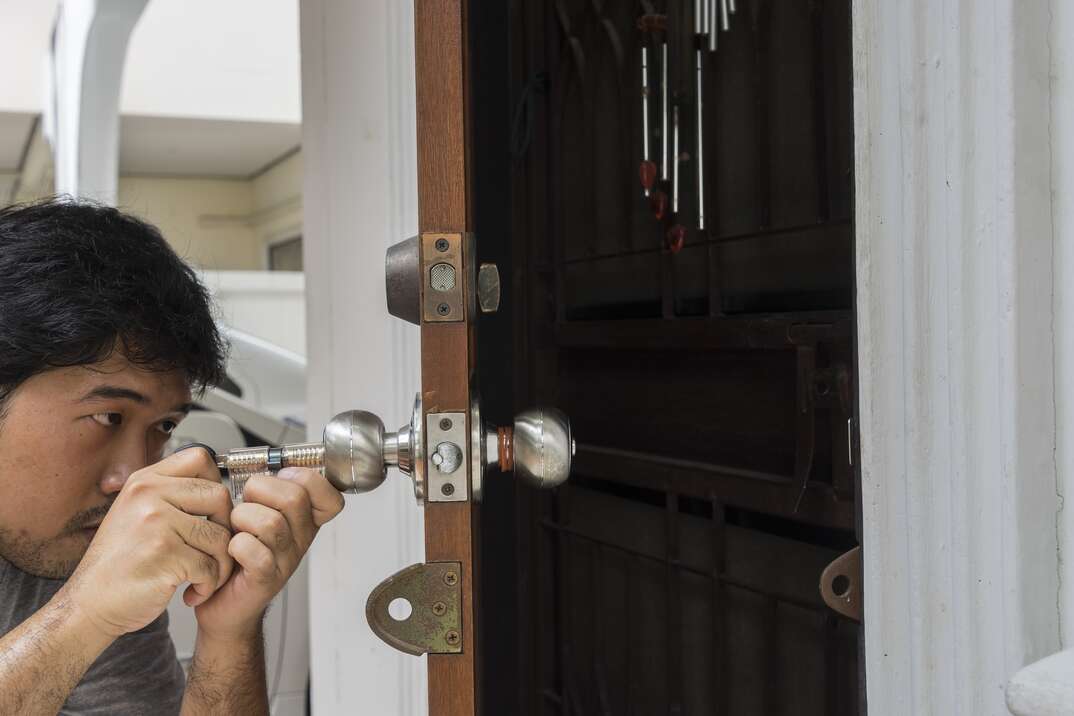 Locks keep your home and possessions safe and sound, and changing them out from time to time can provide added peace of mind. Likewise, different types of locks do different things, including offering extra privacy, keeping children away from hazardous things, and even securing your luggage while traveling.
So, just what types of door locks do you need for your home? Learn more about the different lock types in this handy guide.
Knob Lock
Knob locks, one of the most common types of locks used inside homes, are usually teamed up with a deadbolt on your entry door due to their vulnerability. While a knob lock inside your bedroom or bathroom provides extra privacy, knob locks aren't very strong as the cylinder itself sits inside the knob, so they're easier to break in general.
Talk to a Pro
Call to be connected to a local professional
Mortise Lock
More of a lockset than a lock, mortise locks offer better security than standard cylindrical locks, especially on an entry door. These locks have threads that make use of mortise elements installed in a deep recess within the door itself. When the key turns, the set screw and cam locking mechanism pushes the box lock set into or pulls it out of the mortise inside the door. Mortise locks come in numerous sizes to suit both exterior and interior doors.
Deadbolt
Deadbolts contain locking mechanisms that revolve around a cylinder that install completely through the door and feature outside keyholes. When you put the key inside and turn it, the cylinder turns a bolt sideways into the strike plate to secure the door. Sturdy metal strike plate construction reinforces the bolt under pressure so that those seeking forced entry have a harder time breaking a wood door frame.
Deadbolts come in two different types of locks:
Single cylinder: This design means you can usually open these locks from the inside via a knob mechanism on the interior side of the door lock.
Double cylinder: Double-cylinder deadbolt locks are more secure than their single-cylinder counterparts on homes with windows on exterior doors, but they can hinder escape during emergencies because you need a key to lock and unlock the door.
Cam Lock
Cam locks comprise a cylindrical base featuring a keyhole on one side and a metal cam on the other. Situated perpendicular to the base end, the metal cam turns when you insert a key to open or close the locked area. When locked, the metal cam sits inside a metal strike plate on the door for added security. The smaller size of cam locks makes them appropriate for use on furniture like desks and fixtures like file cabinets, but they're not powerful enough to secure high-value items.
More Related Articles:
Ratchet Lock
Typically used on glass doors like those on display cases, ratchet locks have a slide design with a bar that prevents the doors from opening. A bolt inside the lock itself slides back and forth as well and sits inside a slot when you deploy the lock. The direction in which ratchet locks slide depends on the way the door itself slides.
Lever Handle Lock
As of 2023, lever handle locks are standard for commercial applications because ADA regulations and laws require them. Lever handle locks — also called lever locks — also show up in newer residential applications as well due to their security and superiority over standard knob locks. These options feature several types of locking mechanisms, from light-duty to high-security, and some are even available with push-button, electronic and biometric designs.
A lever handle lock activates when someone pushes or pulls the lever downward, which releases the latch and opens the lock. When the door is locked, the lever still pushes and pulls downward to prevent the locking mechanism inside from breaking.
Electronic Lock
Electronic door locks, or digital locks, come in numerous forms, with the simplest being a push-button or touch-screen PIN entry lock like those found on some garage doors. Other types include those that deploy when you slide an NFC-enabled card through them, and others feature biometric designs that scan fingerprints or retinas. For added safety, electronic locks sometimes have a manual key override.
Smart Lock
Unlike a standard electronic lock that requires proximity, smart locks let you lock and unlock the door from anywhere by using a smart device. This type of installation pairs the lock with either your smartphone, tablet or computer via wireless connectivity or Bluetooth and an app that gives you full control over access.
Elocal Editorial Content is for educational and entertainment purposes only. Editorial Content should not be used as a substitute for advice from a licensed professional in your state reviewing your issue. Systems, equipment, issues and circumstances vary. Follow the manufacturer's safety precautions. The opinions, beliefs and viewpoints expressed by the eLocal Editorial Team and other third-party content providers do not necessarily reflect the opinions, beliefs and viewpoints of eLocal or its affiliate companies. Use of the Blog is subject to the
Website Terms and Conditions.
The eLocal Editorial Team operates independently of eLocal USA's marketing and sales decisions.