What Do You Do After a Flood?
by Leigh Morgan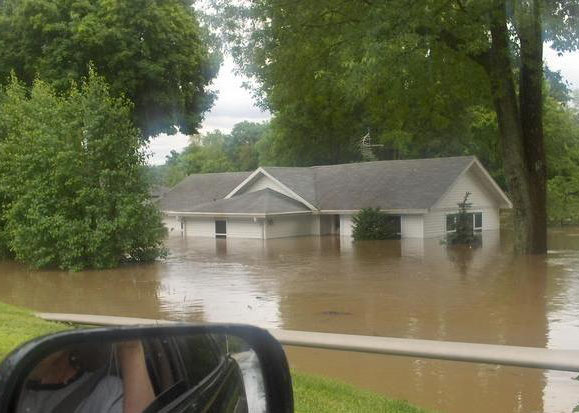 Life would be so much easier if you could wrap your home in a life-sized poncho every time it rains. Alas, it doesn't work that way.
Read More Home Improvement Articles
When your local meteorologist announces a flood watch or flash flood warning, there's no time to build an ark. Instead, you have to take a series of quick steps designed to limit the damage to your home.
What Steps Do You Need to Take During or Immediately After a Flood?
Move Important Items and Documents
When floodwaters start rising, it's helpful to move important objects to the highest floor in your home. For example, if you keep photo albums and other mementos on the first floor, take time to move them up to the attic. If possible, purchase a waterproof safe for birth certificates, insurance policies, Social Security cards and other important documents.
Clean Your Gutters
Next, clean out your gutters and downspouts. If your gutters are filled with leaves, acorns and other outdoor debris, they won't be able to direct water away from your home. As a result, clogged gutters can lead to expensive roof damage. It's also important to put your appliances on concrete blocks. If floodwaters rise just a foot or two, this can prevent damage to your water heater, furnace, refrigerator, washer and dryer.
Set up Flood Blocks
It's also helpful to put up temporary flood barriers. These barriers block water from entering your home, reducing the amount of damage caused by flooding. Consider using sandbags, flood shields, portable floodgates or other items to create a barrier around your foundation. You may not be able to block all the water, but you can at least reduce the amount that enters your living space.
Turn Off the Utilities
Finally, make sure you shut off your utilities. If natural gas leaks due to flooding, electrical sparks can ignite the gas, causing an explosion. You can turn off your electricity at the breaker box if you feel comfortable doing so. Otherwise, contact a licensed electrician to help you. Gas meters come in many varieties, so you should contact your gas company rather than trying to turn off the natural gas yourself.
More Related Articles:
Once the Floodwaters Have Subsided, Continue With These Steps:
Wait Until It Is Safe to Return
After the flood, wait until authorities declare it safe to return to your home. If you didn't turn off the electricity before you evacuated, don't enter your home until you have a licensed electrician inspect it and make sure it's safe. Your electrician should also inspect your appliances to make sure they didn't sustain any water damage that could cause them to shock you or start a fire when you use them for the first time.
Remove Excess Water
Next, remove excess water from your home. Although you might be tempted to drain the water quickly, doing so may cause your floors to buckle, so take it slow. Once you get rid of the standing water, use a wet/dry vacuum to remove additional moisture. Removing as much water as possible may prevent damage to your walls and floors.
Remove Materials That Were Exposed to Standing Water
If necessary, remove any drywall, wood paneling or insulation that was exposed to standing water. Yes, it costs money to replace these materials, but it's better to spend a little money now than to deal with mold or structural problems later. Finally, mop all hard flooring surfaces, replace any flooring that came into contact with raw sewage and use a dehumidifier to absorb excess moisture.
Call Your Insurance Agent
Make sure you contact your insurance agent as soon as you have a chance to assess the damage. The sooner you file a claim, the sooner you can get reimbursed for the damage.
What Should You Do to Prevent Flood Damage in the Future?
Once you clean up, take stock of what you did right and what you can improve upon for the future. One way to prevent future damage is to install check valves in your sewer traps. These valves prevent floodwater from backing up into your home. It's also a good idea to put up more permanent flood barriers, especially if your basement takes on water every time it rains. Water dams and drip mats are just two examples of interior barriers that can prevent damage to your home.
If you're concerned about the walls in your basement, seal them with waterproofing compounds. These moisture-resistant compounds prevent water from seeping into walls, preventing mold growth and reducing the risk of costly flood damage.
Elocal Editorial Content is for educational and entertainment purposes only. Editorial Content should not be used as a substitute for advice from a licensed professional in your state reviewing your issue. Systems, equipment, issues and circumstances vary. Follow the manufacturer's safety precautions. The opinions, beliefs and viewpoints expressed by the eLocal Editorial Team and other third-party content providers do not necessarily reflect the opinions, beliefs and viewpoints of eLocal or its affiliate companies. Use of the Blog is subject to the
Website Terms and Conditions.
The eLocal Editorial Team operates independently of eLocal USA's marketing and sales decisions.