4 Tips for Hiring a General Contractor for Your Next Remodeling Project
by Mark Soto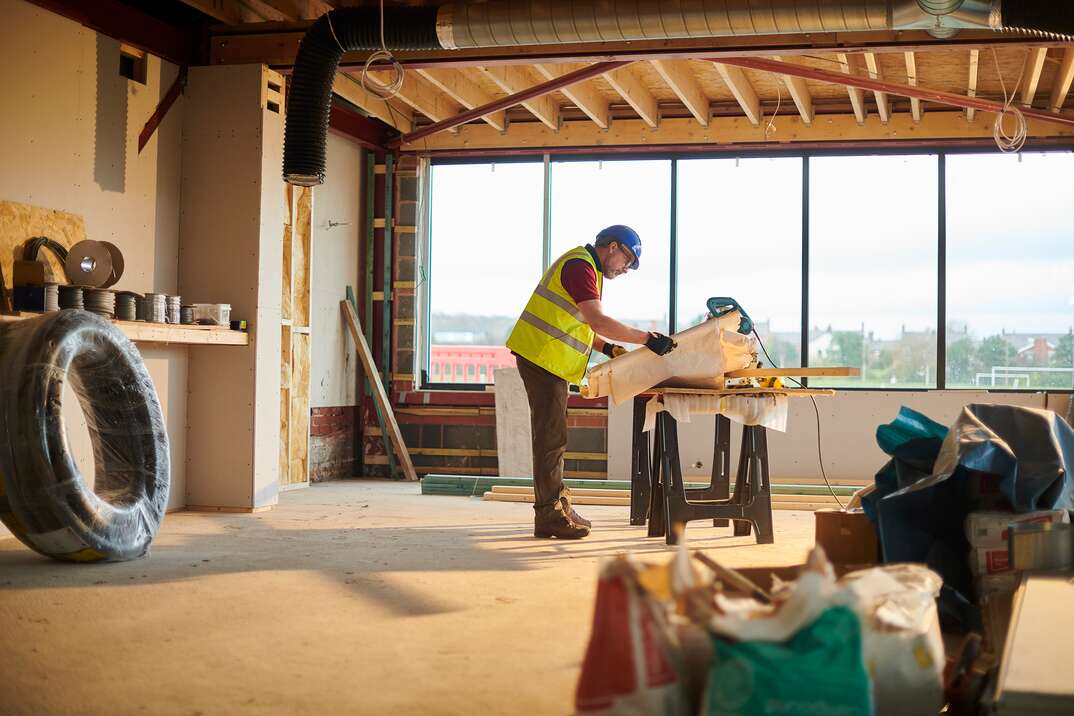 When it comes to home projects, you have to worry about more than just what you want the end product to look like. A crucial step before anything begins is choosing the right person for the job. Not only does a quality general contractor make the end product look better, but they make the process run smoother and can give you peace of mind.
A general contractor is in charge of an entire construction or remodeling project. While you have specialized contractors like plumbers or electricians that know their craft well, a general contractor can coordinate the entire project and inform you about any legalities or permits needed for the job.
If you're spending a lot of money on a construction or remodeling project, you probably don't want someone that will give you headaches or give you the runaround. When it comes to hiring a general contractor, here are some essential tips and information that can save you from dealing with expensive issues down the road.
How Do You Find a General Contractor in Your Area?
There are many ways you can go about finding a contractor in your area. One way is to reach out to your local hardware store and ask if they have any recommendations. Most contractors get their building supplies from these stores at a cheaper rate, so you might get several local referrals from the stores.
Asking friends or family is perhaps the best way to find a quality contractor. If they have someone that has done a good job for them in the past or over the years, you can almost positively expect the same treatment. Contractors know that word-of-mouth is one of the most powerful forms of marketing, so the good ones will work hard to keep referrals from happy customers incoming.
A simple Google search for contractors in your area is perhaps the most straightforward way of finding someone. However, it can be pretty risky since you're essentially taking a gamble on a company you don't know. Make sure to read Google reviews and visit their website for examples of projects they've done.
Another option that shouldn't be overlooked is to search websites like Houzz and Angi. Paul Knapp, owner of Landscape Architectural, said these websites are like the Yellow Pages for anything related to home remodeling. You can see reviews, photos and links to contractors' websites.
Talk to a Pro
Call to be connected to a local professional
Tips for Hiring a General Contractor
1. Use Direct Referrals
Direct referrals are king! Word-of-mouth is one of the best ways to find a top-notch general contractor. If you know the contractor has already done an excellent job for someone, there is a good chance they will do the same for you. Asking family, friends or coworkers is always a good idea before you go searching online.
2. Always Read Online Reviews
Online reviews can be quite helpful, so don't overlook them. Even if you've had someone referred to you, it's worth taking a look at their online reputation. The more reviews a contractor has, the higher the probability they do a good job. Apart from looking at Google reviews, it's also worth checking sites like Yelp and their Facebook page.
If you see any negative reviews, don't always write them off. There's a good chance most companies will have at least one bad review. Instead, see how they respond to those reviews. You can tell a lot about a company from how they interact with their clients — even when they're not happy.
Doing your due diligence up front will save you time and frustration going forward.
3. Ask for References and Completed Projects
If you're spending a lot of money, you more than likely want an experienced contractor with plenty of projects under their belt. Some companies will have a photo gallery on their website, but it doesn't hurt to email and ask if you don't see one.
While you can always ask about references to happy customers, some contractors might not be too willing to share customer data. This is quite understandable since you probably don't want your number to be shared with a random person after your project is done.
4. Avoid Common Contractor Scams
There are some common contractor scams you should be on the lookout for when hiring a contractor. Knapp says one of the biggest scams is front-loading contracts.
Basically, the contractor has the homeowner pay a large sum upfront — generally more than a 50% deposit. What can happen is that the contractor uses up that money on other projects, drags their feet on your project sometimes doesn't even show up at all. In one instance, a client Knapp did work for had a home builder completely deplete their down-payment funds. They ended up going out of business before they even got started on the house. A sleazy contractor will sometimes scam dozens of clients at the same time, then run off.
Other common scams include the bait and switch. In these scams, contractors promise premium materials at a higher price point but use cheaper materials instead. In other instances, the contractor simply asks for more money to continue the project. While this might actually be needed in certain scenarios, the additional funds need to be justified to the homeowner.
That's why it's not a bad idea to have a contingency fund for such an event. Knapp says what is unacceptable is if the contractor tells you they need more money because the job is taking longer than expected.
What Qualifications or Licenses Should a General Contractor Have?
Each state has different requirements and regulations regarding licensing for general contractors. Some states might be more demanding than others in terms of the exact licenses required. It's always important they carry professional and general liability insurance in case something goes wrong while working on the project. This covers them from things like one of their employees getting injured on the job, the project going sideways and damage to your home, among other things.
As an example, Knapp said that in the state of Iowa, contractors need a contractor's construction license obtained through the Iowa Division of Labor. This applies whether you're building homes or doing HVAC, plumbing, electrical, mechanical or sheet metal work. One type of license can cover many different projects.
As for insurance, most states will require workers compensation insurance along with liability insurance with a specific minimum coverage. The minimum will vary state-to-state, but in general, a professional license to do this type of work and liability is a must-have for any contractor.
Elocal Editorial Content is for educational and entertainment purposes only. Editorial Content should not be used as a substitute for advice from a licensed professional in your state reviewing your issue. Systems, equipment, issues and circumstances vary. Follow the manufacturer's safety precautions. The opinions, beliefs and viewpoints expressed by the eLocal Editorial Team and other third-party content providers do not necessarily reflect the opinions, beliefs and viewpoints of eLocal or its affiliate companies. Use of the Blog is subject to the
Website Terms and Conditions.
The eLocal Editorial Team operates independently of eLocal USA's marketing and sales decisions.