What to Look for When Hiring an Exterminator
by Team eLocal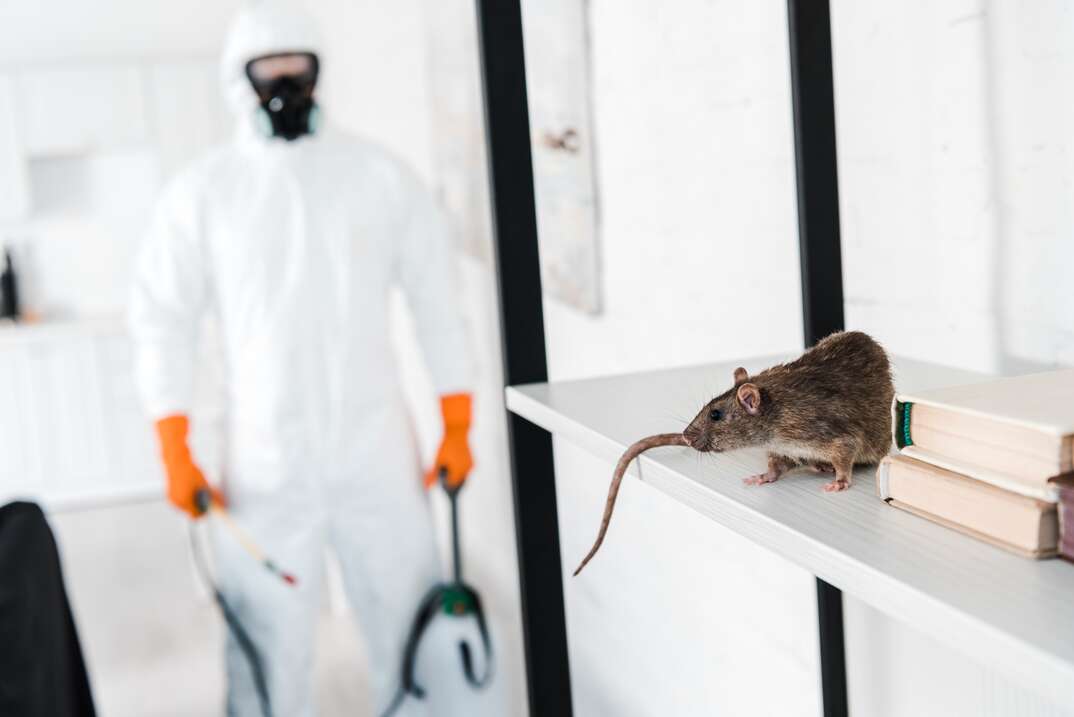 Almost nothing has the power to make a homeowner's heart sink faster than the signs of unwanted critters living in their house. If you have an infestation, you want the problem solved — quickly.
However, it's essential to select a reputable company to deal with pest problems thoroughly and safely. Here's what to look for in a pest control company below so you can make the best decision for your situation.
Do I Need to Hire an Exterminator or a Pest Control Service?
Many people use the terms "pest control" and "exterminator" interchangeably, but there are significant differences between the two services. Exterminators use chemicals to kill pests with the ultimate goal of entirely eradicating an infestation. However, they don't look at the root causes of the pest problem. Is your house overrun with bedbugs? You probably need an exterminator.
Meanwhile, pest control services use a range of strategies to get rid of pests while also tackling the root cause of the infestation to prevent a recurrence. The methods used depend on your preference and the type of infestation, and pest control services may use some of the same techniques as exterminators. Do you get ants in your house every year? Call a pest control service to develop a plan to get rid of them.
Whether you need a pest control or extermination service depends on your goals. If you want to get rid of an infestation quickly, you might prefer to hire an exterminator. However, pest control services are more suitable if you want to tackle the infestation long-term.
What Are Some Things to Look for When Hiring an Exterminator or Pest Control Service?
It's essential to know what to look for in a pest control company to ensure you get the best possible service. Keep the following factors in mind when you're researching pest extermination or control services.
Certificates and Licenses
Eradicating pests safely requires expertise, so it's essential to check that companies are correctly certified and licensed. The agency should have at least one fully certified and licensed applicator to supervise technicians. You can verify credentials by checking with your local U.S. Department of Agriculture office.
Insurance
Pest control professionals often use toxic chemicals to kill pests, and they could damage your home during their work. Look for a company with general liability insurance for damage and accidental pollution.
It's also wise to choose a company with bonded employees. This means that the company is obliged to compensate you if its workers damage your property.
Pest Control and Extermination Methods
Pest control chemicals can be potentially dangerous for people with certain health conditions. Ask any company you're considering using to explain how they plan to treat your pest problem and request copies of chemical labels. If you have a health condition like asthma, a natural pest control service might be a safer option for you.
Pest Type
Some exterminators and pest control agencies have the expertise and equipment to deal with any pest type. However, some companies focus on particular pests, such as specialist termite services. Ensure that the company you choose has experience dealing with your infestation type.
References
A reputable pest control or extermination company will be happy to provide references, and it's worth taking the time to get in touch with previous clients to check they're satisfied with the service provided. You can also check the company's reputation by looking at online reviews.
What Are Some Red Flags to Watch Out For?
Unfortunately, some unscrupulous companies out there offer pest control or extermination services without the proper credentials. It's best to look elsewhere if you see any of these warning signs:
Cold Calling
Reputable services rarely go door-to-door. Disreputable companies sometimes try to persuade people to pay by cold calling. They may show you examples of pests found in nearby homes or tell you that your home is at immediate risk due to a neighborhood infestation. They may also offer a discount if you buy a same-day service. A decent company will never put customers under pressure to use its services.
Package Deals
Beware of companies offering package deals for pest control services with other maintenance jobs, like yard work. This can be a warning sign that they don't have the expertise to do the job correctly.
Secret Formulas
Pest control companies and exterminators can only use chemicals permitted by the Department of Agriculture, and a reputable company will be transparent about what they use to eradicate pests. If a contractor says they have a "secret formula" to eliminate pests or won't share chemical labels with you, take it as a major red flag.
Per-Gallon Prices
Some disreputable companies try to dupe customers by quoting prices per gallon of pesticide used. However, the job can end up using vast quantities of pesticide, resulting in an eye-watering final bill.
Elocal Editorial Content is for educational and entertainment purposes only. Editorial Content should not be used as a substitute for advice from a licensed professional in your state reviewing your issue. Systems, equipment, issues and circumstances vary. Follow the manufacturer's safety precautions. The opinions, beliefs and viewpoints expressed by the eLocal Editorial Team and other third-party content providers do not necessarily reflect the opinions, beliefs and viewpoints of eLocal or its affiliate companies. Use of the Blog is subject to the
Website Terms and Conditions.
The eLocal Editorial Team operates independently of eLocal USA's marketing and sales decisions.