How Often Do You Need to Replace Your Gutters?
by Team eLocal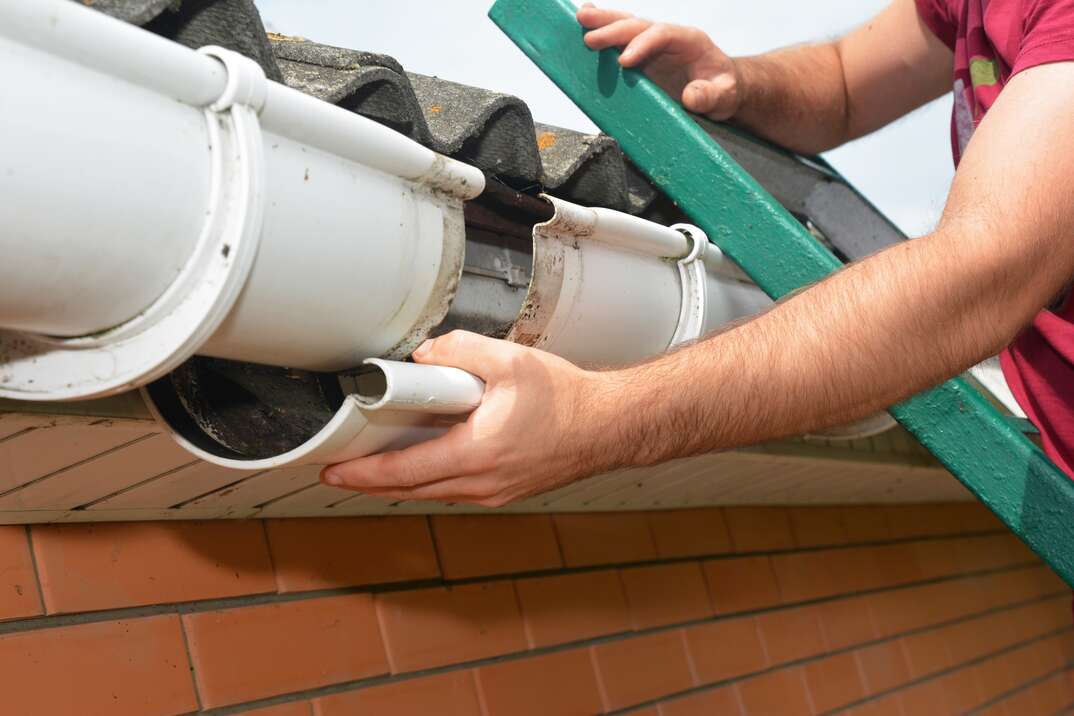 If rain pools on your roof, it can be bad news for your house, causing leaks, flooded basements and water damage. Well-functioning gutters protect your home, channeling water safely away from the structure.
Although a properly installed gutter system can last for 20 years or more, it's important to recognize when it's time to replace your gutters and downspouts.
How Often Do Gutters Need to Be Replaced, on Average?
The average life span of a gutter system depends on the material it's made from, how well it's installed and whether it's been regularly maintained. For example, vinyl gutters may need to be replaced after only 10 years, while copper gutters can last as long as 50 years. Homeowners who opt for galvanized steel or aluminum gutters can expect them to have an average life of about 20 years. To maximize your gutter system's life, make sure it's properly installed, maintained annually and regularly inspected for damage.
How Do You Know Your Gutters Need to Be Replaced?
Replacing gutters can be costly, but home damage caused when they malfunction is often even more expensive. Fortunately, you can typically tell when it's time to replace your gutters by watching for these common signs:
Seam separation: Unless you have seamless gutters, your gutter system can separate where two sections meet, resulting in leaks. Although you may be able to repair small separations, substantial gaps often mean it's time to replace your gutters.
Sagging: Gutters that are sagging or pulling away from the roof may be damaged or improperly installed. Although the fix may be as simple as tightening loose brackets, more extensive damage may require a full gutter replacement.
Cracks: Cracks can severely reduce the effectiveness of a gutter system. Although small cracks can often be repaired, gutters with extensive cracking, large fractures or splits likely need to be replaced.
Peeling exterior paint: Peeling or blistering paint on your home's exterior can signal a gutter leak. If the damage is extensive or involves multiple areas of your house, it's probably time to replace the gutters.
Rotting wood: Wooden elements of your home, such as door jambs, fascia boards and window sills, can rot due to regular exposure to water. If you've noticed water damage on exposed wood elements, examine your gutters thoroughly for signs of leaking.
Rust spots: If you have steel gutters, rust is a sure sign that there's something wrong. It typically occurs due to pooling water and may indicate improper installation or a slope that's too shallow.
Mold and mildew: Damaged gutters and downspouts can cause an accumulation of moisture near your home's foundation, which can result in mold and mildew. Dark stains on basement walls and strange, musty odors can be indicators of mold and mildew.
Damaged landscaping: If your gutters aren't channeling water away from your home, they can damage adjacent landscaping and garden beds. Soil erosion and ailing plants can signal serious trouble with your gutter system.
Found nails or screws: If you've found nails, screws or other hardware in your yard, they may have come from your gutters. Missing hardware can result in sagging, separating or damaged sections.
Although small gutter problems, such as minor cracks, can often be repaired, larger issues may warrant a full gutter replacement. If you've tried to repair your gutters or replace individual sections and you're still experiencing the problems listed above, it's probably time to consider a new system.
More Related Articles:
How to Effectively Inspect Your Gutters
Many gutter problems can be detected through a simple, visual inspection. To look for potential issues, walk around your house on a sunny day. Clear away any debris that blocks your view, and check each part of your gutter system, including downspouts and end caps, for gaps, sagging, splitting and other obvious signs of damage. Binoculars can help you spot smaller issues, such as minor cracks and loose or missing fasteners, so you can address problems early.
Perform a second inspection on a rainy day to make sure everything is working properly. During this walk-around, make sure water is flowing freely through the system. Look for leaks and places where water spills directly off the roof. If you live in a dry climate, use a hose to run water through the system to check its functionality. Many local gutter services companies also provide inspections free of charge.
Elocal Editorial Content is for educational and entertainment purposes only. Editorial Content should not be used as a substitute for advice from a licensed professional in your state reviewing your issue. Systems, equipment, issues and circumstances vary. Follow the manufacturer's safety precautions. The opinions, beliefs and viewpoints expressed by the eLocal Editorial Team and other third-party content providers do not necessarily reflect the opinions, beliefs and viewpoints of eLocal or its affiliate companies. Use of the Blog is subject to the
Website Terms and Conditions.
The eLocal Editorial Team operates independently of eLocal USA's marketing and sales decisions.