How Much Does a Cedar Roof Cost?
by Team eLocal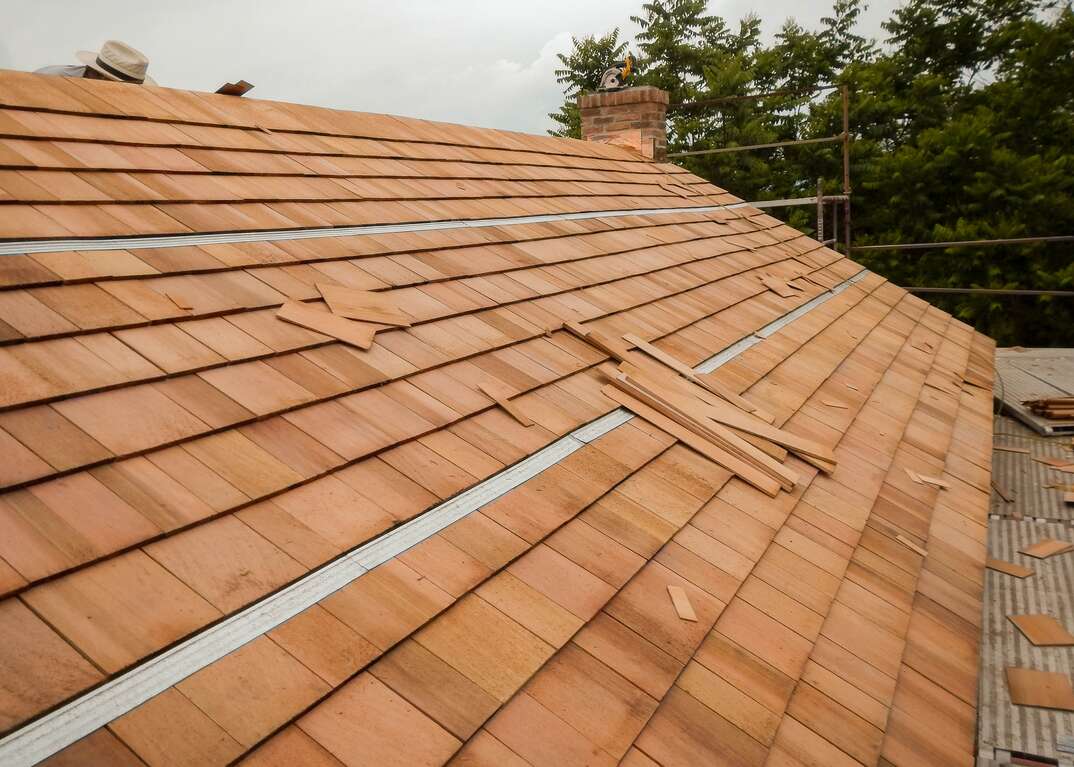 Installing a cedar roof could be a worthwhile investment if you want to boost your home's curb appeal by adding a dose of country-style charm. And if you like the look of cedar shakes or shingles, you may not care how much you'll have to shell out to get them.
However, you should keep in mind that this traditional roofing material is relatively expensive, so it's important to understand the costs involved before committing.
What Is a Cedar Roof?
Cedar roofs feature cedar wood shingles or shakes instead of more commonly used materials such as asphalt or slate. They have several advantages, providing excellent thermal insulation, durability and weather resistance. Many homeowners install cedar roofs to create an attractive rustic or chalet-style aesthetic.
However, cedar roofs also have their drawbacks. They're more expensive than standard roofing materials, and you'll need to commit to a regular maintenance routine to keep your new roof in good condition.
Talk to a Pro
Call to be connected to a local professional
What's the Difference Between Cedar Shakes and Shingles?
Cedar shakes and shingles are both tile-shaped pieces of cedar wood. However, manufacturers use different cutting methods to produce each type of cedar roofing. Cedar shingles are cut precisely using a saw, producing a uniform appearance.
Meanwhile, traditional cedar shakes are chopped from a block by hand, giving them a more irregular shape. However, most producers use a machine to recreate the appearance of handmade shakes. It's relatively unusual to find hand-cut cedar roof shakes nowadays.
How Much Does a Cedar Shake Roof Cost?
According to LawnStarter, a cedar shake roof costs $20,250 (CAD 27,560) on average, and most people pay between about $15,000 and $25,000 (CAD 20,600 and CAD 34,350). These figures cover the cost of the cedar wood shakes themselves and installation labor. You could spend more if you require additional materials or roof treatments or live in an expensive city.
The main factor affecting how much a cedar shake roof costs is the size of your roof. Therefore, you can estimate your project costs relatively accurately if you know your roof's measurements. Expect to spend between $7.50 and $14.50 (CAD 10.20 and CAD 19.75) per square foot, including installation labor.
How Much Does a Cedar Shingle Roof Cost?
Cedar shingles are slightly more affordable than cedar shakes. Installing a cedar shingle roof costs an average of between $4.10 and $7.50 (CAD 5.60 and CAD 10.20) per square foot. (Based on data from Modernize.)
More Related Articles:
How Much Do Synthetic or Cedar-Look Roofs Cost?
Alternatively, you could consider purchasing synthetic or cedar-look shakes. These materials closely mimic the aesthetic of natural cedar wood and are made from polymers or a plastic and rubber composite.
However, the cost of installing synthetic cedar shingles or shakes is broadly comparable to the real deal. According to data from Remodeling Costs, a synthetic cedar roof costs around $8.50 to 14.50 (CAD 11.60 and CAD 19.75) per square foot installed.
Therefore, you'll likely spend roughly the same amount on a synthetic cedar roof compared to a real cedar shake roof. However, installing real cedar shingles is usually cheaper than a synthetic alternative.
How Long Does a Cedar Roof Last?
You can expect a cedar roof to last between 20 and 40 years, but some last significantly longer. Many manufacturers offer warranties of between 15 and 30 years.
However, various factors can impact your cedar roof's longevity. Your roof could have a shorter lifespan if you live in an area with harsh weather conditions, and it's essential to maintain your roof correctly by sealing or coating new installations and scheduling regular maintenance sessions.
Water damage and wood rot can also negatively affect how long a cedar roof lasts, so you should repair any issues as soon as possible. The quality of the installation can also make a difference. It's wise to use an installer with significant experience working with cedar shingles and shakes and consider the impact of any modifications on your roof's integrity. For example, adding a roof-mounted air-conditioning system could put additional strain on your roof.
All CAD conversions are based on the exchange rate on the date of publication.
Elocal Editorial Content is for educational and entertainment purposes only. Editorial Content should not be used as a substitute for advice from a licensed professional in your state reviewing your issue. Systems, equipment, issues and circumstances vary. Follow the manufacturer's safety precautions. The opinions, beliefs and viewpoints expressed by the eLocal Editorial Team and other third-party content providers do not necessarily reflect the opinions, beliefs and viewpoints of eLocal or its affiliate companies. Use of the Blog is subject to the
Website Terms and Conditions.
The eLocal Editorial Team operates independently of eLocal USA's marketing and sales decisions.