What Type of Roofing Is Best for My Home?
by Team eLocal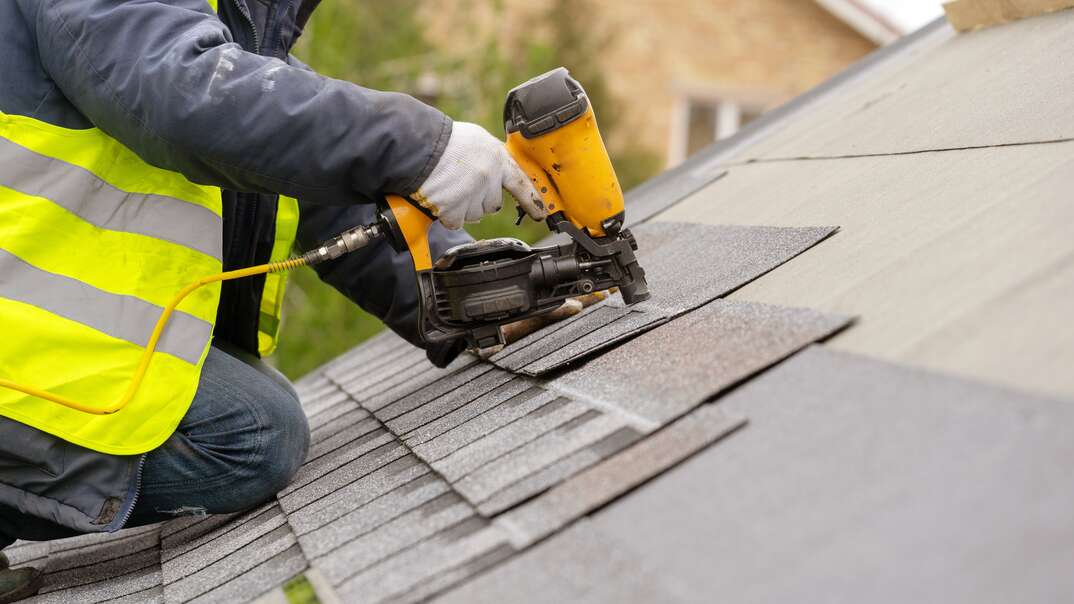 Choosing the best type of roof can seem like an intimidating task. After all, your roof is one of the only things standing between you and the great outdoors.
Clearly, making the right decision here is important. But if you've done any research at all about roofing options, you probably know that there are enough options out there to make this choice an overwhelming one. This guide explains the key differences between the most common roof types to help you select the best option for your circumstances.
What Are the Most Common Roof Types?
There are many different roof types and materials, but some are more suitable for residential buildings than others. The following are roofing materials commonly used for family homes.
Asphalt Shingles
Asphalt shingles are the most popular roofing material in the U.S. Each tile consists of a layer of fiberglass topped with asphalt and either mineral granules or asphalt-coated cellulose. These roofs are relatively simple to maintain and offer decent durability. As they're so common, you can be reasonably sure that any reputable roofing company will have the skills and knowledge required to install them. Plus, you'll have lots of options in terms of color and style.
Rolled Asphalt Roofing
Rolled asphalt roofing comes in rolled strips and consists of thick fabric impregnated with asphalt and minerals with a mineral granule coating. It's unsuitable for roofs with a high pitch. It's a budget-friendly option, but it doesn't look as appealing as many other roofing materials.
Built-Up Roofing (BUR)
Manufacturers produce BUR by applying hot asphalt to multiple felt layers. They then stick a crushed stone coating over the top layer using tar to create a durable, waterproof finish. This roofing material is commonly used on flat or low-pitch roofs.
Metal Roofing
Metal roofs come in two types: standing seam and metal shakes or shingles. Standing seam metal roofs have steel or aluminum panels connected by interlocking raised seams. Meanwhile, metal shakes and shingles replicate the appearance of asphalt, clay or slate roofs. Both options are durable and long-lasting and offer excellent fireproofing properties.
Wood Roofing
Wood roofing typically features shingles or shakes overlapping to create a cottage-style appearance. Most homeowners choose cedar for roofing, but you can use other wood types. It isn't as long-lasting as some other materials.
Slate Shingle Roofing
Slate roofs are exceptionally durable and feature overlapping stone sheets. They offer an attractive traditional appearance and can last over 150 years if you maintain them correctly.
Alternatively, you could consider synthetic slate tiles as a more affordable alternative. These tiles are usually made from rubber mixed with polymers and are significantly lighter than genuine slate. However, they won't last as long as the real deal.
Clay Tile Roofing
Clay tile roofs are highly durable and feature overlapping tiles made from molded clay. Most clay roofing tiles are glaze-free, giving them a red, Mediterranean-style appearance. They provide good temperature resistance and can withstand salty environments.
More Related Articles:
Talk to a Pro
Call to be connected to a local professional
How Do I Determine the Best Type of Roof for My Home?
Consider the following factors when weighing up the pros and cons of each roof type.
Climate and Location
The climate and conditions where you live can make a significant difference in the best type of roof for your home. The world's your oyster when it comes to roofing if you live in a mild climate, but you may need to consider your decision more carefully if you live somewhere with extreme weather conditions.
For example, wood shingle or shake roofs are unsuitable in areas with wildfires. Homeowners in these areas may be better off with a fire-resistant material such as metal. Meanwhile, clay tile could be an excellent choice if you live in a coastal area or a hotter climate, as they provide good temperature resistance.
Budget
When deciding which roofing material is best for your budget, it's essential to weigh the upfront costs against your roof's expected lifespan. Often, it's more cost-effective in the long run to spend more on durable material.
If money's tight and you need to install a temporary solution in an emergency, rolled asphalt roofing is as affordable as it gets. However, it's not suitable for every roof. Asphalt shingles are another budget-friendly option if you want something more durable that works in most climates.
Durability and Maintenance
The more durable your roof, the better it will withstand the elements. Choosing a less durable material could save you money upfront, but you'll likely spend more on repairs and replacements over time.
Maintenance is another crucial consideration. Metal or slate could be ideal options if durability and easy maintenance are important to you. Asphalt shingles could also be advantageous if you need to perform repairs because you can replace the tiles individually.
Weight
Considering how much weight your home can withstand is essential when choosing a roofing material. For instance, natural slate tiles are very heavy and could cause your roof to collapse if your home isn't strong enough to handle them. Synthetic slate could be a great alternative if you want the look of natural slate without the weight.
Elocal Editorial Content is for educational and entertainment purposes only. Editorial Content should not be used as a substitute for advice from a licensed professional in your state reviewing your issue. Systems, equipment, issues and circumstances vary. Follow the manufacturer's safety precautions. The opinions, beliefs and viewpoints expressed by the eLocal Editorial Team and other third-party content providers do not necessarily reflect the opinions, beliefs and viewpoints of eLocal or its affiliate companies. Use of the Blog is subject to the
Website Terms and Conditions.
The eLocal Editorial Team operates independently of eLocal USA's marketing and sales decisions.