Metal Roofing Cost Guide
by Team eLocal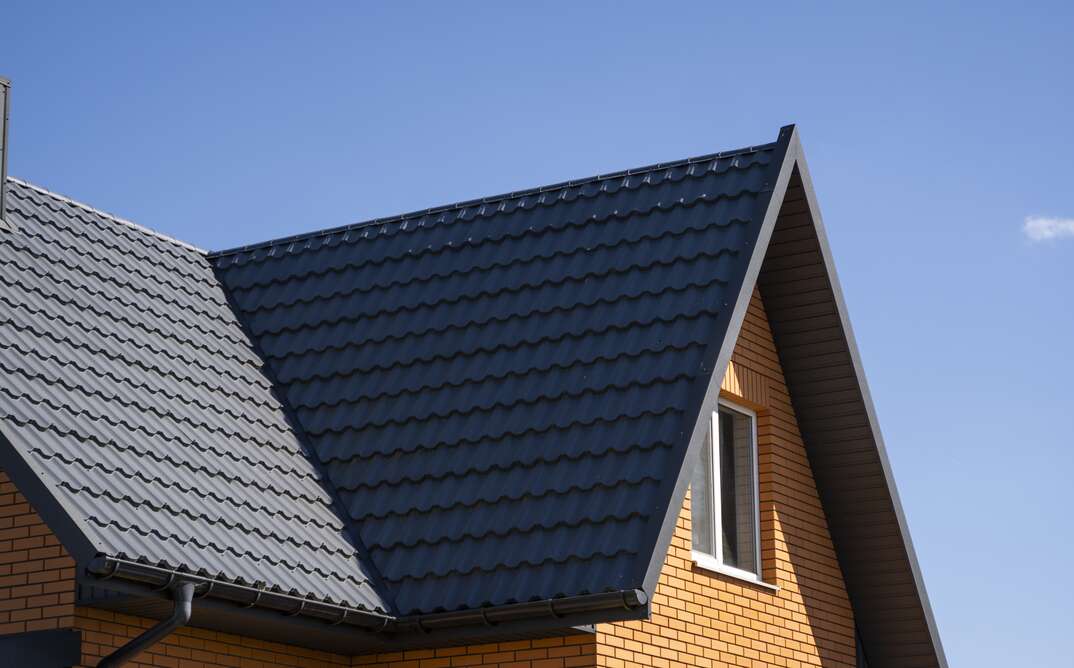 Replacing a roof is an expensive home improvement job, but it's often worth it to prevent water damage to your home.
Metal roofing is a durable, energy-efficient alternative to traditional slate or shingle roofing, but it's important to know how much you should expect to spend before starting your project.
What Are the Different Types of Metal Roofing, and How Much Do They Cost?
According to data from HomeGuide, metal roofing materials generally cost in the range of $1 to $20 per square foot. However, various factors can affect how much you spend, including the material and panel type. Also, note that many roofing companies may quote a price per square, which, in roofing terms, is 100 square feet. Simply divide your per-square price by 100 to find the cost per square foot.
Metal Roofing Material Costs
The cost of metal roofing materials varies significantly based on the type of metal. Galvalume is usually the cheapest option, costing between $1 and $4.50 (CAD 1.35 and CAD 6) per square foot. Aluminum roofing is another cheaper option, generally costing between $3 and $9 (CAD 4 and CAD 12) per square foot.
Meanwhile, an expensive material such as copper could set you back as much as $20 (CAD 27) per square foot.
Other material options include galvanized steel, stainless steel, tin and zinc.
Panel Type
You can purchase metal roofing materials such as sheets, standing seam panels or interlocking shingles.
Sheet-style panels are usually the most affordable, costing between $1 and $5 (CAD 1.35 and CAD 7) per square foot, on average.
Standing seam panels have raised joints where they interlink, making them waterproof. How much you'll pay for standing seam panels depends on the material, but most people spend between $4 and $8 (CAD 5.35 and CAD 11) per square foot for materials only.
Metal shingles cost between $3 and $6 (CAD 4 and CAD 8) for materials, depending on the metal type. They connect to create an interlocking pattern like a traditional shingle roof.
How Much Does the Labor Cost to Install a Metal Roof Cost?
Installation labor is the most significant factor in the cost of a new metal roof, totaling up to five times the cost of the materials. How much roofing contractors charge depends on several factors, but most homeowners pay between $400 to $800 (CAD 540 to CAD 1,080) per square (100 square feet).
Fixr says you should expect to pay more if your roof has a steep pitch or complex features, or you have a multi-story home. You may also need to pay for the removal of your existing roof, if that's not included in the price total price.
Another factor to consider is the cost of roofing labor in your area. Local rates can vary significantly based on supply, the local cost of living and the geographical features of your plot. You could spend more than average if you live in a city with a high cost of living or your contractor has to travel a long way to reach your property.
What Is the Overall Average Cost to Install a Metal Roof?
According to data from Fixr, installing a metal roof costs between $18,000 and $30,000 (CAD 24,500 and CAD 41,000) on average. That's including the cost of both materials and installation labor.
However, it's essential to consider the size of your roof when estimating your project's costs. Most contractors charge between $4 and $40 (CAD 5.40 and CAD 54) per square foot to install a metal roof, including the cost of metal roofing materials.
All CAD conversions are based on the exchange rate on the date of publication.
Elocal Editorial Content is for educational and entertainment purposes only. Editorial Content should not be used as a substitute for advice from a licensed professional in your state reviewing your issue. Systems, equipment, issues and circumstances vary. Follow the manufacturer's safety precautions. The opinions, beliefs and viewpoints expressed by the eLocal Editorial Team and other third-party content providers do not necessarily reflect the opinions, beliefs and viewpoints of eLocal or its affiliate companies. Use of the Blog is subject to the
Website Terms and Conditions.
The eLocal Editorial Team operates independently of eLocal USA's marketing and sales decisions.