Time for a Fresh Start! Here's Your Spring Cleaning Checklist
by Michael Franco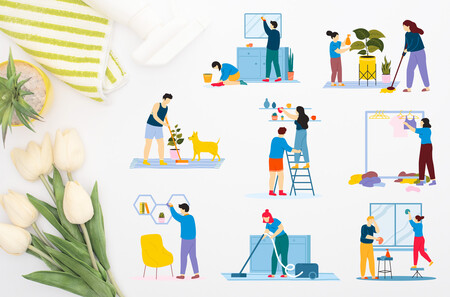 When spring is in the air, thoughts might turn to warmer, longer, bloom-filled days, and nights spent gazing at the stars snuggled under a light blanket. However, with spring also comes the annual ritual of spring cleaning.
Read More Home Improvement Articles
For many people, spring cleaning is a daunting task that can take days or even weeks to complete. But with a little planning and preparation, you can make this year's spring cleaning a breeze. First, we have some general tips to help make your spring cleaning efforts as efficient as possible, followed by a room-by-room spring cleaning checklist.
Get the Right Tools
Having the right tools and cleaning products can make all the difference when it comes to spring cleaning. Stock up on and gather these basic cleaning supplies:
Broom
Mop
Vacuum cleaner
Dustpan
Cleaning cloths
Sponges
You may also need specialty cleaners for certain areas of your home, such as tile grout or stainless-steel appliances. Otherwise, you'll find that dish soap and warm water works well for most tasks, as does a solution of vinegar and water. Throwing in a little baking soda can help as well.
Clean in Sections
Rather than trying to clean your entire home in one day, break the task down into manageable sections. Focus on one area (like your basement) or one room at a time, and don't move on until you've finished. This will help you stay organized and motivated.
Kitchen
As with most rooms, you can start your kitchen spring cleaning by organizing your drawers and closets. Take items out of these storage areas and give them a good scrub. If you have dividers or other organizing items in your cabinets and drawers, remove them and wash in the sink. Remove all the items in your pantry and check for expiration dates, being sure to throw away those that have passed their prime. Wipe down condiments like honey and soy sauce, which can get sticky over time.
Now is a good time to also give your appliances a good scrub. You should remove all items and shelves from your refrigerator and clean thoroughly. Take all the grates off your stove, as well as any burner caps, and clean them in your sink. If they are extra greasy, use a degreasing cleaner. Set your oven on its self-cleaning cycle when you can be out of the room for a little while. You'll also want to pull out your larger appliances from the walls and vacuum and mop behind them. If you have tile or linoleum floors in the kitchen, they might benefit from a steam cleaning.
Bathrooms
Clean and organize your cabinets and drawers, being sure to discard old medicines or other health and beauty aids (like peroxide, deodorant, etc.) that have passed their expiration dates. Using a cleaning solution containing bleach, scrub your sinks, toilets, shower and bath areas thoroughly. A steam cleaner can be of use in this room as well to get the floors and tiled walls extra sparkly. Wash fabric shower curtains and rugs in the washing machine, and replace shower curtain liners. If you don't own a self-cleaning showerhead, now is a good time to soak it in a solution of vinegar and water to remove any mineral buildup.
More Related Articles:
Living Room and Den
As with most rooms, you should start cleaning from the top down here. This ensures that any dust or dirt that falls from higher surfaces will be cleaned up as you go. Start by dusting ceiling fans, light fixtures, and high shelves, then move on to walls, windows, and furniture. A steam cleaner can help get carpets and upholstery extra clean, but if you don't have one and don't want to rent a machine, a deep vacuuming should do the job. Use the attachments on your vacuum to get into hard-to-reach places and to clean furniture surfaces after you've removed cushions.
Pillows, throw rugs and cushions can be beaten by hand outside to get rid of dust. If you have curtains and they're washable, throw them in your machine. Otherwise, simply vacuum them gently with a handheld vacuum or the wands on a more substantial unit. Clean blinds with a feather-style duster or by removing them and submerging them in water in your bathtub.
Bedrooms
Follow the same guidance for ceiling fans, upholstered furniture, rugs, curtains and blinds as above. Additionally, springtime is a great time to rotate your mattress and wash your mattress cover, unless you do that as part of your routine housekeeping.
Basement
Now's a good time to declutter your basement and toss, donate or recycle items that you no longer need. Check with your local municipal offices to find out how to discard items that might be toxic, like paint, as well as other environmentally questionable items, like electronics.
If your basement holds your furnace, take this time to change the air filter and to get it professionally serviced. Spring also makes a fine time to drain and flush your water heater.
Outdoors
A list of spring maintenance tasks to keep around the outside of your home and your yard looking nice is enough to take up another article, but here are a few basics.
First, take a look at how branches and shrubs interact with your house before they are in full bloom. Pair back any shrubbery that is touching the home, and cut down any branches that seem like they could damage your roof in either strong winds or if they should fall. Make sure your gutters are clean, and rake all of last season's leaves from around your property.
Spring is also the perfect time to blast away the previous season's grime using a power washer on your decks, siding, concrete patios, walkways and asphalt surfaces.
So Fresh and So Clean (Clean)
While spring cleaning might seem daunting, if you start early enough and take it room-by-room, you'll be surprised at how quickly and easy it is to get your home ready for the fun and relaxation of summer.
Elocal Editorial Content is for educational and entertainment purposes only. Editorial Content should not be used as a substitute for advice from a licensed professional in your state reviewing your issue. Systems, equipment, issues and circumstances vary. Follow the manufacturer's safety precautions. The opinions, beliefs and viewpoints expressed by the eLocal Editorial Team and other third-party content providers do not necessarily reflect the opinions, beliefs and viewpoints of eLocal or its affiliate companies. Use of the Blog is subject to the
Website Terms and Conditions.
The eLocal Editorial Team operates independently of eLocal USA's marketing and sales decisions.