How to Properly Maintain Your Hardwood Floors
by Team eLocal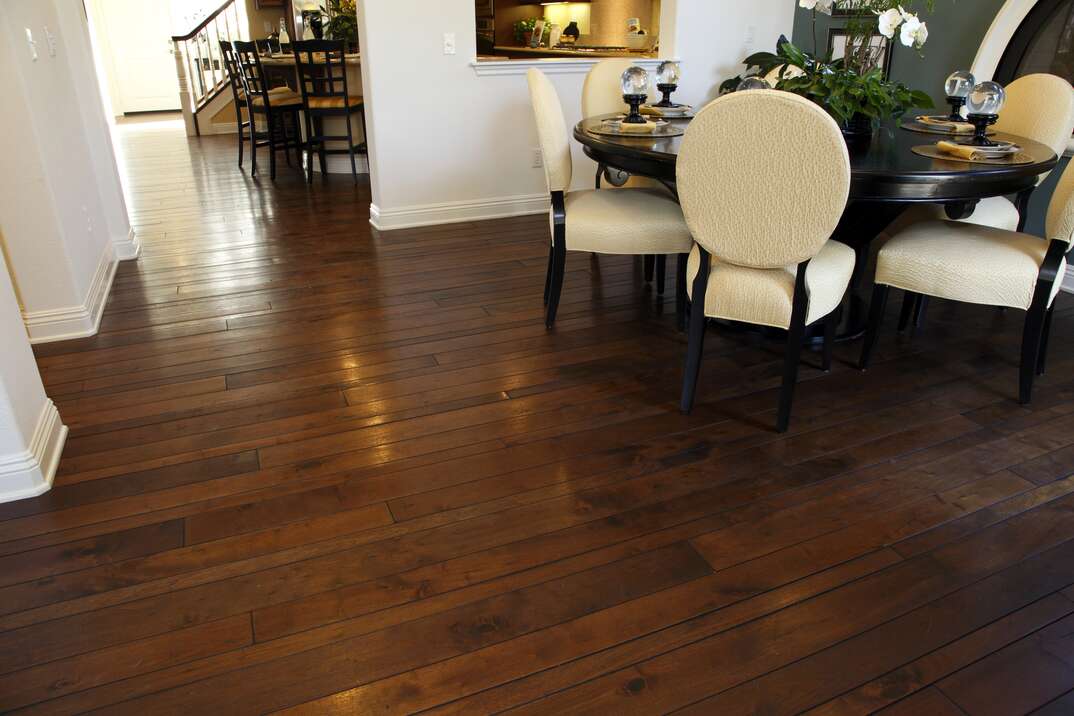 Hardwood floors can add warmth and character to any room, but they have a lot to contend with. Tracking dirt, ice or salt across your floor can affect its finish, and even the temperature and humidity inside your home can increase the chances of warping or cracking.
Read More Home Improvement Articles
Quick! Look under your feet. When was the last time you gave your hardwood floors more than just a sweep? Now's your chance to give them all the TLC they need.
What Hardwood Floor Maintenance Tasks Do You Need to Do Regularly?
Scheduling regular hardwood floor maintenance can help you remember every essential task and keep your floors in perfect condition. You can perform some of these tasks as and when needed, while others have an ideal frequency.
1. Remove Moisture
Allowing moisture to accumulate on your hardwood floors can cause a host of issues, including gapping, cracking or warping. Therefore, it's best to keep them as dry as possible by cleaning up spills as soon as they happen and avoiding using steam or excessive amounts of water to mop your floors.
Your indoor air humidity can also significantly impact your hardwood floors. Moist air can cause the wood to expand, leading to cupping and other problems. The National Wood Flooring Association recommends keeping humidity between 30% and 50% throughout the year. You can usually achieve this humidity level by maintaining a consistent indoor temperature between 60 and 80 degrees Fahrenheit (15 and 27 degrees Celsius).
2. Sweep and Vacuum
Crumbs, dirt and other debris can fall into the gaps between your hardwood floor planks or scratch the surface, affecting their appearance. Dirt buildup can be difficult to remove, so it's better to prevent it from accumulating in the first place.
You can reduce the amount of dirt you have to contend with by implementing a no-shoes rule, but sweeping or dusting your floors each day is also essential. It's also a good idea to vacuum your floors every week to pick up any pieces of debris missed during sweeping.
3. Use Furniture Pads
Furniture pads protect your hardwood floors from dents and scratches caused by pressure and movement. You can place the pads under chair, sofa and table legs or any other heavy item that could damage your floor. It's also wise to move furniture carefully or use equipment such as furniture sliders or moving blankets to protect wooden flooring.
More Related Articles:
4. Apply Wood Floor Cleaner
Applying wood floor cleaner every month can help remove stains and other substances that could affect your floor's appearance. You can make your own hardwood floor cleaning solution by mixing half a cup of cleaning vinegar with a gallon of water, or you can purchase a pre-mixed cleaning product.
It's essential to ensure any cleaning fluid you use is suitable for hardwood, or it could affect the finish. Minimize the amount of water you use to mop the floor to guard against water damage.
5. Refinish the Floor
The NWFA recommends applying wood floor finish to hardwood floors every three to five years to prevent dullness. You may need to refinish the floor more often if it has to withstand a lot of footfall. Meanwhile, you may not need to refinish hardwood floors in rarely used rooms as frequently.
Are There Different Maintenance Tasks for Different Kinds of Hardwood Floors?
Hardwood floor maintenance tasks are similar for most floor types. However, some types of wood require more frequent maintenance than others. For example, a very hard wood such as Brazilian Cherry won't require maintenance as often as a softer wood such as Douglas Fir.
The finish can also affect your hardwood floor maintenance schedule. Glossy floors typically require the least maintenance, while matte and satin finishes need more care. Therefore, you should consider performing the maintenance tasks in this article more often if you have a high-maintenance floor type.
Elocal Editorial Content is for educational and entertainment purposes only. Editorial Content should not be used as a substitute for advice from a licensed professional in your state reviewing your issue. Systems, equipment, issues and circumstances vary. Follow the manufacturer's safety precautions. The opinions, beliefs and viewpoints expressed by the eLocal Editorial Team and other third-party content providers do not necessarily reflect the opinions, beliefs and viewpoints of eLocal or its affiliate companies. Use of the Blog is subject to the
Website Terms and Conditions.
The eLocal Editorial Team operates independently of eLocal USA's marketing and sales decisions.