How to Make Your Home More Accessible: 10 Easy Steps
by Team eLocal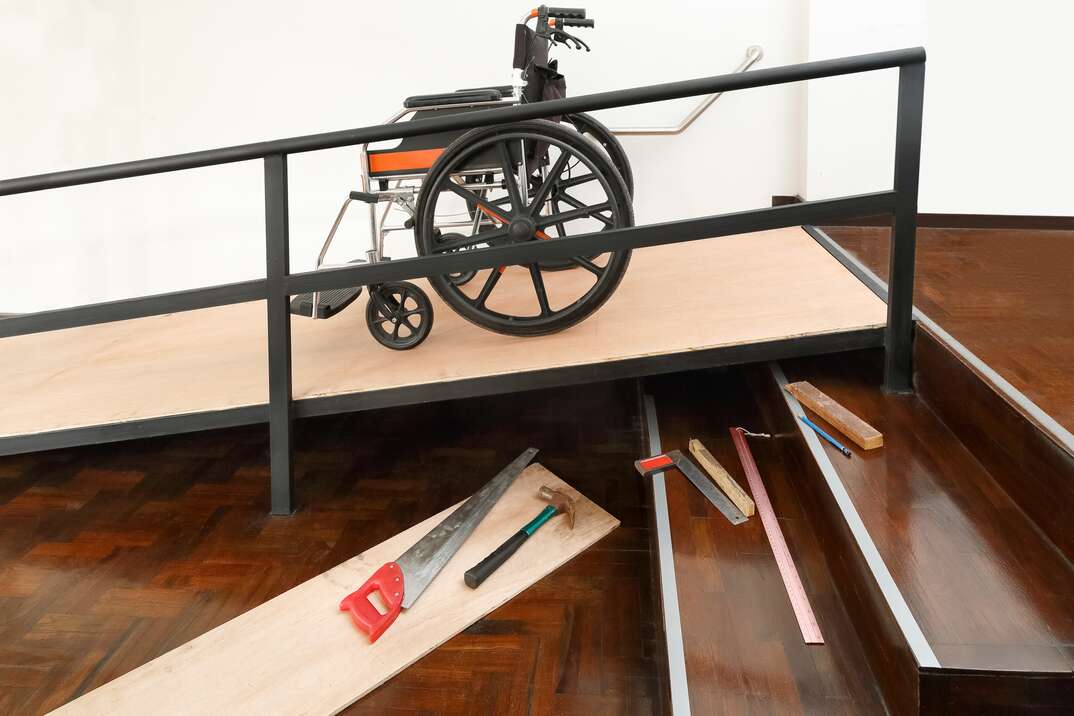 The average home has lots of obstacles for people who use wheelchairs, scooters or walkers or those with limited mobility who don't use assistive devices. Getting into a home can be difficult if there are a few stairs between you and the entrance, for example.
Read More Home Improvement Articles
Reducing accidents, creating accessibility for those with disabilities and being prepared to live in your home as you age are some reasons you might need an accessible home. Here are some tips on how to make your home handicap accessible.
Making Your Home More Accessible: Where Are You Starting From?
Many homes have spaces that are too narrow for wheelchairs or have a lot of stairs that are difficult to climb. Countertops, vanities, curtain rods and other fixtures that are too high can be a problem, as can things such as uneven floors and tubs with high sides. Considering the type of accessibility you need and the current obstacles in your home helps you better plan renovations.
The following steps explain how to make your home handicap accessible.
Step 1: Add Entrance Ramps
If someone in your home uses a wheelchair or scooter, a ramp to enter the home is a must. Ramps can also be helpful for people who use walkers or canes and people with limited mobility in their legs, or for whom going up the stairs can be challenging. Plan for at least one entrance to have a ramp when deciding how to make your home handicap accessible. You might need a permit to build a ramp, so check with the local building authority first.
Step 2: Widen Doorways
For your home to be walker- and wheelchair-accessible, you'll likely need to widen doorways. Even if your mobility aid fits through your current doorways, the space around the door may not provide enough space to turn and maneuver well. If you can't widen the actual doorway, consider offset hinges as an alternative. They can move the door out of the doorway for easier access to a room and are typically cheaper than widening the doorway.
Step 3: Replace Doorknobs
Traditional doorknobs are difficult to turn if you have poor grip strength or mobility limitations in your hands and arms. Replace them with lever-style door handles that are easier to operate. Make sure the levers are at a height that's accessible from a wheelchair.
Step 4: Install Stair Lifts
If you live in a two-story home, you may need wheelchair accessibility to the upper floor. You can't build a ramp over the stairs, but you can install a stair lift along the railing. You can also install an elevator if you have the budget for it.
Step 5: Add Handrails and Grab Bars
Extra handrails along both sides of stairways provide more support for people with mobility issues. Adding grab bars throughout your home also offers more stability for those that need to get up and down or transfer from one spot to another. Grab bars are particularly helpful in showers and bathtubs or near toilets.
Step 6: Adjust Bathroom Fixtures
Bathrooms are often dangerous spots for people with disabilities. Slick, wet surfaces are potentially dangerous, and traditional bathroom fixtures are often difficult to maneuver. Here are some things that might need to happen to create an accessible bathroom:
Install a zero-barrier shower.
Add a taller toilet.
Have an open area under the vanity where a wheelchair can fit.
Install the sink at a lower level.
Move cabinets lower so they can be reached from a wheelchair.
Make sure light switches and outlets are reachable.
Replace the flooring with a slip-resistant material.
Add grab bars near all fixtures.
These bathroom features can offer more independence for personal hygiene tasks and make the bathroom safer.
More Related Articles:
Step 7: Make the Kitchen Accessible
Kitchens also tend to need adjustments to the heights of fixtures to make them accessible from a wheelchair. Some examples include:
Create a lower kitchen workspace without cabinets below it to accommodate a wheelchair.
Ensure the kitchen has adequate space between cabinets, islands and appliances to accommodate a wheelchair or walker.
The layout should make it possible for someone in a wheelchair to position themselves next to an appliance, such as an oven or dishwasher, and open the door freely.
Look for ADA-compliant appliances with controls positioned on the front of the appliance where they're easier to reach from a seated position.
You might also need to replace the kitchen faucet to make it easier to operate with limited dexterity.
Ensure there's plenty of lower storage that's easily accessible.
Looking at the hazards and barriers in the current kitchen layout helps you decide how you can change it to improve accessibility.
Step 8: Widen Open Areas
An open floor plan is ideal for handicap accessibility. It leaves more space to move through the home with a wheelchair or walker. If you can't remodel to create a completely open floor plan, making small changes and moving furniture can help.
Step 9: Remove Rough or Uneven Surfaces
Changing the flooring to hardwood or similar smooth surfaces makes it easier to use with a wheelchair. Smooth surfaces also reduce tripping hazards. Don't forget the surfaces in outdoor areas — bricks, cobblestone and similar materials create uneven surfaces and could create tripping hazards outdoors.
Step 10: Lower Additional Items
Go through your home to look for items that need to be lowered for accessibility. For example, a traditional-height closet rod is too high for someone to reach from a wheelchair. Shelves, storage, light switches, outlets and other similar items should also be at a height that's easy to reach.
Elocal Editorial Content is for educational and entertainment purposes only. Editorial Content should not be used as a substitute for advice from a licensed professional in your state reviewing your issue. Systems, equipment, issues and circumstances vary. Follow the manufacturer's safety precautions. The opinions, beliefs and viewpoints expressed by the eLocal Editorial Team and other third-party content providers do not necessarily reflect the opinions, beliefs and viewpoints of eLocal or its affiliate companies. Use of the Blog is subject to the
Website Terms and Conditions.
The eLocal Editorial Team operates independently of eLocal USA's marketing and sales decisions.