4 Tips for Carrying and Rearranging Heavy Furniture
by Michael Franco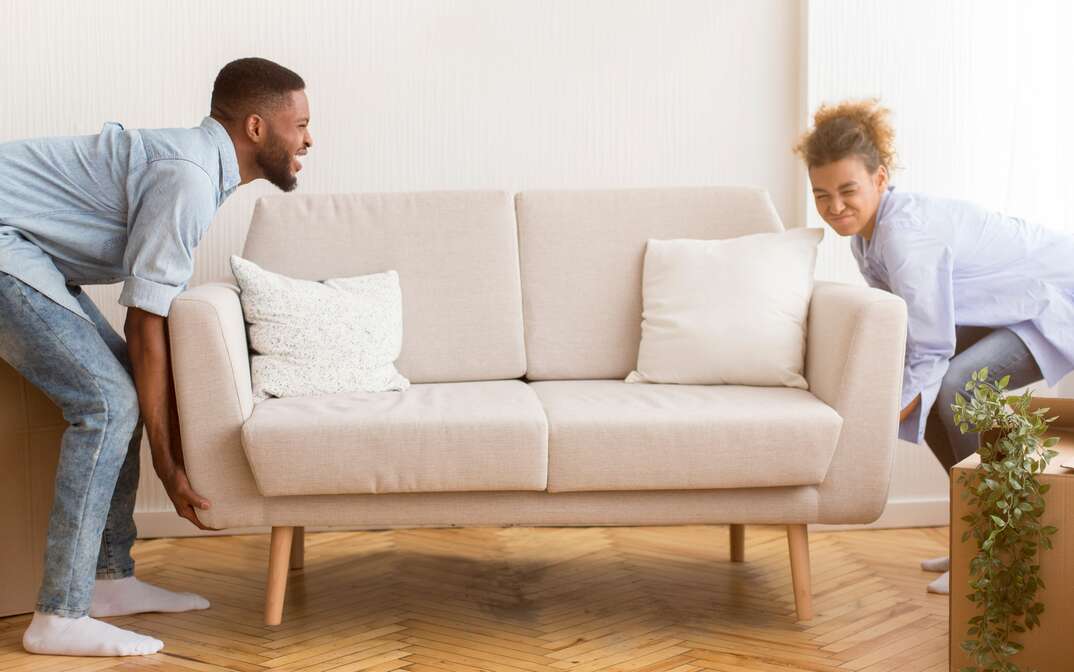 Whether you're in the process of moving to a new home, or simply rearranging your current living space, moving heavy furniture can be a daunting task.
Read More Home Improvement Articles
Maybe it's that enormous chest of drawers or the impossibly large sofa that refuses to move an inch. In any scenario, moving heavy furniture is a challenge that requires both strength and strategy.
How to Rearrange Heavy Furniture: Pro Tips
Intimidated? Fear not! In this guide, we'll provide you with some helpful tips that will help make the process of furniture moving as simple and as safe as possible.
1. Take the Time to Prepare
Moving and rearranging furniture and other heavy objects isn't just a bunch of heavy lifting. It can be enormously beneficial to do a bit of prep work before beginning. Start by clearing the area around the furniture, and remove any and all potential obstacles that could impede movement. Then, consider the route you'll take with the heavy furniture. Map out a path you can take that makes the most sense. Taking the time to designate a path and clear objects out of the way before you start moving will make the job much easier on you and anyone else who is helping.
Another bit of important prep work is to measure the object you're moving as well as any areas that you need to pass through. Trust us; it can be incredibly frustrating (and potentially damaging to both your walls and furniture) to realize that a heavy sofa won't fit through a doorway or up a stairwell. Doing this will help you decide whether or not you need to plan a different route.
2. Use Proper Tools and Equipment
When you're moving heavy furniture, having the right tools and equipment can not only make the process easier and more efficient, but also much safer. Here's some special equipment you can use:

Furniture sliders: Sliders or furniture glides are placed under the legs or corners of heavy furniture to reduce the friction and allow you to easily push or pull the furniture to its new location without damaging your floors. You can buy these special glides in a variety of sizes from any local hardware store or home improvement store like Home Depot or Lowe's. When purchasing furniture sliders, make sure you get the correct type for your floor surface. There are specific sliders available for hardwood, carpet and even grass.
Hand trucks: Also called an appliance dolly, a hand truck is a versatile two-wheeled cart that makes moving heavy furniture much easier and more efficient. You can typically rent them from moving truck rental companies like U-Haul or Penske Truck Rental, as well as large retailers like Home Depot or Lowe's. Hand trucks provide leverage and balance, allowing you to easily move heavy objects with reduced effort as well as reduced risk of injury.
Shoulder dollies: Shoulder dollies are lifting straps that you can connect to your shoulders and wrap around your forearms or wrists to help take the weight off your back when lifting a heavy object. A shoulder dolly also offers extra support and stability when lifting heavy furniture, reducing strain on your back and arms as a result.
Moving blankets: Typically made of thick, cushioned material, moving blankets help provide a layer of cushioning to prevent scratches, dents and other moving-related damage. Available to buy or rent from any moving truck rental company, moving blankets are versatile tools that you can use in a variety of ways. You can choose to completely wrap fragile items using tape or simply cover fragile areas like corners, edges or glass surfaces. Moving blankets are also essential for moving heavy furniture up or down stairs. Cover banisters and corners with the blankets.
More Related Articles:
3. Use Proper Lifting Techniques
Even if you use all of the special moving tools and equipment available, there are times when you'll simply need to lift some heavy items. When you do, make sure you utilize proper lifting techniques to avoid the risk of injury. When you can, it's always a good idea to enlist the help of a partner. With the help of a partner, you can employ several techniques that will make this process much more efficient. For example, the high-low method. This technique requires you to elevate one end of a piece of furniture, creating a pivot point, and then using that pivot to navigate through doorways or around obstacles.
If you have to move a piece of furniture by yourself, make sure that you maintain a secure grip on the furniture and wear work gloves if you need to. When lifting, lift with your legs, keep your back straight and bend your knees. Engage your leg muscles to lift the furniture instead of relying on your back to lift it. Once lifted, remember to keep the object close to your body to maintain balance and security.
4. Disassemble What You Can
When applicable, it can really pay off to disassemble any furniture you can prior to moving. Some larger pieces like dressers, bookshelves and desks can safely be taken apart to make moving more efficient. When possible, consult the manufacturer's instructions for guidance on disassembly. To do this, you may need necessary tools and supplies like an Allen wrench set, pliers and a screwdriver. As you work, make sure you keep track of any fasteners and hardware used in the process.
If you can't — or aren't willing to — completely disassemble a piece of furniture, you can still apply this principle by removing drawers from dressers, shelves from a bookshelf or cushions from a sofa. Doing this will sometimes make objects much lighter and, as a result, easier to maneuver.
Talk to a Pro
Call to be connected to a local professional
Mastering the Move
Armed with these tips and techniques, you can tackle the challenges of moving heavy furniture with relative ease. Remember: When it comes to moving heavy objects, it's always better to work smarter, not harder.
Elocal Editorial Content is for educational and entertainment purposes only. Editorial Content should not be used as a substitute for advice from a licensed professional in your state reviewing your issue. Systems, equipment, issues and circumstances vary. Follow the manufacturer's safety precautions. The opinions, beliefs and viewpoints expressed by the eLocal Editorial Team and other third-party content providers do not necessarily reflect the opinions, beliefs and viewpoints of eLocal or its affiliate companies. Use of the Blog is subject to the
Website Terms and Conditions.
The eLocal Editorial Team operates independently of eLocal USA's marketing and sales decisions.