Quartz Countertops: Pros and Cons
by Hannah Stephens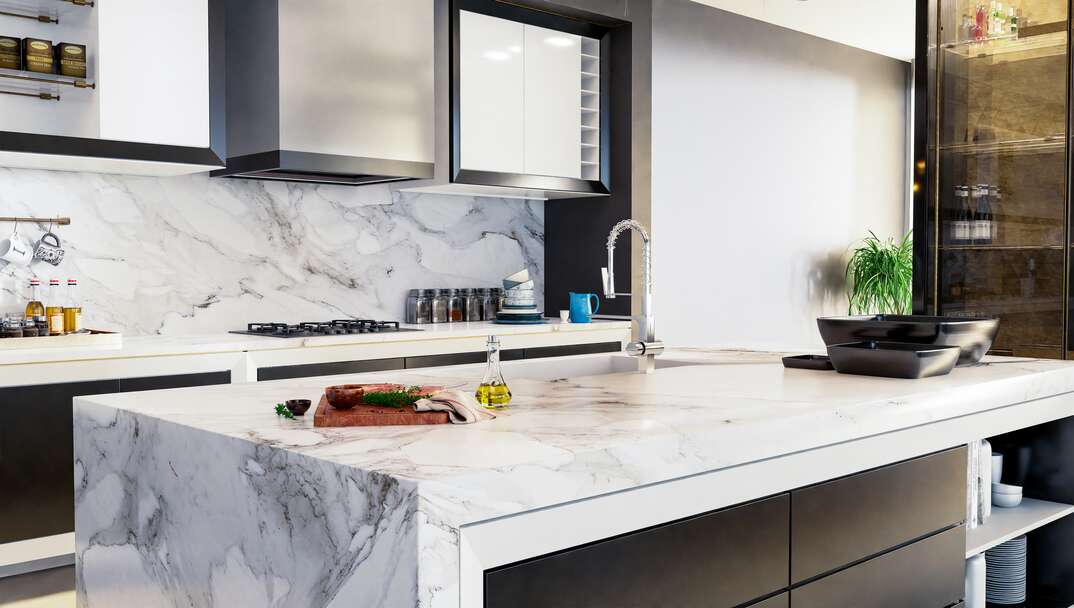 Choosing the correct countertop material can be a daunting task. These days, there are so many countertop options that many homeowners end up scratching their heads comparing factors such as durability, price and heat resistance.
Read More Home Improvement Articles
Quartz countertops create a modern, sleek look, but they aren't the right choice for every kitchen.
What Are the Pros and Cons of Quartz Countertops?
Quartz countertops don't just look gorgeous — they're also exceptionally durable, offering significant resistance against cracks, chips and scratches. Manufacturers often provide generous warranty coverage on their quartz countertops, making them a great option if you want added peace of mind.
Another advantage of quartz countertops is their nonporous nature. Cleaning quartz countertops is easy because dirt, bacteria and fluids can't permeate the surface. Therefore, they're low-maintenance and don't tend to stain.
However, quartz may not be the best option if you habitually place hot pans on the countertop. Manufacturers make quartz countertops by setting quartzite particles in resin, which isn't heat resistant. This manufacturing process allows more color and finish options than many other countertop materials. However, the resin will melt when subjected to high temperatures. They're also suitable for indoor use only, so you shouldn't install quartz countertops in an outdoor kitchen.
Finally, consider whether you have the budget to cover the installation costs. Quartz countertop slabs are heavy, and you'll need a professional to install them. You may also need to reinforce your kitchen cabinetry to support the weight. On average, installing quartz countertops costs $4,500 (CAD 6,000), according to Bob Vila.
Granite Vs. Quartz Countertops
Granite countertops are a popular alternative to quartz. This material is almost as durable and has the added advantage of being heat resistant. Both materials come in various color options, so you should find a product that suits your preferred aesthetic.
However, granite is more prone to staining than quartz, and you'll need to have the surface resealed regularly to maintain the finish. On the other hand, Forbes says installing granite countertops is often cheaper at around $3,300 (CAD 4,400) on average. Most homeowners spend between $2,000 and $4,500 (CAD 2,666 and CAD 6,000), including labor and materials.
Quartz Vs. Natural Quartzite
Many homeowners confuse quartz with natural quartzite, but there are crucial differences. Natural quartzite is quarried in slabs, making its production less energy efficient than engineered quartz. It's also more porous, so it's more likely to harbor germs and moisture than manufactured quartz. Another key factor to consider is that engineered quartz provides more color options.
The cost to install quartz and natural quartzite countertops is broadly similar. Installing natural quartzite countertops costs between $1,950 and $6,000 (CAD 2,600 and CAD 8,000) on average, based on data from HomeGuide.
More Related Articles:
Quartz Vs. Marble
Marble countertops are similar in price to quartz countertops at around $2,000 to $5,000 (CAD 2,666 to CAD 6,666). Each slab features unique veins, which may appeal to homeowners who want a bespoke look. Marble is more prone to staining than engineered quartz, requiring resealing to maintain its appearance. However, it's significantly more heat resistant than quartz countertops.
Quartz Vs. Laminate
Laminate countertops are much cheaper than quartz, costing between $600 and $3,200 (CAD 800 and CAD 4,266) on average. These figures include professional installation — knowledgeable DIY-ers could save money by installing the countertops themselves, which isn't usually possible with quartz. Furthermore, you won't need to reinforce your cabinets because laminate countertops are much lighter.
Like quartz, laminate countertops are easy to clean and come in multiple color options. However, they won't provide the same high-end aesthetic and don't tend to last as long.
Quartz Vs. Concrete
Concrete countertops are exceptionally durable, and you can customize them to suit virtually any color preference or kitchen dimension. However, they require significantly more maintenance than quartz countertops, and you'll need to seal and wax them regularly to prevent stains. According to HomeGuide, the cost to install concrete countertops is comparable to quartz, with most people spending between $1,500 and $6,000 (CAD 2,000 and CAD 8,000).
All CAD conversions are based on the exchange rate on the date of publication.
Elocal Editorial Content is for educational and entertainment purposes only. Editorial Content should not be used as a substitute for advice from a licensed professional in your state reviewing your issue. Systems, equipment, issues and circumstances vary. Follow the manufacturer's safety precautions. The opinions, beliefs and viewpoints expressed by the eLocal Editorial Team and other third-party content providers do not necessarily reflect the opinions, beliefs and viewpoints of eLocal or its affiliate companies. Use of the Blog is subject to the
Website Terms and Conditions.
The eLocal Editorial Team operates independently of eLocal USA's marketing and sales decisions.