12 Tools Every Aspiring DIYer Should Have
by Michael Franco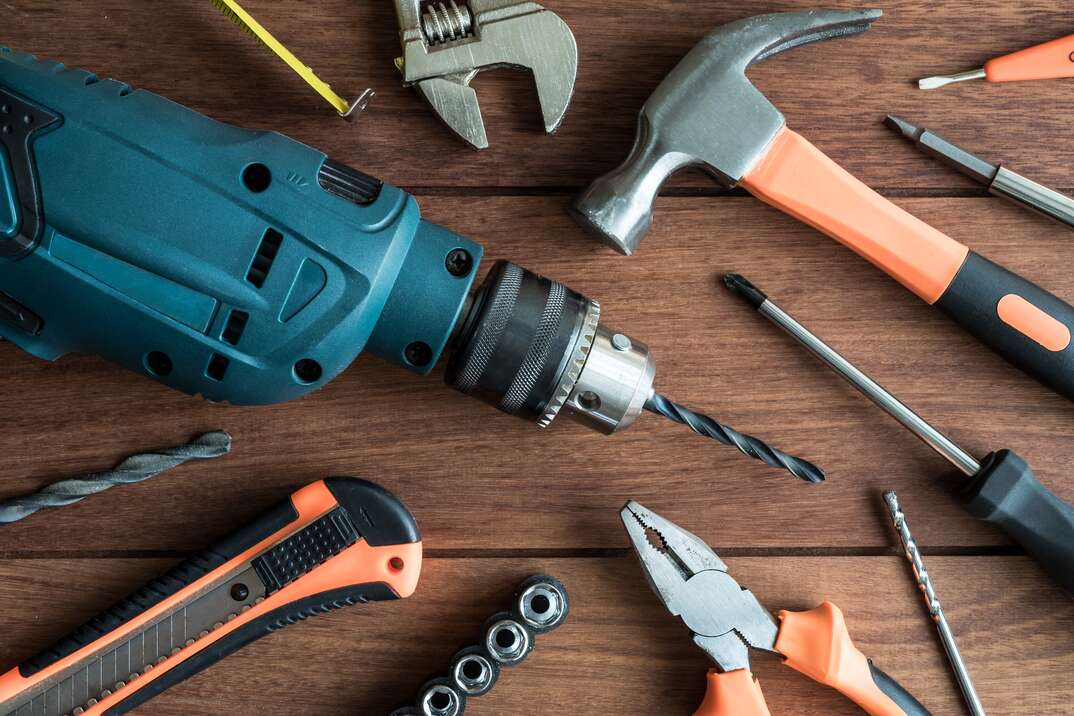 When you're a homeowner, home repair and maintenance projects are just a fact of life. But you can make your life much easier (and save some money) by tackling the projects yourself. You'd be surprised how many home projects you can complete yourself rather easily — if only you had the right tools.
Read More Home Improvement Articles
For the aspiring DIYer, making a small investment in a home tool kit can go a long way. Start small with some of the more basic tools, and as your skills improve and more demanding projects arise, you can expand your personal tool collection.
Looking to build an essential DIY toolkit? Keep reading to learn about some of the best tools for your home, starting with the basics and ending with more advanced tools.
The Basics
Cordless Drill
There's no way around it: A cordless drill is quite possibly the most vital power tool you're likely to own. By making it quicker and easier to drive screws into wood, metal or cement, your life as a DIYer will become infinitely simpler. Cordless drills are useful in nearly any project, big or small, from remodeling a deck to installing a light fixture. And, as far as power tools go, they're relatively inexpensive; you can buy a good drill for around $30.
Tape Measure
Another essential tool every home DIYer needs at their disposal is a tape measure. For a paint project, use it to quickly measure the dimensions of a room or, for a repair job, the thickness of the lumber you'll be using. Really, you'll want one around anytime you need to grab a quick measurement — which, as a DIYer, is often. While tape measures can be up to 100 feet long, a 12-foot tape measure is often all you'll need around the house.
Hammer
A hammer is likely the most-used tool in any home. Whether you're hanging a picture frame or framing the walls of a home, driving nails or pulling them out, there's no tool as useful as a hammer.
Toolbox
Although not technically a "tool" per se, you'd be hard-pressed to find something as handy as a good toolbox. As a DIYer, you'll want a durable case to store all of your tools, as well as extra bolts, screws and nails.
Intermediate Tools
Circular Saw
A portable circular saw is a useful addition to any home tool kit. If you envision yourself tackling any woodworking projects or repairs around the house, you'll definitely want one. Powerful yet easy-to-use, circular saws can effortlessly cut straight lines through lumber, plywood and other materials like metal, plastic and concrete. But be careful to follow all safety precautions prior to use, as circular saws can be seriously dangerous.
Wet/Dry Vacuum
If you have any home DIY experience at all, you know: Things can get messy. That's why having a high-performance wet/dry vacuum at the ready can be a true time and energy saver. More powerful than a typical household vacuum cleaner, wet/dry vacs can be used for a wide variety of cleanup tasks and can handle the toughest of project debris. What's more? Use it to clean out your car as well as your fireplace. You can even use it to unclog drains and sinks.
Jigsaw
Versatile and easy to use, a jigsaw is an indispensable power tool in any DIY toolbox. Their thin, nimble blades allow you to make straight, intricate or plunge cuts in wood, metal, laminate and even tile. Owning a jigsaw can help cut down on the number of saws you'll need for other projects as well.
Palm Sander
From painting projects to repair work or literally any type of woodworking, if you've spent any time at all completing projects around your house, you know that sanding is an important part of many DIY tasks. And if you've spent any time sanding, you know that it's sometimes tedious, and it can even be physically demanding (sore arm, anyone?). That's where an electric palm sander comes in handy. Having one makes the chore of sanding much more satisfying.
More Related Articles:
Advanced Tools
Miter Saw
Miter saws, or "chop saws," are incredibly useful power tools that are used for a wide variety of carpentry-related tasks. Need to trim out a window, install crown molding or build a deck? A miter saw can make these larger, more advanced DIY projects a breeze by helping you fit food pieces together like a pro.
Nail Gun
If you're at the helm of any large-scale building or remodel project, it's safe to say that you'll want to save as much time and effort as possible. Regardless of the task at hand, if you have a bunch of nails to drive, a nail gun will quickly become an indispensable member of your tool arsenal.
Air Compressor
When you're thinking about essential, must-have tools, you may not automatically think about air compressors. But, in terms of sheer versatility and range of use, you might want to reconsider. Aside from powering a wide range of air-powered tools, an air compressor can also come in handy for sandblasting and pressure washing. You can also use the compressor to quickly add air to your car or bike tires.
Reciprocating Saw
Another tool for the advanced DIYer is the reciprocating saw. A reciprocating saw is an electric saw that rapidly moves a saw blade back and forth, easily cutting through almost any material, including a variety of plumbing pipes. A reciprocating saw is perfect for any demolition or remodeling project and can be used to prune trees and shrubs outside, to boot!
Tool Time
Taking on home repairs and maintenance projects yourself can be both rewarding and satisfying, and having a stocked toolkit will set you up to tackle almost any household repairs that come your way.
Elocal Editorial Content is for educational and entertainment purposes only. Editorial Content should not be used as a substitute for advice from a licensed professional in your state reviewing your issue. Systems, equipment, issues and circumstances vary. Follow the manufacturer's safety precautions. The opinions, beliefs and viewpoints expressed by the eLocal Editorial Team and other third-party content providers do not necessarily reflect the opinions, beliefs and viewpoints of eLocal or its affiliate companies. Use of the Blog is subject to the
Website Terms and Conditions.
The eLocal Editorial Team operates independently of eLocal USA's marketing and sales decisions.