What Cleaners You Can — and Can't — Use on Hardwood Floors
by Team eLocal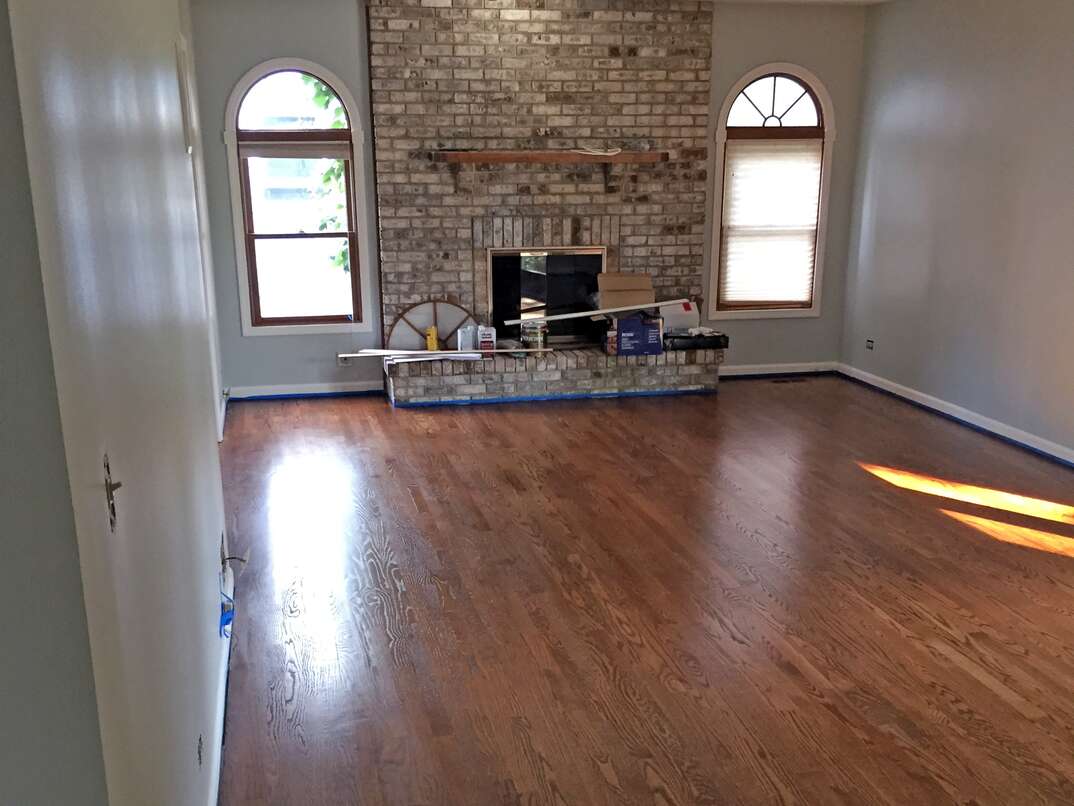 Installing a hardwood floor can instantly add warmth to any room, but it's also expensive. You'll want to protect your investment and keep your floors looking their best by using proper maintenance techniques.
Read More Home Improvement Articles
The manufacturer of your particular hardwood floor might have recommended a certain type of cleaner, but if you've long lost the piece of paper with this information on it, we can help you out.
Popular Hardwood Floor Cleaners
Cleaning a hardwood floor can feel like a minefield, and understanding the pros and cons of each floor cleaner can help you choose the best option. However, checking your floor or finish manufacturer's guidelines is a must to avoid damage. Here are some of the most common options for cleaning hardwood floors.
1. Dish Soap
Dish soap is suitable for most hardwood floors, but you should always defer to your manufacturer's instructions. You can use dish soap to create a floor-cleaning solution by mixing 2 tablespoons with a gallon of warm water and using it to wipe or sponge-clean the floor.
Dish soap is a gentle surfactant, so it's unlikely to damage the finish on your hardwood floor if you use it sparingly. It's also affordable and readily available, making it a handy option if you don't have a specialized cleaner on hand. However, applying too much dish soap solution to the wood can cause it to warp, so you should avoid mopping and dry the floor as quickly as possible after cleaning.
2. Specialized Hardwood Floor Cleaner
Various manufacturers make hardwood floor cleaners designed to remove dirt and stains from wood floors without damaging the finish. Some companies that sell hardwood floor varnishes and other finishes also make wood cleaners to accompany their products. These cleaners can provide peace of mind as you'll know the product is safe for your floor type.
Another advantage of using a specialized floor cleaner is that many come in spray bottles, allowing you to clean your floor without diluting the cleaner in water and mopping. However, they're usually more expensive than dish soap and other common household cleaners.
More Related Articles:
3. Vinegar
White vinegar is a popular household cleaning agent because it's cheap, nontoxic and biodegradable. It also does a decent job of removing stains from hardwood floors, but you should never use it undiluted. Instead, consider mixing half a cup of cleaning vinegar with a gallon of water and applying it with a cloth or sponge.
Vinegar may be a natural option, but it isn't the right wood floor cleaner for regular cleaning. Vinegar can break down the finish if you use it too often, making the floor look dull. Furthermore, damaging the finish makes the wood more vulnerable to water damage. It's best to save vinegar for occasional spot cleaning, and you should test it on an inconspicuous area first to see how it affects the finish.
4. Bleach
Bleach is highly effective at removing stains and bacteria from wood, but you should only consider using it if you have a bleach-safe floor. Like vinegar, you must dilute the bleach first— around 1/3 cup of bleach in a gallon of water is suitable for most bleach-safe woods.
Generally, bleach isn't a great option for regular cleaning because it can stain hardwood floors. Therefore, it's only suitable as a spot treatment for tough stains when other floor cleaners don't work, and it's best to test it on a small area first. It can also cause skin and eye irritation, so it's worth wearing protective clothing, gloves and eye protection during application.
What Types of Floor Cleaners Should You Never Use on Hardwood Floors?
The best hardwood floor cleaners are gentle and pH-neutral, and you should never use an acidic or alkaline solution for regular cleaning. As a last resort, vinegar and bleach can be useful for tough stains, but they'll ruin the finish if you use them on the whole floor. You should avoid using ammonia-based cleaners for the same reason.
Otherwise, which floor cleaners suit your floor depends on the floor type and finish. It's worth checking the manufacturer's guidelines before applying any product to a wood floor. For example, your warranty may stipulate that you must use the manufacturer's own branded cleaning products.
Finally, avoid cleaning your hardwood floor with large amounts of water. Mopping can spell doom for wooden floors because too much moisture may lead to a raft of problems, such as warping, cracking and cupping. Steam mops are also unsuitable for hardwood floors because they add moisture and cause heat damage. You may void your warranty if you use a steam mop to clean certain hardwood floor brands.
Elocal Editorial Content is for educational and entertainment purposes only. Editorial Content should not be used as a substitute for advice from a licensed professional in your state reviewing your issue. Systems, equipment, issues and circumstances vary. Follow the manufacturer's safety precautions. The opinions, beliefs and viewpoints expressed by the eLocal Editorial Team and other third-party content providers do not necessarily reflect the opinions, beliefs and viewpoints of eLocal or its affiliate companies. Use of the Blog is subject to the
Website Terms and Conditions.
The eLocal Editorial Team operates independently of eLocal USA's marketing and sales decisions.