What's a Finished Basement?
by Shelley Frost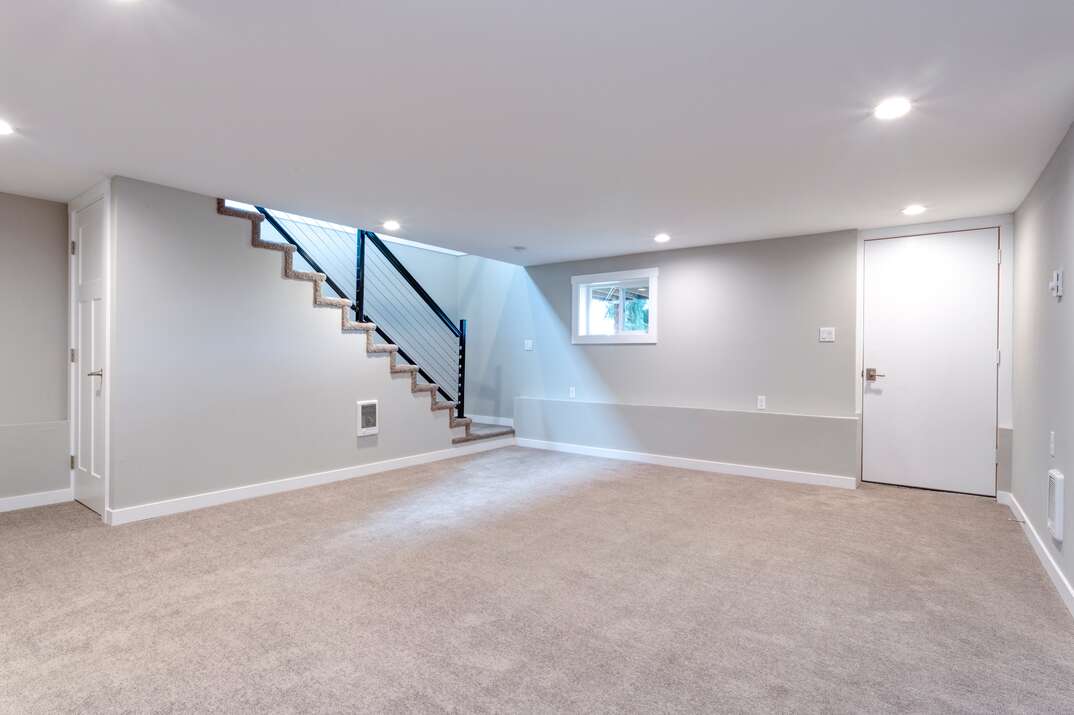 When browsing homes for sale, you'll likely see options touting a finished basement. If you're not familiar with this idea, the phrase might have you questioning things. Aren't most basements finished being built?
Read More Home Improvement Articles
Before you get nervous that the contractors aren't 100% done working on the home you're pining after, you should know that a finished basement refers to material finishes, not the degree of completion. Whether you're searching for a new home or considering finishing an existing basement, understanding what's involved can help you make decisions.
What Does It Mean to Finish a Basement?
Basements often start out with concrete walls and floors. They might have plumbing drains and electrical wiring running to them, but they're not functional. This is an unfinished basement. If you want to finish the basement, you would add drywall, flooring and other components to make it a livable space that looks like the rest of your home.
Finished basements can be one open space that you use as a family room, or the space can be divided into several areas, such as bedrooms, bathrooms and a family room.
Talk to a Pro
Call to be connected to a local professional
Is There a Legal Definition of a Finished Basement?
The definition of a finished basement and how that space is evaluated can vary based on where you live. In general, it's a space where the walls, ceiling and floors are finished with materials that you would have on the main level of your home, with some sort of entrance or stairs leading to it.
In some areas, a finished basement is included in your home's total square footage. This can be beneficial when listing your home for sale, and it can make your home worth more. Some areas don't count finished basements in the total square footage.
More Related Articles:
What Does a Finished Basement Usually Include?
Finished basements typically include anything your main living level would have. That includes:
Drywall or other finishing materials on the walls
Flooring other than the original poured concrete
A level ceiling, not just the exposed floor joints
A permanent heating and cooling system
Plumbing if the basement includes a bathroom
Electrical wiring for outlets and overhead lighting
A window and a closet for any bedrooms in the basement
An easy way to access the basement, such as a staircase from the main floor
Pros and Cons of a Finished Basement
If you're considering a basement renovation or buying a home, looking at the pros and cons can help you decide if you want a finished space. Some pros include:
More functional living space
Increased home value
Ability to add unique features, such as a wine cellar, home theater or office
Offers a quieter spot for noisy activities
There are also some cons if you're thinking about finishing a basement, including:
High cost of finishing basement spaces
Higher property taxes
Might not recoup your costs of finishing a basement
Moisture could be an issue
Lighting isn't always great
When deciding if you should finish your basement or buy a home with a finished basement, weigh the pros and cons. Most people appreciate having the extra space and flexibility that comes with a finished basement, but it comes with some additional costs and concerns.
Elocal Editorial Content is for educational and entertainment purposes only. Editorial Content should not be used as a substitute for advice from a licensed professional in your state reviewing your issue. Systems, equipment, issues and circumstances vary. Follow the manufacturer's safety precautions. The opinions, beliefs and viewpoints expressed by the eLocal Editorial Team and other third-party content providers do not necessarily reflect the opinions, beliefs and viewpoints of eLocal or its affiliate companies. Use of the Blog is subject to the
Website Terms and Conditions.
The eLocal Editorial Team operates independently of eLocal USA's marketing and sales decisions.