What Kind of Paint Do You Use on the Exterior of a House?
by Team eLocal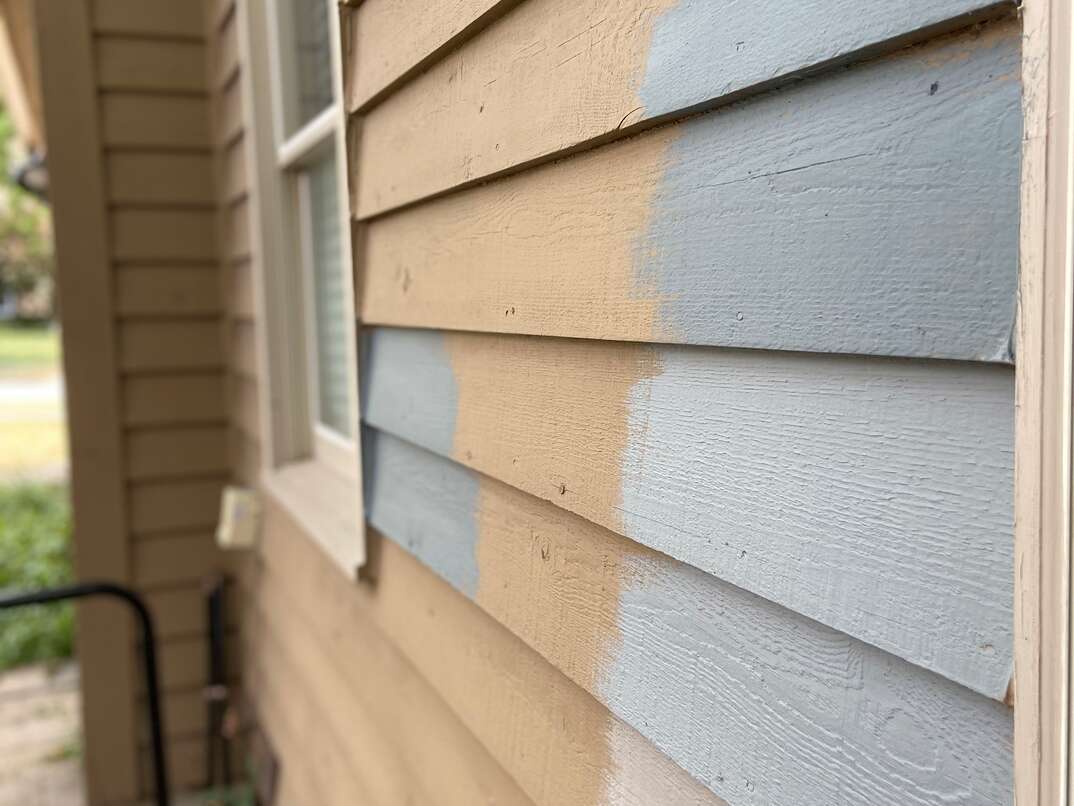 Painting the outside of your house is an easy way to breathe new life into weathered surfaces and boost your home's curb appeal.
Read More Home Improvement Articles
However, you can't just use any paint you have lying around in your house and expect perfect results. Knowing what exterior paint is best for house painting can help you ensure a beautiful, long-lasting finish.
What Types of Paint Can You Use for House Painting?
Acrylic paint is generally the most suitable exterior paint for houses because it's flexible and exceptionally durable. It's also breathable, making it an ideal option for painting porous surfaces like masonry. You can use acrylic paint on virtually any exterior surface because it bonds firmly to wood, metal, brick and vinyl.
Oil-based exterior paints are a durable alternative to acrylic paints. They're not commonly used for painting large surfaces such as walls because they contain solvents high in volatile organic compounds (VOCs), and some states have banned their use entirely. However, they create a harder, more dirt-resistant finish than acrylic paints and dry glossy, making them popular for trims, doors and other applications where you want a shiny, high-spec look.
Acrylic and oil-based exterior house paints aren't your only options. Lime paint produces a matte finish ideal for period properties, but it isn't particularly durable and requires reapplication every few years. Mineral paints could also be worth considering for masonry because they are highly breathable and contain silicates that bond tightly to brickwork.
What's the Difference Between Exterior House Paint and Indoor Paint?
The crucial difference between interior and exterior paint is the type of resin used to bond the paint to surfaces. Exterior paints need to be more flexible to withstand extreme temperatures. Therefore, they typically contain soft resins that allow them to resist peeling and cracking while remaining vibrant and water-resistant.
Indoor paints don't have to contend with these harsh conditions, so they usually contain harder resins. Interior paints with harder resins are less water- and temperature-resistant, which isn't a problem in most indoor environments. However, they are also less prone to scuffs and create a washable finish.
More Related Articles:
What Types of Paint Should You Not Use on the Exterior of a House?
Using interior paint outside leaves your home prone to moisture and mildew damage, and the finish will likely crack and fade very quickly. Dual-use interior and exterior paints are the exceptions to this rule, but they may not be as durable as specialized exterior products.
Whatever type of exterior paint you use, checking which applications it's suitable for is essential. For instance, a paint designed for wrought iron or vinyl siding may be unsuitable for painting masonry. Follow the application guidelines on the packaging to ensure a long-lasting finish.
Another factor to consider is whether oil-based paints are legal to use in your area. Rules vary from place to place, but they're more likely to be banned in areas with a thinner ozone layer.
Elocal Editorial Content is for educational and entertainment purposes only. Editorial Content should not be used as a substitute for advice from a licensed professional in your state reviewing your issue. Systems, equipment, issues and circumstances vary. Follow the manufacturer's safety precautions. The opinions, beliefs and viewpoints expressed by the eLocal Editorial Team and other third-party content providers do not necessarily reflect the opinions, beliefs and viewpoints of eLocal or its affiliate companies. Use of the Blog is subject to the
Website Terms and Conditions.
The eLocal Editorial Team operates independently of eLocal USA's marketing and sales decisions.