How Much Does It Cost to Convert a Bathroom to a Wet Room?
by Oriel Roy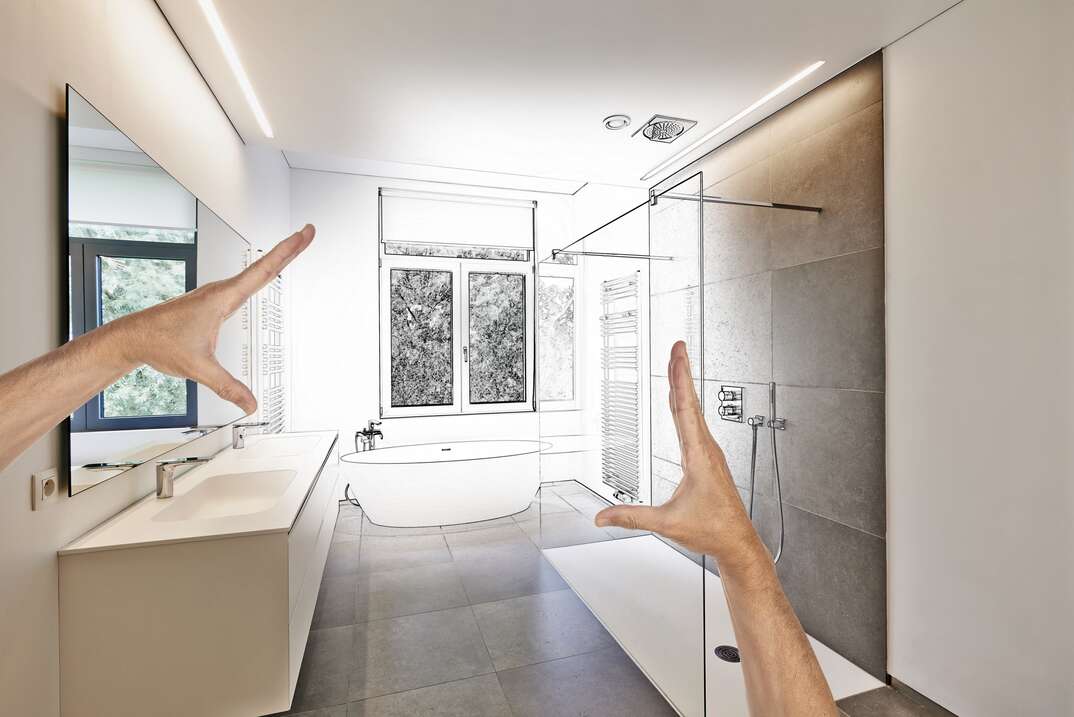 Wet room bathrooms are a popular way to create a luxurious, spa-like experience at home. However, they can also be significantly more practical than regular bathrooms, especially for people who need a bathroom that's easier to navigate, such as those who use wheelchairs or other mobility aids.
Read More Home Improvement Articles
Converting a regular bathroom to a wet room can be pricey, but understanding what makes up the cost can help you choose options to suit your budget.
What Needs to Be Done to Convert a Normal Bathroom to a Wet Room?
The primary difference between wet room bathrooms and regular bathrooms is that the wet area isn't contained. Therefore, you'll need to waterproof the entire room, instead of just the area around the bathtub or shower. Generally, this involves removing all the existing flooring, tiling and drywall and replacing it with a vapor barrier and waterproof backer board.
Another key difference is that the floor in a wet room must slope toward the shower drain. Therefore, your contractor must create the slope before tiling the space. Often, wet rooms are entirely tiled, using 2-inch tiles or smaller on the floor to accommodate the floor gradient.
There's often little difference in the shower installation processes between a wet room and a standard bathroom. However, you may need to install additional plumbing to change the position of showers, toilets and sinks.
How Much Does It Cost to Convert a Bathroom to a Wet Room?
Architectural Digest estimates that converting a regular bathroom into a wet room costs around $10,000 to $20,000 (CAD 13,500 to CAD 27,000).
According to Fixr, it's about 20% to 30% costlier than remodeling an average bathroom. Creating a wet room bathroom costs around $150 (CAD 200) per square foot, compared to roughly $125 (CAD 170) per square foot for a standard bathroom remodel.
More Related Articles:
What Factors Influence How Much a Wet Room Costs?
Tiling Material
Flooring materials, such as hardwood and luxury vinyl tiles, are unsuitable for wet rooms because the floor and walls must be waterproof. Most wet rooms are tiled, and the tile type can significantly impact the cost.
Ceramic tiles are the cheapest option, costing between $1 and $12 (CAD 1.35 and CAD 16) per square foot. Meanwhile, you could spend as much as $10 to $25 (CAD 13.50 to CAD 34) per square foot for marble tiles. Other popular tile types, including porcelain, granite and slate, fall somewhere in the middle, depending on the quality of the material.
Lighting
Some homeowners retain their existing bathroom lights to reduce the cost of a wet room remodel. Replacing your lighting fixtures will increase your costs by around $200 to $1,000 (CAD 270 to CAD 1,350).
Plumbing
Installing a shower in your wet room can be relatively inexpensive if you want it in the same location as your old shower. Moving the shower will add between $450 and $6,500 (CAD 610 and CAD 8,780) to your costs, while moving the supply lines could cost between $1,000 and $5,000 (CAD 1,350 and CAD 6,760).
New Fixtures
Many homeowners choose to replace fixtures, such as toilets and sinks, during their wet room conversion, although some wet rooms only contain showers. How much it costs to replace these fixtures depends on the type and quality. Toilets usually cost between $375 and $500 (CAD 500 and CAD 675), although basic models start from $125 (CAD 170). Premium toilets can occasionally retail for as much as $2,000 (CAD 2,700) if they include smart technology.
Sinks typically cost between $300 and $4,000 (CAD 405 and CAD 5,405), including installation, although you can install a basic unit for as little as $200 (CAD 270). Bear in mind that you'll spend extra to relocate toilets and sinks, which costs roughly the same as relocating a shower.
Accessibility
You may need additional upgrades if you want your wet room to be wheelchair-accessible or if you require other accessibility aids. For example, widening the doorway to accommodate a wheelchair or adding grab bars will increase your costs. Prices vary widely depending on the upgrade type, but many homeowners spend between $100 and $18,000 (CAD 135 and CAD 24,325) on accessibility upgrades.
All CAD conversions are based on the exchange rate on the date of publication.
Elocal Editorial Content is for educational and entertainment purposes only. Editorial Content should not be used as a substitute for advice from a licensed professional in your state reviewing your issue. Systems, equipment, issues and circumstances vary. Follow the manufacturer's safety precautions. The opinions, beliefs and viewpoints expressed by the eLocal Editorial Team and other third-party content providers do not necessarily reflect the opinions, beliefs and viewpoints of eLocal or its affiliate companies. Use of the Blog is subject to the
Website Terms and Conditions.
The eLocal Editorial Team operates independently of eLocal USA's marketing and sales decisions.