How Much Does It Cost to Wash a House?
by Team eLocal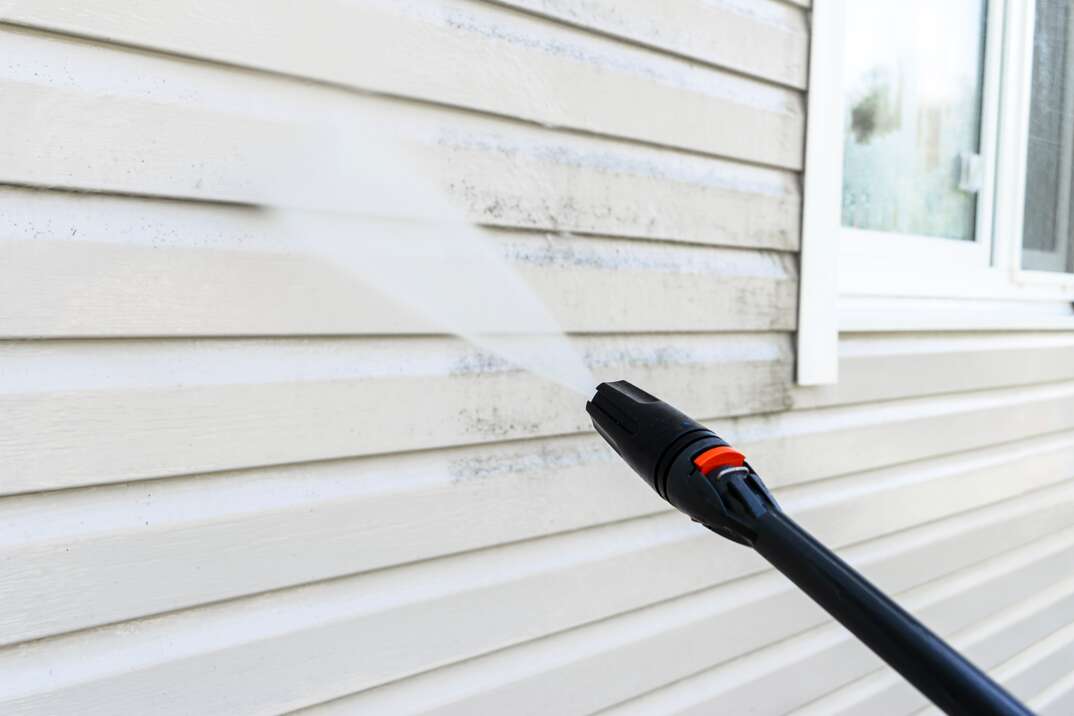 Grimy exterior walls can harm your home's curb appeal, but getting them clean isn't as simple as giving them a thorough scrub. Dirt can be challenging to remove from outdoor walls, so it's often necessary to use a pressure washer to get them looking good as new.
Read More Home Improvement Articles
Homeowners wanting to pressure wash their homes have two options: hiring a professional house cleaning company or going the DIY route. Hiring a contractor involves less effort, but it's usually more expensive than washing your house yourself.
How Much Does It Cost to Hire Someone to Pressure Wash a House?
According to Fixr, the average cost to pressure wash a house is between $500 and $900 (CAD 680 and 1,220). However, house washing costs as little as $300 (CAD 400) for a relatively clean, small home. Meanwhile, you could spend up to $2,000 (CAD 2,650) to pressure or power wash a large property covered in a lot of grime.
How dirty your house is and its square footage are the main factors affecting how much house washing costs. Cleaning a very dirty or large house is more time-consuming, so you should expect to pay higher rates for these jobs. How your contractor calculates your bill can also affect the final cost.
House Washing Cost Per Hour
Many pressure washing companies charge per hour for their services. Hourly rates can vary significantly by neighborhood, but most people pay between $50 and $150 (CAD 70 and CAD 200) per hour.
House Washing Cost Per Square Foot
Alternatively, your contractor may charge per square foot. Typically, the going rate per square foot is between 30 cents and 80 cents (CAD 0.40 and CAD 1). However, most companies impose a minimum callout charge, which may be $100 to $300 (CAD 135 and CAD 400), meaning that homeowners with very small homes may pay slightly over the average per job if the contractor charges on a per-square-foot basis.
More Related Articles:
House Washing Cost Per Story
Unsurprisingly, pressure washing a taller house is usually more expensive than cleaning a single-story home. Generally, the more stories your house has, the larger the area to clean. Furthermore, taller houses are often riskier to clean and may require specialized safety equipment.
For example, pressure washing an average two-story house usually costs between $120 and $1,600 (CAD 160 and CAD 2,150). Meanwhile, power washing a three-story house could set you back as much as $2,800 (CAD 3,760).
Water Costs
Don't forget to factor the cost of water into your budget. Your contractor will use your home's water supply to power wash your house, so you may see a modest increase in your water bill for that period. Generally, the water required to pressure wash a house costs around $2 (CAD 2.80) per hour.
How Much Does It Cost to Pressure Wash a House Yourself?
Some homeowners choose to rent a pressure washer to clean their homes instead of paying a professional. According to Forbes, pressure washer rentals cost between $100 and $400 (CAD 135 and CAD 540) per day, making them a cost-effective alternative to hiring a pressure wash service. However, it's also essential to consider delivery fees or the cost of collecting the rental.
Alternatively, you could consider purchasing your own pressure washing machine. Buying a pressure washer could be a more economical option if you need to wash your home relatively frequently, and it can also be handy for cleaning decks and driveways.
How much a pressure washer costs to buy depends on the brand and fuel type. Electric pressure washers designed for residential use cost between $100 and $400 (CAD 135 and CAD 540), while gas-powered washers usually cost between $300 and $600 (CAD 400 and CAD 805).
All CAD conversions are based on the exchange rate on the date of publication.
Elocal Editorial Content is for educational and entertainment purposes only. Editorial Content should not be used as a substitute for advice from a licensed professional in your state reviewing your issue. Systems, equipment, issues and circumstances vary. Follow the manufacturer's safety precautions. The opinions, beliefs and viewpoints expressed by the eLocal Editorial Team and other third-party content providers do not necessarily reflect the opinions, beliefs and viewpoints of eLocal or its affiliate companies. Use of the Blog is subject to the
Website Terms and Conditions.
The eLocal Editorial Team operates independently of eLocal USA's marketing and sales decisions.