How Much Does It Cost to Repair Siding?
by Hannah Stephens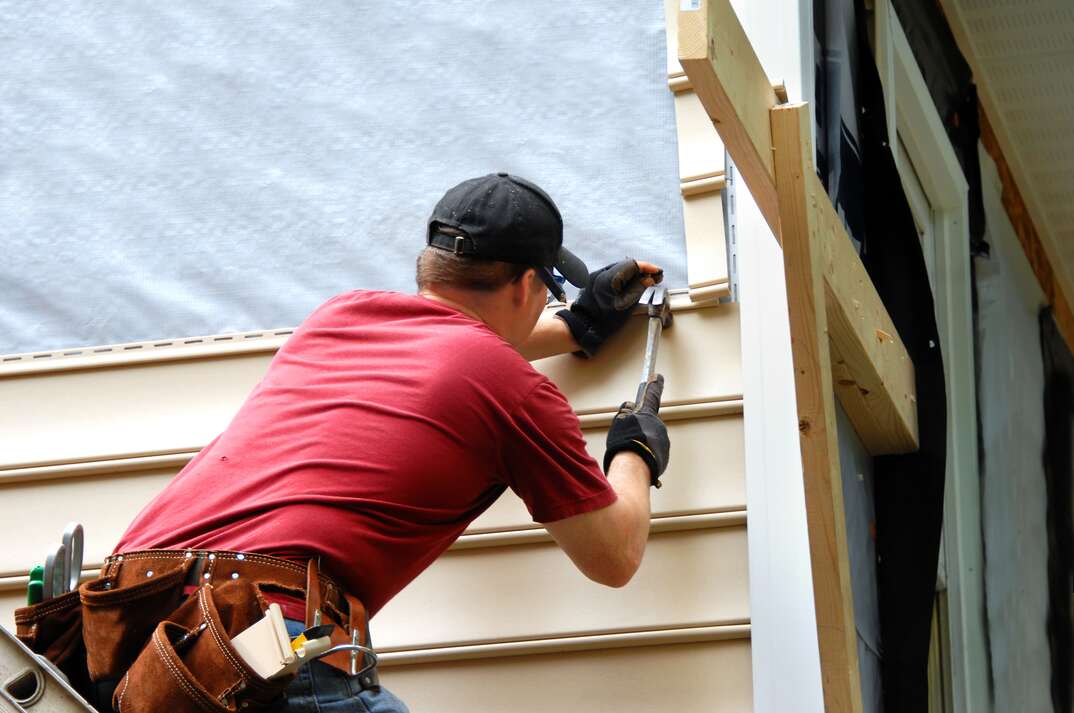 Siding damage — from cracks to gaping holes — can severely affect your home's curb appeal and create an eyesore.
Read More Home Improvement Articles
Fortunately, you probably don't need to rip off your siding and start afresh to get your home looking as good as new.
How Much Does Siding Repair Cost on Average?
According to HomeGuide, the average cost of siding repairs is around $630 (CAD 850), or between $2 and $14 (CAD 3 and CAD 19) per square foot. Most people pay between $200 and $1,100 (CAD 270 and CAD 1,485), although the most expensive repairs can cost up to $5,000 (CAD 6,745). Meanwhile, repairing minor damage with a DIY kit could cost as little as $50 (CAD 67).
You should expect to pay a repair specialist between $40 and $80 (CAD 54 and CAD 108) per hour. How much you'll spend in total depends on several factors, including the siding material, the type of siding damage and the cost of labor where you live.
Vinyl siding repairs are usually the most affordable, with most homeowners spending $3 to $6 (CAD 4 to CAD 8) per square foot. Meanwhile, repairing damaged stucco could cost up to $50 (CAD 67) per square foot.
Repair costs usually fall in line with the price to install the siding in the first place. So, if you have a more expensive type of siding, like fiber cement (Hardie Board) or wood, expect to pay more. Cheaper materials, like aluminum, cost less to repair.
Talk to a Pro
Call to be connected to a local professional
How Much Do Different Types of Siding Damage Cost to Repair?
The type of siding damage can significantly impact how much you'll spend on repairs. You can often fix minor discoloration or small holes yourself, while larger issues usually require professional attention.
Holes
Repairing a hole in your siding typically costs between $50 and $800 (CAD 67 and CAD 1,080). Smaller holes can often be fixed relatively cheaply with caulk or a DIY kit. Meanwhile, you may need to apply a patch or replace entire panels to fix larger holes.
Cracks
Prices to fix minor siding cracks start from around $150 (CAD 202). You could pay up to $1,000 (CAD 1,349) to repair larger or more widespread cracks.
More Related Articles:
Discoloration
The easiest way to rectify discolored siding is to paint the faded areas to match the rest of your home's exterior. This siding repair is relatively inexpensive, costing between $1 and $4 (CAD 1.35 and CAD 5) per square foot on average.
Water Damage
Fixing water-damaged siding costs between $500 and $4,000 (CAD 675 and CAD 5,400) on average. The price range is broad because the cost depends on the extent of the damage. For example, it could cost a lot more to repair water-damaged siding if you fail to address the issue promptly or don't notice it until the damage is severe.
Eventually, water damage can lead to other problems, such as warped, rotten or moldy siding. Removing mold from siding typically costs between $500 and $1,500 (CAD 675 and CAD 2,000), while treating rot could set you back between $140 and $800 (CAD 189 and CAD 1,080). Most homeowners pay $400 to $1,500 (CAD 539 to CAD 2,000) to remedy warped siding.
How Much Does Siding Replacement Cost?
Modernize says that replacing siding on a typical 2,500-square-foot home usually costs between $13,325 and $24,300 (CAD 17,970 and CAD 32,770), or $4.50 to $16.90 (CAD 6.07 to CAD 23) per square foot. Therefore, it's almost always cheaper to repair your existing siding instead of replacing it entirely. That said, it's sometimes more cost-effective to replace severely damaged sections while retaining any areas still in good condition.
All CAD conversions are based on the exchange rate on the date of publication.
Elocal Editorial Content is for educational and entertainment purposes only. Editorial Content should not be used as a substitute for advice from a licensed professional in your state reviewing your issue. Systems, equipment, issues and circumstances vary. Follow the manufacturer's safety precautions. The opinions, beliefs and viewpoints expressed by the eLocal Editorial Team and other third-party content providers do not necessarily reflect the opinions, beliefs and viewpoints of eLocal or its affiliate companies. Use of the Blog is subject to the
Website Terms and Conditions.
The eLocal Editorial Team operates independently of eLocal USA's marketing and sales decisions.