How Much Does It Cost to Repair a Granite Countertop?
by Team eLocal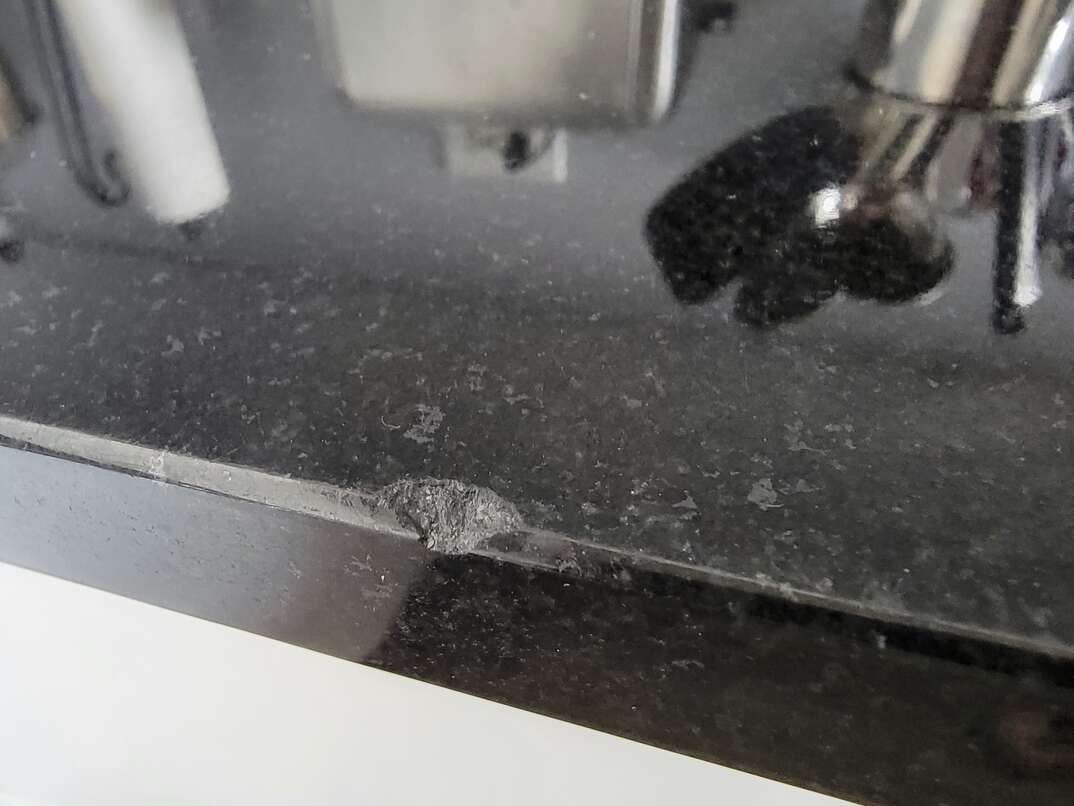 Granite countertops create a sleek, polished aesthetic, but they're also a major investment. Given the high installation costs, it's hardly surprising that scratching, chipping or burning a granite countertop is many homeowners' worst nightmare.
Read More Home Improvement Articles
Fortunately, granite repair or resurfacing can often save a damaged countertop. Let's explore how much granite repair costs per square foot and in total, including professional and DIY costs.
Can My Granite Countertop Be Repaired?
You can usually repair granite countertops, although whether it's possible depends on the extent of the damage. Granite repair typically involves filling chips and cracks with epoxy resin. When done correctly, these repairs are barely visible if you color-match the resin to the color of the stone. You can either hire a granite repair technician to fix the countertop for you or purchase a DIY granite countertop repair kit from a hardware store.
Some homeowners also choose to resurface their granite countertops. This process involves coating the countertop with durable resin or paint and can help revive worn-out surfaces.
Talk to a Pro
Call to be connected to a local professional
How Much Does It Cost to Fix Cosmetic Issues Like Scratches?
Repairing scratches on a granite countertop typically costs between $10 and $60 (CAD 13 to CAD 80) per square foot. How much you'll spend depends on the area you need to repair — you'll spend significantly less to repair a single scratch than you would to fix scratches across the entire surface.
Alternatively, refinishing or polishing your countertops can cover up shallow scratches, although you'll need to fill deeper flaws. Professionals refinish granite countertops by sanding the surface, applying a silicon-based sealant and polishing. Expect to spend between $5 and $20 (CAD 7 and CAD 27) per square foot to have your granite countertops professionally refinished.
How Much Does It Cost to Fix Chips or Missing Pieces?
Like scratches, fixing chips or cracks in a granite countertop usually costs between $10 and $60 (CAD 13 to CAD 80) per square foot. How much it costs to repair larger missing sections depends on how much is missing. Your granite repair specialist may recommend replacing extensively damaged sections.
More Related Articles:
How Much Does DIY Granite Countertop Repair Cost?
The prices above are for professional granite repair, but it's often cheaper to purchase a DIY kit. According to HomeGuide, these kits retail for between $50 and $680 (CAD 70 and CAD 915). Fixing your countertop yourself is often more cost-effective for minor scratches and chips, but you're usually better off hiring a professional for more significant repairs.
Granite Countertop Repair Vs. Replacement: Which Is Cheaper?
Replacing your granite countertops is almost always more expensive than repairing them. According to HomeGuide, most companies charge between $80 and $150 (CAD 110 and CAD 200) per square foot for granite countertop installation, including labor and materials. However, rates can exceed $250 (CAD 340) per square foot for thick, decorative or high-grade granite installations.
In total, most homeowners spend between $2,400 and $6,000 (CAD 3,235 and CAD 8,085) to install 30 to 40 square feet of granite countertops, compared to between $200 and $800 (CAD 270 and CAD 1,080) for granite countertop repairs.
How Do You Protect Granite Countertops?
Prevention is better than cure, so it's a good idea to reseal your granite countertops each year to reduce the risk of damage. You can reseal your countertop yourself or hire a professional to apply the sealant for you. Porch says the materials required to reseal a granite countertop cost around 19 cents (CAD 0.26) per square foot on average, while most professionals charge between 77 cents and $1.63 (CAD 1.04 and CAD 2.20) per square foot for materials and labor.
All CAD conversions are based on the exchange rate on the date of publication.
Elocal Editorial Content is for educational and entertainment purposes only. Editorial Content should not be used as a substitute for advice from a licensed professional in your state reviewing your issue. Systems, equipment, issues and circumstances vary. Follow the manufacturer's safety precautions. The opinions, beliefs and viewpoints expressed by the eLocal Editorial Team and other third-party content providers do not necessarily reflect the opinions, beliefs and viewpoints of eLocal or its affiliate companies. Use of the Blog is subject to the
Website Terms and Conditions.
The eLocal Editorial Team operates independently of eLocal USA's marketing and sales decisions.