How Much Does It Cost to Move?
by Team eLocal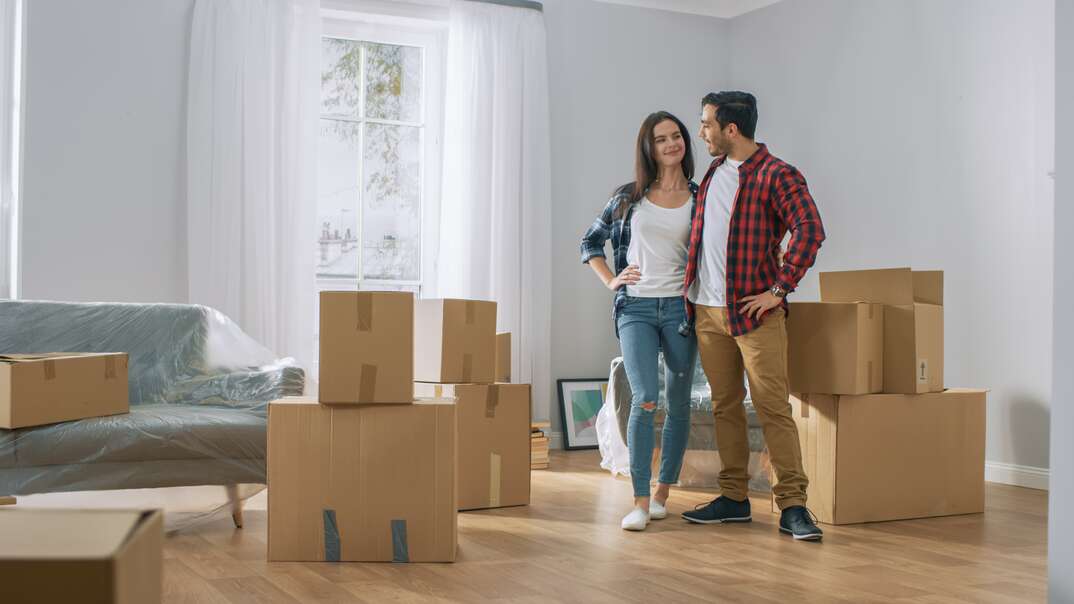 Moving Costs at a Glance
Price range: $800-$10,000
Local move: $1,250
Long-distance move: $5,000
Packing supplies: $100 per room
Storage unit: $180 per month
Moving container: $150 per month; $75 delivery/pick-up
Moving a car: $1,000-$2,000
Moving is a hassle to begin with, but oftentimes, it's inevitable. Planning for a move can take some foresight and some careful managing of your finances — moving costs vary depending on whether you hire movers or go DIY, along with many other factors.
Read More Home Improvement Articles
Every move is different, so how much you'll pay depends on facts like how big your house is and how far you're moving your stuff. Here, we've broken down all the costs you should know about.
How Much Does the Average Move Cost?
Moving costs vary significantly based on a number of factors, including:
The size of the home you're moving to
The time of year you're moving
If you're hiring professional movers
The distance you need to travel
The best way to assess the cost of moving is to break it down by the size of the home. A three-bedroom house may cost between $800 and $10,000 to move, depending on all the factors involved.
Talk to a Pro
Call to be connected to a local professional
DIY Move Cost Breakdown
A DIY move may be an option if you're looking to save money, but there are additional costs to consider that you may not be aware of prior to the move. To avoid spending much more than anticipated, do your research and know what to expect to avoid being caught off-guard.
Boxes and Packing Supplies
The number of boxes and packing materials you need depends on the type of possessions you own and how much of what you're moving is fragile or heavy. For around $100 per room, you can purchase moving kits that come with the boxes, tapes and bubble wrap you need. Keep in mind that you may need to pay more to get supplies to protect your glassware and other breakable items.
Storage Unit
Renting a storage unit allows you to organize your things ahead of your move or to unpack at your own pace. While it's not always necessary to rent a storage unit, it may make it more convenient for you to move. The size of the unit affects your cost, with it normally costing about $180 per month, according to Move.org.
Moving Container
Also known as storage pods or moving pods, moving containers allow you to store your possessions in a portable storage unit which is picked up and dropped off at your new home. You can have your moving container delivered to your home and take as much time as you need to fill it. You can then take your time unpacking it when it gets to your new home. PODS brand moving containers cost $150 per month on average, plus $75 for drop-off and pick-up.
Moving Truck or Van Rental
Renting a van or a truck is a considerable variable because rental costs fluctuate throughout the year for long-distance moves. Most moving truck companies charge a base rate per day and a set amount per mile you travel. If you're moving across a long distance, the cost can mount quickly due to mileage.
Moving Service Cost Breakdown
It may save a lot of time and frustration to hire help, but these services quickly add to your move's overall cost. The primary reasons you may consider hiring movers are needing to move within a shorter time or not wanting to expend the physical energy.
Professional Moving Company
Hiring movers costs much less when you're moving locally than cross-country. The cost of a move within 100 miles is normally about $1,250, according to Bob Vila. Professional movers charge an hourly rate for local moves. If you need to move a greater distance, the moving company will charge you by total weight, and you could spend over $5,000 for a three-bedroom move.
Professional Packing Services
If you'd like to hire professionals to pack up all your things, expect to pay them an hourly rate plus a tip for the service. Prices for packing services may vary —pay attention to the fine print to see what may cause the rate to go up.
Insurance Coverage
Purchasing insurance covers you in the event any of your belongings are damaged or destroyed during the move. The cost of insurance normally depends on the total weight of your things, but distance may also play a factor. You could pay up to a dollar per pound when you buy insurance, but it's worth it if you're moving anything with a lot of value.
More Related Articles:
Cost Factors
Your moving cost has a lot of variables, which is why the average range for moving costs is so wide. Understanding the following cost factors can help you save money or budget for your move properly.
Distance
Most local moves cost less than $1,000, whether you choose to do it yourself or pay someone else to move your home for you. Once you exceed 100 miles, the costs begin to rise drastically. If you know that you're going to move to a different state or area of the country, put aside more money to plan for your move. One of the ways that you can offset your moving costs is to claim them on your taxes.
Size of Home
Most moving quotes will be "per room" because movers take the volume of your items into account when assessing your costs. The reason for this is that they need to determine how well your belongings will fit into a truck and whether you need multiple trucks to complete the move. More trucks require larger moving crews and use more fuel, so expect to pay more if you're moving three or more rooms.
Time of Year
Choosing times to move that other people commonly avoid can reduce your costs. For example, the peak moving season is from April until September, when the weather is temperate or warm. People don't like to move when the temperature goes down, but if you're willing to schedule your move during colder months, you could save quite a bit of money. Choosing to move during the week versus on a weekend can also make a difference in cost.
Specialty or Fragile Items
If you have items that break easily or oversized items such as a piano or vehicle, you need to take added costs for moving these things into account. Whether it's the added cost of purchasing packing materials to protect your specialty items, the cost of insuring them or asking professional movers to make special concessions for your valuables, expect it to have an impact on your bottom line.
What Is a Full-Service Moving Company?
A full-service moving company handles every aspect of your move, from packing up all your belongings to transporting and unloading them. Full-service movers supply all your boxes, packing materials and storage and can even disassemble items to make it easier to load them onto the truck or protect them from being damaged in transit. Once you arrive at your new home, full-service movers unpack all your things for you and place your furniture where you'd like it within your home.
The price for a full-service move leaves out nothing. The quote you receive considers the potential weight and volume of your things, insuring your valuable items and removing the boxes and trash left over after the move is completed. While it's extremely convenient to hire a full-service moving company, it's also more expensive.
How Much Does It Cost to Move a Car?
Cars are treated as oversized items, and you're required to pay an upcharge that can range from $1,000 to $2,000 for adding cross-country transport. Sometimes it's much more cost-effective to drive the miles than to pay someone to move your vehicle.
How Can You Save Money on a Move?
From handling the move yourself to when you choose to move, there are many ways you can save money on moving. There are some situations where it may be worth it to pay a little more, but if money is an important factor, consider the following ways to save:
Consider staying local, as the most expensive moves are distances over 100 miles.
Move during the fall or winter if you can, when most other people don't want to and moving companies lower their rates.
Relocate your vehicles yourself rather than paying to have them transported.
Use a moving container to transport your belongings if you're moving to a smaller home.
Deduct all your moving expenses from your taxes to recoup some of your cost, which you can only do if you're relocating because of employment.
Do You Tip Your Movers?
It's good manners to tip your movers, but most people don't know the expected tip for a move with their requirements. If you do choose to tip, go for 20% of your total move cost, divided among the movers.
Elocal Editorial Content is for educational and entertainment purposes only. Editorial Content should not be used as a substitute for advice from a licensed professional in your state reviewing your issue. Systems, equipment, issues and circumstances vary. Follow the manufacturer's safety precautions. The opinions, beliefs and viewpoints expressed by the eLocal Editorial Team and other third-party content providers do not necessarily reflect the opinions, beliefs and viewpoints of eLocal or its affiliate companies. Use of the Blog is subject to the
Website Terms and Conditions.
The eLocal Editorial Team operates independently of eLocal USA's marketing and sales decisions.