How Much Does It Cost to Remove Lead Paint?
by Team eLocal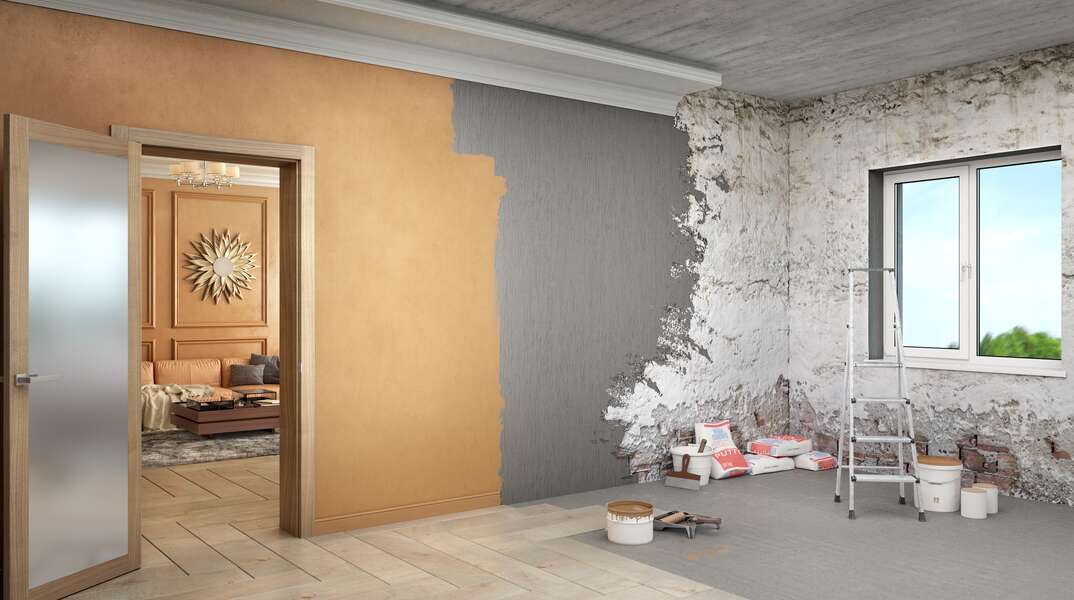 Lead is a toxic metal that poses a significant health risk. Lead-based paint was commonly used in houses until 1978, when it was banned in the U.S. for domestic use. According to the U.S. Environmental Protection Agency: "The older your home, the more likely it contains lead-based paint." In fact, the EPA says that if you own an older home, you should assume it contains some amount of lead-based paint.
Read More Home Improvement Articles
If you suspect there's lead paint lurking on your windowsills or walls, hiring a professional to assess and mitigate the situation as quickly as possible is essential.
What Is Lead Paint?
So, why did people use lead-based paint if it's so dangerous? Unfortunately, the risks of lead paint weren't well understood until relatively recently. Adding lead to paint helps it dry quicker, makes it more durable and allows the painted surface to withstand water. At one time, it was a popular option in homes all over Europe and the U.S.
Why Is It Dangerous to Have Lead Paint In Your Home?
According to the Department of Housing and Urban Development, exposure to lead paint can lead to organ damage. The brain and kidneys are commonly affected, and it can also cause nerve damage.
Lead poisoning can trigger various behavioral changes and symptoms, and it's particularly dangerous in young children. The affected person may experience:
Learning disabilities
Seizures
Headaches
Gastric pain
Nausea
Tiredness
One of the most common ways to develop lead poisoning is by inhaling dust from peeled and cracked lead paint. Young children are also at risk of consuming lead paint by eating flakes or chewing painted surfaces. Serious cases of lead poisoning can be fatal, so it's essential to act if you think you have lead paint in your home.
How Do You Know If You Have Lead Paint?
If your house was built before 1978, it's safest to assume it contains lead-based paint. A certified inspector can test the paint inside your home and recommend steps to keep your family safe. For example, they may suggest ways to protect yourself when carrying out repair or renovation work. In some situations, it may be best to remove the lead paint and repaint the surfaces.
You can purchase DIY paint-testing kits from homeware stores. However, performing the testing yourself increases your risk of lead exposure. It's safer to leave lead paint testing to the professionals.
How Much Does a Lead Paint Inspection Cost?
Certified lead paint inspectors wear protective clothing while performing paint testing. The test involves making a small incision in the paintwork and removing a small amount with an applicator. You'll get the results almost instantly. According to data from Fixr, you should expect to pay between $250 and $450 for a lead paint inspection.
Alternatively, you could hire a risk assessor to conduct a detailed home inspection and detect any lead hazards. A risk assessment is usually necessary if someone in your home shows lead exposure symptoms. This process typically costs between $800 and $2,000.
More Related Articles:
How Do Professionals Remove Lead Paint?
Removing lead paint releases dust, so you should never try to remove it yourself. Professionals may sand or scrape the paint off, or they may use a heat gun or specialized chemicals. A lead paint removal company will use a HEPA filter vacuum to remove dust and flakes from your home.
Encapsulation
Encapsulation is an alternative to lead paint removal. It involves covering the affected surface with an encapsulation compound made from cement, chemical compounds or polyurethane. This technique seals the surface and prevents lead particles from entering the air.
Enclosure
Enclosure is a temporary method for mitigating the risk of lead-based paint. Professionals can install drywall over the contaminated surfaces to enclose them and stop them from shedding hazardous dust. Encapsulation is only suitable for flat surfaces, such as walls, and it's not a good option for large areas.
Replacement
Replacing the contaminated surfaces is a more radical and costly solution, but it may be necessary if the problem is extensive. This process can involve removing entire windows, walls or floors, which is time-consuming and disruptive. However, replacement is a highly effective way to eliminate lead contamination in your home.
How Much Does Lead Paint Removal Cost?
Generally, lead paint removal costs between $8 and $17 per square foot. You'll also need to pay to dispose of the paint at a waste disposal site that accepts hazardous substances, increasing your costs by around $3 to $5 per square foot. Expect to pay around $15,000 to remove all lead paint from a 2,000-square-foot house.
Lead paint encapsulation is significantly more affordable, costing between $1 and $4 per square foot. Meanwhile, lead paint enclosure costs between $6 and $12 per square foot.
It's difficult to estimate the cost of replacing contaminated materials because it depends on the scale of the issue and what materials you need to replace. However, most homeowners pay between $1,000 and $15,000.
What Factors Affect the Overall Cost?
The size of the project is the primary factor affecting how much lead paint removal costs. However, other factors can also affect how much you pay. It's more difficult and time-consuming to remove lead paint from rough surfaces than smooth walls, so expect to pay more for lead paint removal in these areas. The costs could also increase if you require removal from a hard-to-reach place.
Removal or encapsulation is often more complex (and expensive) if the lead paint is dark-colored. Often, these paints require multiple coats of encapsulants to stop them from shedding dust.
Elocal Editorial Content is for educational and entertainment purposes only. Editorial Content should not be used as a substitute for advice from a licensed professional in your state reviewing your issue. Systems, equipment, issues and circumstances vary. Follow the manufacturer's safety precautions. The opinions, beliefs and viewpoints expressed by the eLocal Editorial Team and other third-party content providers do not necessarily reflect the opinions, beliefs and viewpoints of eLocal or its affiliate companies. Use of the Blog is subject to the
Website Terms and Conditions.
The eLocal Editorial Team operates independently of eLocal USA's marketing and sales decisions.