How Much Does It Cost to Paint a House?
by Team eLocal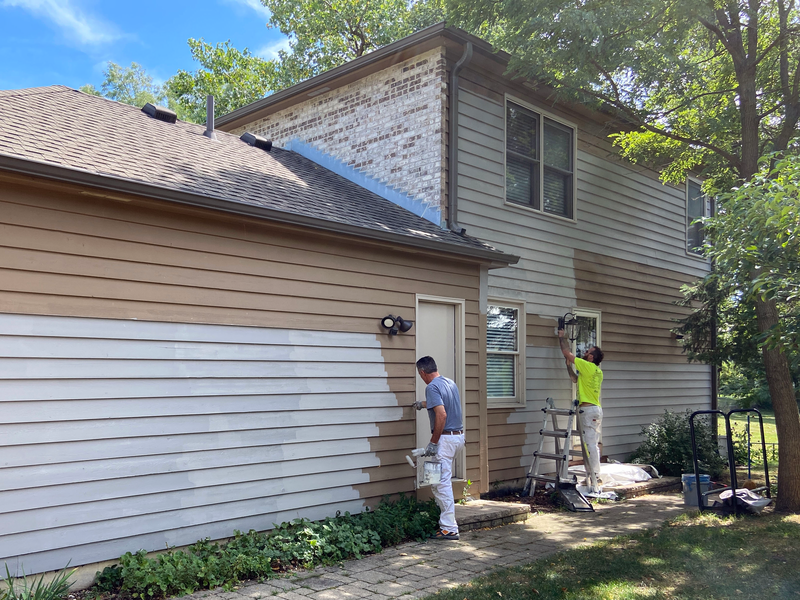 Does your house need a fresh coat of paint? Exterior painting can make it look like a new house, but the job is very time-consuming — and often has a price tag to match.
Read More Home Improvement Articles
The cost of painting a house depends on whether you hire a professional or do it yourself.
How Much Does It Cost to Paint the Exterior of a House?
According to Family Handyman, the cost to paint the exterior of a house can range from $1,000 to $10,000, depending on several factors. The size of the house is one of the biggest factors in the cost because a larger house requires more paint and more time to complete the work. Extra stories also increase the price since the painters need taller ladders, scaffolding or lifts to reach.
Talk to a Pro
Call to be connected to a local professional
How Much Does It Cost to Paint a House Exterior Per Square Foot?
Exterior painting typically costs between 50 cents and $5 per square foot, although the pricing can vary. The siding material can increase the cost. For example, painting stucco usually costs between $1.50 and $6 per square foot, and painting concrete can cost between $1 and $7 per square foot.
How Much Do Painters Usually Charge Per Hour?
Painters typically charge $36 to $50 per hour per painter for labor. That doesn't include the supplies and materials. Most crews have multiple painters, so the labor costs can add up quickly.
How Much Does It Cost to DIY?
You eliminate the labor costs when you paint your home's exterior yourself. Paint and primer usually cost $15 to $80 per gallon. For a 1,500-square-foot home, you'll need about 5 gallons of paint per coat. You'll usually need two coats of paint, or at least 10 gallons to do the job. That makes the total cost of the paint anywhere from $150 to $800 for a 1,500-square-foot home.
You'll also need brushes, rollers, paint trays and other supplies. If you don't have a ladder, you'll need to buy or rent one. You should be able to do the job for less than $1,000 yourself with all the supplies. However, it's also a very time-consuming process — especially if you're working alone. Professional painters can knock the job out in days. You might spend weeks doing the painting in your spare time.
More Related Articles:

What Other Costs Should Homeowners Be Aware Of?
The cost to paint the exterior of a house goes up for any extras you have done or anything that makes the job more complicated. Here are some examples of things that can increase the price:
Siding material: The prep and painting can be more complicated on some siding materials. Stucco, brick and concrete tend to be the most expensive types to have painted.
Trim, shutters, doors, etc.: If you have the contractors paint all your exterior features, expect the cost to paint the exterior of the house to increase. Trim usually costs $1 per linear foot, doors cost around $70 to $300 each, and shutters often run $60 to $80 each.
Paint quality: High-quality paint tends to cost more, but it usually lasts longer than lower-quality brands. It also tends to cover better, so you might not need as much paint overall if you can get away with fewer coats.
Prep work: Exterior painting requires you to clean the siding, scrape old paint, sand rough spots, caulk and repair damage. The home's condition can affect the cost. A house with lots of repairs will take the painters longer to prep, so your costs increase.
When getting quotes, let the contractors know everything you want them to do, so they can give you an accurate quote.

Reducing the Cost to Paint the Exterior of a House
Here are some tips for reducing the costs:
Get quotes from multiple painters to find an affordable option.
Do the repairs and prep work before the painters arrive.
Limit the number of colors you choose.
Get everything in writing, so the painter doesn't add fees later.
Maintain the exterior to prevent damage that's expensive to fix.
Elocal Editorial Content is for educational and entertainment purposes only. Editorial Content should not be used as a substitute for advice from a licensed professional in your state reviewing your issue. Systems, equipment, issues and circumstances vary. Follow the manufacturer's safety precautions. The opinions, beliefs and viewpoints expressed by the eLocal Editorial Team and other third-party content providers do not necessarily reflect the opinions, beliefs and viewpoints of eLocal or its affiliate companies. Use of the Blog is subject to the
Website Terms and Conditions.
The eLocal Editorial Team operates independently of eLocal USA's marketing and sales decisions.