How Much Do House Cleaning Services Cost?
by Team eLocal
Between family and work obligations, who has time for household chores? Maybe you've thought about hiring a professional house cleaner, but decided that it was a luxury you couldn't afford.
Read More Home Improvement Articles
You can't put a price on a clean, well-maintained home, but many cleaning services offer weekly or flat rates according to your needs. House cleaning services can also charge by the hour or job. The time you'll save for more important things might be worth the investment of bringing in a professional to organize and clean your home. This guide will help you decide if it'll fit into your budget.
What to Expect From a Cleaning Service
People expect a lot when they hire a cleaning service, but not all household maintenance and cleaning chores fall under the responsibilities of a house cleaner.
So, what does a cleaning service cover? The duties go room by room and usually only cover the basics like:
• Dusting reachable surfaces
• Wiping down the exteriors of cabinets and appliances
• Mopping and vacuuming
• Cleaning sinks, toilets, bathtubs and showers
• Taking out garbage and recyclables
Extras like laundry, making beds, or cleaning out your fridge are typically not included in a basic house cleaning package.
Talk to a Pro
Call to be connected to a local professional
The Cost of a Professional House Cleaner
The cost of professional cleaning services depends upon several factors. The first is the size of your home. Much more time and effort goes into cleaning a single-family, three-bedroom home than a small apartment, and the price will reflect that. A big family or frequent guests will create more mess, leading to higher cleaning costs.
On average, the price for cleaning a two-bedroom home with fewer than 1,000 square feet is about $60 to $120 every two weeks. That cost can rise to $180 on a bi-weekly basis for a 2,000-square-foot home.
Hourly rates also vary. For example, a professional cleaning service could bill you up to $45 per hour to dust and vacuum your home. According to Care.com, an independent professional cleaner will cost between $15 and $20 per hour depending on your location, the size of your home and the amount of work needed to keep it tidy.
Keep in mind that these price ranges only cover the basics, such as dusting, mopping and keeping your surfaces sparkling. Many companies and individual house cleaners charge extra fees for add-ons like:
• Laundry service
• Organizing closets
• Window washing
• Appliance cleaning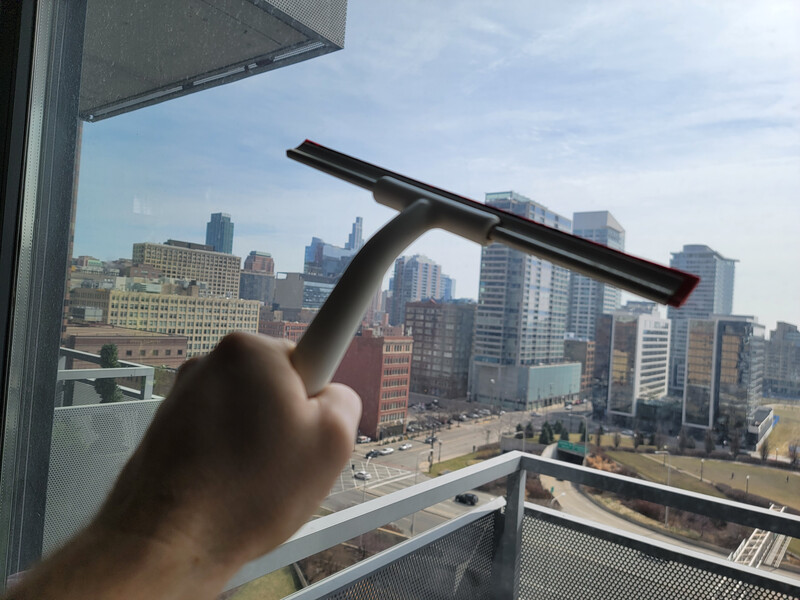 Individual Cleaners Vs. Cleaning Companies
You can either hire an individual cleaner or a cleaning company to do the job. There are pros and cons to using each type of cleaning service, just as there are different types of services available from professional cleaners and companies.
Individual cleaners are the most budget-friendly solution, and some of their services may include minor home repair or yard work. However, many of the independent contractors aren't licensed, bonded and insured. That means you're taking a risk if something is broken or winds up missing from your home.
Small, local cleaning businesses are a cost-effective middle option. They're usually licensed and insured against accidents and other issues, and they have fewer overhead expenses than a large, national cleaning service or chain.
Large corporations have teams of professional cleaners at their disposal. They'll cost a little more than an individual cleaning service or a local cleaning company, but they'll hire only trained, bondable cleaners using professional-strength cleaning products. They may offer a wider range of extras, one-off jobs and deep-cleaning services.
More Related Articles:

Types of Cleaning Services
Deep-Cleaning
Deep-cleaning service is for homes that haven't been cleaned in a while, homes with large families and those where the occupants have no time or ability to tackle even the most basic home care. Tasks include deep scrubbing and dusting individual items, appliance cleaning and floor waxing. This is more work for the cleaners and takes more time, so it usually isn't included in basic house-cleaning services.
Move-In and Move-Out Cleaning
Move-in or move-out jobs are either in preparation for new residents in a rental property or to clean up after someone who moves out. Duties include deep-cleaning inside cupboards and anything else necessary to make a home presentable for new owners or renters. If the home has been vacant for a while, the cleaner may need to haul away debris. Move-in and move-out cleaners can be hired by individuals, apartment or property managers, or real estate professionals.
Event Cleaning
Event cleaning is usually a one-time or occasional service. For example, you may need someone to come in and clean up after a birthday or other celebration. If you entertain a lot, you'll find event cleaners indispensable.
Are Cleaning Services Right for You?
Professional house cleaners provide great value for the money by allowing you to live in a tidy, uncluttered environment. However, some problems are beyond the scope of a cleaning service and may require hiring a different type of professional, like a handyman.
Elocal Editorial Content is for educational and entertainment purposes only. Editorial Content should not be used as a substitute for advice from a licensed professional in your state reviewing your issue. Systems, equipment, issues and circumstances vary. Follow the manufacturer's safety precautions. The opinions, beliefs and viewpoints expressed by the eLocal Editorial Team and other third-party content providers do not necessarily reflect the opinions, beliefs and viewpoints of eLocal or its affiliate companies. Use of the Blog is subject to the
Website Terms and Conditions.
The eLocal Editorial Team operates independently of eLocal USA's marketing and sales decisions.