How Much Does It Cost to Hire a Handyman?
by Team eLocal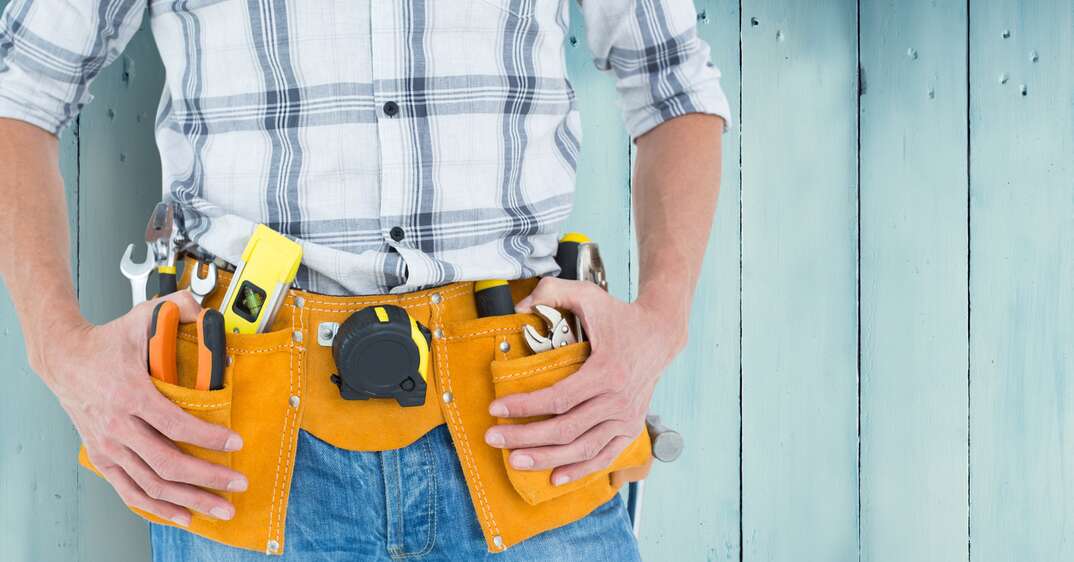 Got a home improvement job that you can't tackle yourself? Before calling a contractor, consider hiring a handyman as a more affordable alternative.
Read More Home Improvement Articles
Handymen can handle those simpler home maintenance tasks and projects you need to check off your list. Let's explore how much it costs to hire a handyman.
What's the Difference Between a Handyman and a Contractor?
A handyman is someone who can perform minor repairs and home improvements. Generally, handymen don't need a license to provide their services, and there aren't any required qualifications to work as a self-employed handyman.
However, handymen often have extensive home repairs knowledge and DIY skills. Some handymen provide a broad range of services, while others choose to specialize in a specific area. Examples include:
Minor plumbing, appliance or HVAC repairs
Hanging pictures, mirrors and window treatments
Drywall repairs
Interior and exterior painting
Outdoor DIY tasks, such as mold removal and fence repairs
Meanwhile, contractors must hold a license. General contractors supervise and manage projects involving multiple specialist contractors. Meanwhile, other contractors work in specific trades, such as electricians and HVAC engineers. Licensing requirements vary between states, but contractors must usually hold a general contractor license or a license to work in a particular trade.
Talk to a Pro
Call to be connected to a local professional
Is It Cheaper to Hire a Handyman Than a Contractor?
Generally, hiring a handyman costs less than a contractor. According to HomeGuide, the average handyman charges between $50 and $80 per hour. Meanwhile, you could pay up to $150 per hour for a plumber or HVAC technician, and up to $120 per hour for an electrician.
However, it's sometimes better to hire a contractor despite the added cost. While hiring a handyman can be an excellent, cost-effective option for small and straightforward tasks, you'll usually need a contractor for complex work. For example, major plumbing or electrical repairs require a contractor's advanced skills for safety reasons. You'll always need a licensed contractor if your project requires a building permit.
More Related Articles:
How Much Do Handyman Services Cost?
Most homeowners spend between $150 and $600 per job on handyman services, according to Fixr. However, how much you'll pay depends on a few factors, including how long the job takes, the job complexity and the cost of living in your area.
While many handymen charge an hourly rate, some may charge a flat fee for common tasks. They may also charge a minimum fee of about $130 (on average), even if your project takes less than an hour. Prices for common projects include:
Door Installation and Repairs
Handymen generally charge between $200 and $300 to install a door — expect to pay toward the lower end of the scale for a door replacement and the upper end for a brand-new door. Meanwhile, door repairs typically cost between $125 and $200. Bear in mind that these figures don't include the cost of hardware and materials.
Painting
Hiring a handyman to paint a room costs between $400 and $1,000 on average, excluding the cost of the paint and supplies. Expect to pay between $200 and $400 for deck staining or to paint a ceiling.
Toilet Installation
You should expect to pay a handyman between $100 and $200 to install a toilet, including removing the existing fixture.
Drywall Repair
Drywall repairs typically cost between $275 and $800, excluding supplies and materials. Expect to pay toward the upper end if the damage is extensive or you need the handyman to repaint the wall following repairs.
Ceiling Fan Installation
Handymen generally charge between $100 and $300 to install a ceiling fan. It's riskier and more challenging to install a fan on a higher ceiling. Therefore, the higher the ceiling, the more you should expect to pay.
Hanging Paintings
A handyman can install picture hooks or rails and hang and level paintings. Expect to pay between $60 and $125, or even less if you have the necessary hardware.
Fence Repair
Tasks such as replacing fence panels or posts typically cost between $125 and $200, not including the cost of materials. Generally, you can expect to pay less to repair a wooden fence than a metal one. Your handyman will likely charge an extra fee if you need them to repaint your fence.
Elocal Editorial Content is for educational and entertainment purposes only. Editorial Content should not be used as a substitute for advice from a licensed professional in your state reviewing your issue. Systems, equipment, issues and circumstances vary. Follow the manufacturer's safety precautions. The opinions, beliefs and viewpoints expressed by the eLocal Editorial Team and other third-party content providers do not necessarily reflect the opinions, beliefs and viewpoints of eLocal or its affiliate companies. Use of the Blog is subject to the
Website Terms and Conditions.
The eLocal Editorial Team operates independently of eLocal USA's marketing and sales decisions.