How Much Do Garage Door Springs Cost?
by Hannah Stephens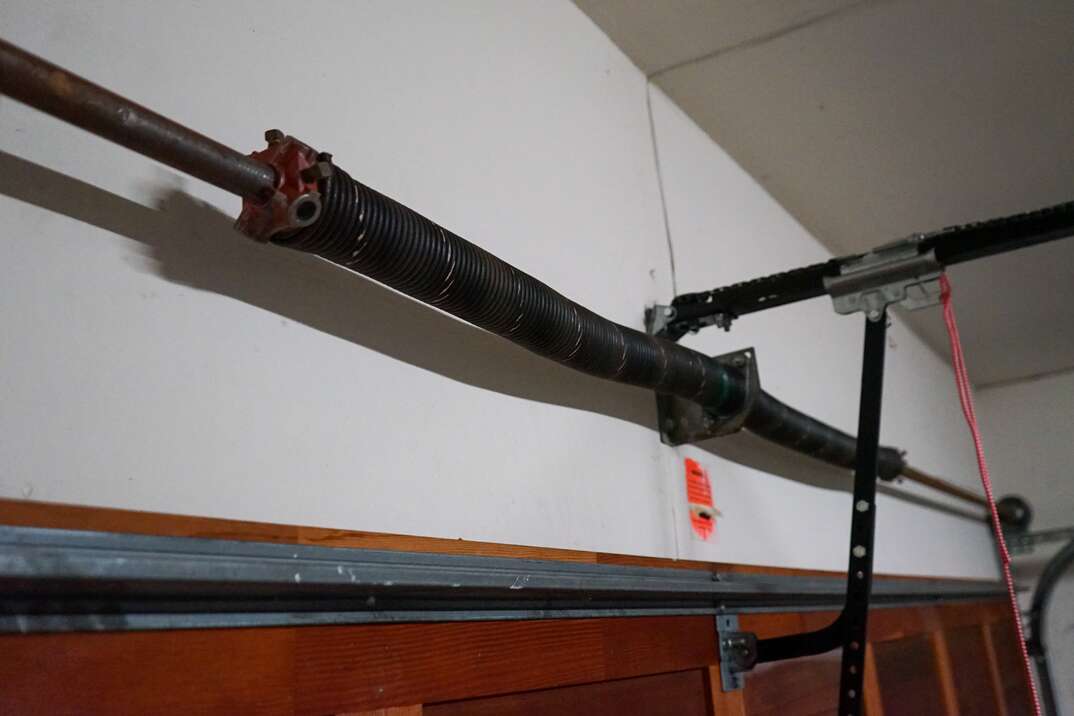 If your garage door is difficult to open or makes a loud banging or snapping sound when you use it, it could be time for new garage door springs.
Read More Home Improvement Articles
Broken springs don't just make your garage door challenging to operate — they can also cause a safety hazard.
How Much Do These Types of Garage Door Springs Cost?
How much garage door springs cost mainly depends on the type, according to HomeGuide. There are two main types available: torsion springs and extension springs.
Torsion Springs
Torsion garage door springs are coils that fit around the rod that sits above your garage door. They become tense when you shut the door and release when you open it. Torsion springs are generally the safest type of garage door springs because they're less prone to snapping than extension springs. Depending on the make and material, you can expect a torsion spring to last at least seven years.
Single torsion springs typically cost between $30 and $70 (CAD 40 and CAD 94) per unit, not including the cost of installation labor. You may need two torsion springs if your garage door is particularly wide or heavy. Purchasing torsion springs in pairs is often more cost-effective, and most homeowners spend between $50 and $100 (CAD 67 and CAD 135) on a pack of two.
Extension Springs
Extension garage door springs hang at each side of the door or along the ceiling tracks and extend when you close the door. This extension produces tension that makes it easier to open the door. They're more straightforward to install and maintain than torsion springs, but they're also less durable. Most extension springs last for between 4 and 10 years, depending on how often you use your garage door. Your installer may recommend replacing worn-out extension springs with torsion springs to make your garage door safer to operate.
You'll need to install two extension springs, one on each side of the garage door. The springs themselves usually cost between $20 and $40 (CAD 27 and CAD 54) each, excluding installation, or $30 to $50 (CAD 40 to CAD 67) for a pack of two.
More Related Articles:
Talk to a Pro
Call to be connected to a local professional
How Much Does It Cost to Have Garage Door Springs Installed?
You should always hire a professional installer to fit garage door springs because attempting to install them yourself could cause a serious injury. How much garage door spring replacement costs depends on the type and the going rates for labor in your area.
Based on data from HomeGuide, most installers charge between $110 and $200 (CAD 148 and CAD 270) to replace a single torsion spring. Therefore, you should expect to pay between $140 and $270 (CAD 189 and CAD 364) for a new spring, plus installation labor. It often costs less per unit if you have your installer replace both springs during the same appointment — installing two torsion springs usually costs between $200 and $350 (CAD 270 and CAD 472) altogether.
Installing extension springs is significantly cheaper, and companies usually charge between $100 and $120 (CAD 135 and CAD 162) for labor. The total cost of a new extension spring and installation labor is roughly $120 to $160 (CAD 162 to CAD 216). Like torsion springs, extension springs are more economical to install if you replace them in pairs. On average, replacing two garage door extension springs costs between $150 and $200 (CAD 202 and CAD 270).
Replacing the springs on a double garage door is often more expensive. Double garage door springs need to handle more weight, so they're usually thicker and more durable. Expect to pay between $200 and $375 (CAD 270 and CAD 506) to replace both torsion springs on a double door, including the cost of two springs and installation.
How Much Does It Cost to Repair Garage Door Springs?
You can sometimes repair garage door springs if they're imbalanced, which can make the door difficult to open. Most companies charge between $40 and $80 (CAD 54 and CAD 108) for spring repair services. However, you'll need to replace snapped or overstretched garage door springs.
All CAD conversions are based on the exchange rate on the date of publication.
Elocal Editorial Content is for educational and entertainment purposes only. Editorial Content should not be used as a substitute for advice from a licensed professional in your state reviewing your issue. Systems, equipment, issues and circumstances vary. Follow the manufacturer's safety precautions. The opinions, beliefs and viewpoints expressed by the eLocal Editorial Team and other third-party content providers do not necessarily reflect the opinions, beliefs and viewpoints of eLocal or its affiliate companies. Use of the Blog is subject to the
Website Terms and Conditions.
The eLocal Editorial Team operates independently of eLocal USA's marketing and sales decisions.