How Much Does It Cost to Seal or Stain a Deck?
by Team eLocal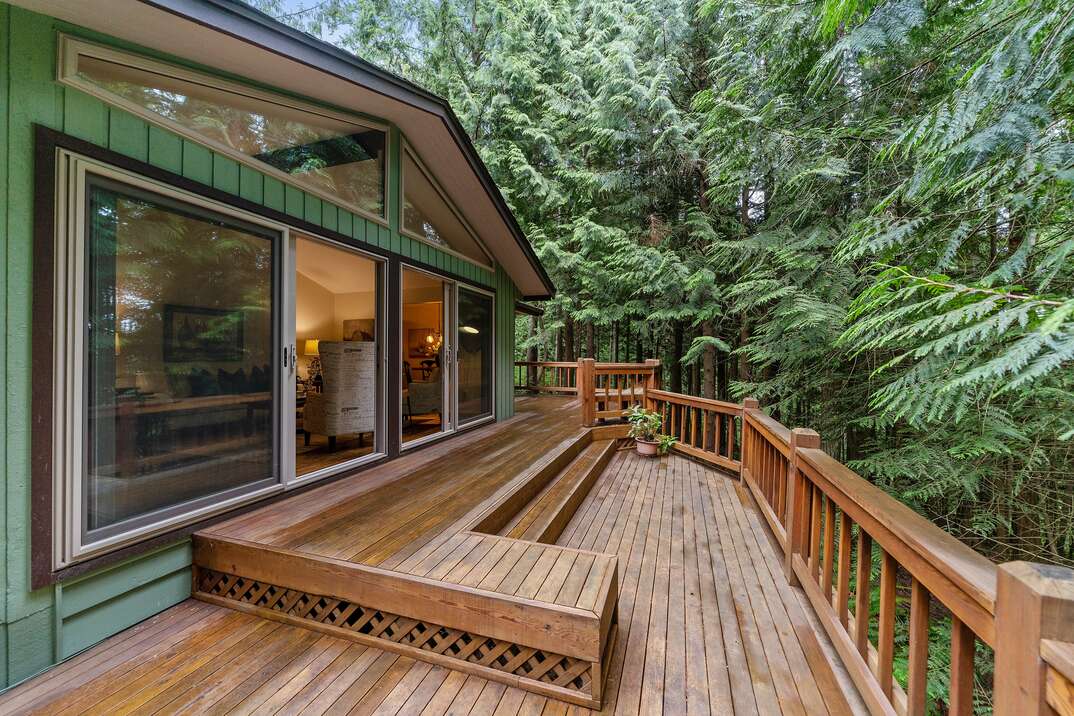 A newly installed deck can significantly boost the appearance and practicality of your yard. However, that brand-new look doesn't last forever.
Read More Home Improvement Articles
Neglected decking is prone to water and sun damage, so it's best to invest in a high-quality stain or sealant to keep it looking its best.
How Much Does Deck Sealing Cost?
Applying deck sealant protects your deck against water damage, and some products also offer UV protection. Most sealants are colorless, making them a great option if you prefer the look of natural wood. You can hire a professional to seal your deck or apply the sealant yourself.
Professional Deck Sealing Costs
According to CostHelper, professional deck sealing costs between $2 and $3.50 (CAD 2.75 and CAD 4.85) per square foot on average. However, various factors can affect the price, including the going rates for labor where you live and whether you need deck repairs before applying the sealant. Therefore, you could spend as little as $1 (CAD 1.40) or as much as $5 (CAD 7) per square foot overall.
Generally, you should expect to pay a professional between $300 and $525 (CAD 415 and CAD 725) to seal a 10-foot by 15-foot deck.
DIY Deck Sealing Costs
Sealing a deck yourself usually costs between $100 and $250 (CAD 140 and CAD 350) in total. You can purchase deck sealant and cleaner from DIY stores for between $20 and $300 (CAD 30 and CAD 415), and how much you'll spend depends on the deck's size and condition and the product type.
You may need to use a power washer to remove dirt and debris from your deck before applying the sealant. Power washing machines typically cost between $40 and $75 (CAD 55 and CAD 105) per day to rent, or you can purchase a washer for $70 to $200 (CAD 100 to CAD 275).
More Related Articles:
How Much Does It Cost to Stain a Deck?
Deck stains are similar to varnishes. They add color and protection to decking planks, and many products seal the wood. However, you may need to add extra sealant to make your deck waterproof. Like sealants, you can apply deck stain yourself or pay a pro to do it for you.
Professional Deck Staining Costs
Most professionals charge between $1.50 and $4 (CAD 2.08 and CAD 5.53) per square foot for deck staining, according to data from HomeGuide. This includes the cost of supplies and materials. Therefore, having a 10-foot by 15-foot deck professionally stained costs between $225 and $600 (CAD 310 and CAD 830).
However, you could pay slightly more or less, depending on the condition of your deck and whether you want it sealed to protect it against water damage. Power washing, staining and sealing a deck costs between $1 and $2.50 (CAD 1.40 and CAD 3.50) per square foot, rising to between $2.50 and $5.50 (CAD 3.50 and CAD 7.60) per square foot if you need a professional to strip an existing coating before staining and sealing the wood.
Treating rails and handrails is more expensive. Most contractors charge between $4 and $12 (CAD 5.50 and CAD 16.60) per linear foot.
DIY Deck Staining Costs
Most homeowners spend between about $60 and $175 (CAD 85 and CAD 240) in total to stain their decks themselves, or between 50 cents and $1.50 (CAD 0.70 and CAD 2) per square foot.
The stain itself costs around $20 to $50 (CAD 30 and CAD 70) per gallon from DIY stores — enough to cover a deck measuring up to 300 square feet. Expect to spend between $10 and $30 (CAD 14 and CAD 40) for brushes and other supplies.
All CAD conversions are based on the exchange rate on the date of publication.
Elocal Editorial Content is for educational and entertainment purposes only. Editorial Content should not be used as a substitute for advice from a licensed professional in your state reviewing your issue. Systems, equipment, issues and circumstances vary. Follow the manufacturer's safety precautions. The opinions, beliefs and viewpoints expressed by the eLocal Editorial Team and other third-party content providers do not necessarily reflect the opinions, beliefs and viewpoints of eLocal or its affiliate companies. Use of the Blog is subject to the
Website Terms and Conditions.
The eLocal Editorial Team operates independently of eLocal USA's marketing and sales decisions.