What Are My Different Options for Countertop Materials?
by Team eLocal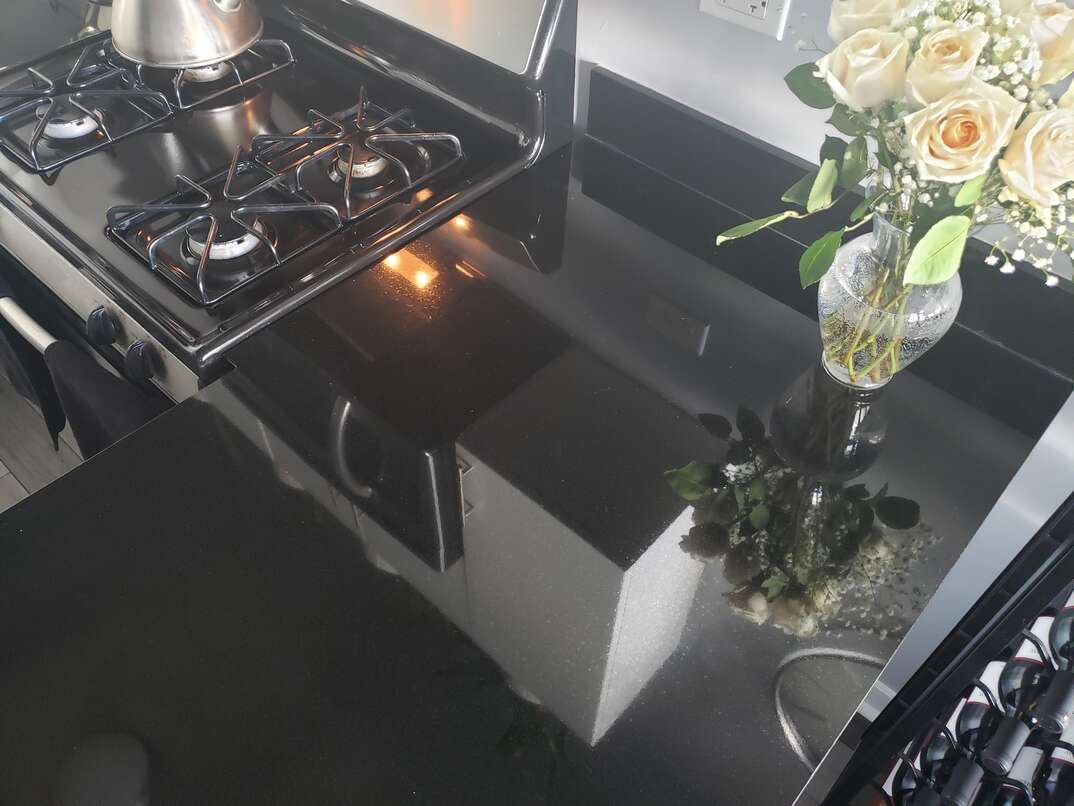 Counters are one of the most important parts of your kitchen, both functionally and aesthetically. They provide surface area to organize meals, prepare food and stage cleanups, and they get noticed quickly for their looks.
Read More Home Improvement Articles 
Whether you're building a new home or planning an epic kitchen refresh, this guide will help you understand what materials are available and how to choose countertops that suit your lifestyle needs.
What's Involved in Choosing a Kitchen Countertop?
A countertop should reflect your practical needs and aesthetic preferences. Before making a purchase, you'll want to consider three main factors:
Appearance: From glossy, vibrant reds and blues to subtler gray and white swirls, countertops come in various colors, textures and patterns. The material you choose should reflect your kitchen's design, your personal aesthetic and your house's overall look.
Durability: Counters are often subjected to wear and tear from knives, hot pans and spills, so it's important to consider durability. This includes a countertop's ability to withstand stains, scratches and exposure to heat and liquids. A good countertop should resist cracking, chipping and warping.
Cost: The wide range of countertop options means you can find something attractive in any price range. Materials such as butcher block or hand-poured concrete sit at the low end of the range. Individuals with more substantial budgets may want to consider high-end materials, such as marble.
Common Countertop Materials
After you've set a budget and outlined your aesthetic and functional requirements, it's time to look at materials. Here are a few types of countertop materials you can choose:
Laminate
Laminate countertops are made from thin layers of plastic bonded to a particleboard base. They come in various colors and may be patterned to resemble marble, granite and wood, making them an affordable alternative to natural materials.
Laminates are lightweight, so they're easy to work with, and they often have a built-in backsplash. However, they're less durable than other materials and can be easily scratched, stained or burned. They may also peel from regular exposure to moisture.
Concrete
Concrete countertops have a streamlined, industrial look that fits into both modern and rustic kitchens. It's an ideal choice for DIYers because it can be easily tinted and hand-poured into any shape.
However, concrete is exceptionally heavy and should be handled carefully. Although it's durable, it must be sealed regularly to safeguard against stains and damage from water or caustic liquids.
Butcher Block
Butcher block countertops bring a natural, minimalist look to the kitchen, and they're often used for islands or food-prep stations. When treated regularly with a food-safe mineral oil, butcher block can even be used as a cutting surface. 
When made from less costly woods, such as maple, this material can be an affordable, attractive countertop option. However, butcher block stains easily, isn't heat resistant and can incur water damage from pooling liquids. They should also be disinfected regularly.
Stainless
Because of their exceptional durability, stainless steel countertops may be attractive to dedicated home cooks. This sleek, contemporary look can be customized with various finishes, including satin, antique, brushed metal and mirror polish. In most cases, the cost of stainless steel is comparable to marble.
More Related Articles:
Ceramic Tile
Ceramic tiles are an affordable option for budget-friendly countertop shoppers. They come in a wide array of colors, patterns, sizes and finishes, and grout may be tinted to coordinate with the tiles. They can also be used to create elaborate mosaics. However, because tile countertops aren't seamless, they can be difficult to maintain, and grout typically requires frequent resealing.
Granite
Natural granite countertops range from mottled white to saturated blues and reds. They often have a glossy sheen. Because this material typically comes in long, thick slabs, it's ideal for homeowners who want a seamless look. The material is also sealed, so it resists stains and can easily be cleaned with a nonabrasive stone cleaner. However, granite can be a costly choice for countertops.
Marble
This luxurious natural stone comes in numerous hues and often contains dramatic veining patterns. Because it's soft and porous, marble won't completely resist scratches and stains. It can also be dulled from contact with acidic substances, such as lemon juice. Although marble is typically expensive, its price typically varies by color.
Quartz
Manufactured quartz countertops are known for their dramatic style and exceptional durability. Because they're nonporous, they resist stains and scratches, and they can easily be cleaned using a nonabrasive cleaner and a soft sponge. However, quartz countertops can chip around the edges and may be expensive to repair. Prices may vary widely, with high-end material costing more than $200 per square foot (CAD 270).
Solid Surface
Solid surface counters are typically made from acrylic and polyester, so they're low maintenance and can be sanded down to repair scratches, stains and burn marks. Homeowners can find solid-surface countertops in almost any color and pattern. However, custom looks can be costly.
Other Materials
Creative homeowners may also want to consider unconventional countertop materials, such as glass, onyx, terrazzo and resin.
All CAD conversions are based on the exchange rate on the date of publication.
Elocal Editorial Content is for educational and entertainment purposes only. Editorial Content should not be used as a substitute for advice from a licensed professional in your state reviewing your issue. Systems, equipment, issues and circumstances vary. Follow the manufacturer's safety precautions. The opinions, beliefs and viewpoints expressed by the eLocal Editorial Team and other third-party content providers do not necessarily reflect the opinions, beliefs and viewpoints of eLocal or its affiliate companies. Use of the Blog is subject to the
Website Terms and Conditions.
The eLocal Editorial Team operates independently of eLocal USA's marketing and sales decisions.