Exterminator or Pest Control — Which One Do You Need?
by Team eLocal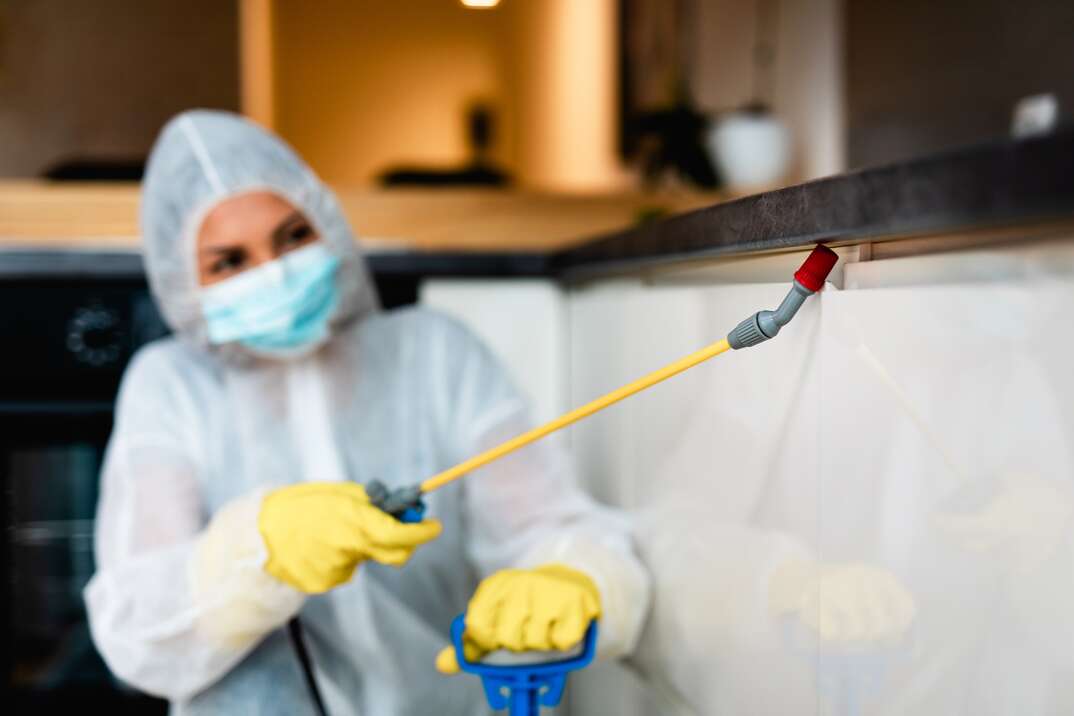 So, you've got rats. Or roaches. Or termites. Ew. Perhaps you're just looking to keep these nasty critters as far away from your home as possible. You know you need some kind of pest intervention service — but who exactly do you call?
Read More Home Improvement Articles
When you search for expert exterminators and pest control professionals (PCP) to help you protect your home, you'll often find the two terms used interchangeably, but they are, in fact, not the same thing.
Extermination Vs. Pest Control
Here's the basic difference: Exterminators eradicate pests that are already present by attacking them directly, while pest control professionals work proactively to prevent pests from intruding by attacking their root sources.
What Are Expert Exterminators?
An expert exterminator's job is simply to eliminate pests. To accomplish this objective, they will generally employ chemical pesticides.
The benefits of hiring an expert extermination professional are obvious: If you have a pest problem, this is the person you need. Their job is to get rid of whatever vermin are disturbing your property. The drawbacks of extermination are that it rarely comes with guarantees because it doesn't attack the source of the infestation and often involves the use of harsh and toxic chemical products that could harm the health of people or pets in your household. Pest extermination is a short-term solution to a short-term crisis.
What Is Pest Control?
Expert PCPs utilize integrated pest management principles to manage and prevent pests in the long term. They set action thresholds for when pest control is required and then identify and monitor pests for threat potential. Once identified, they take the appropriate action to prevent pests and, when prevention falters, control them.
If you already have pests in your home, get the expert extermination professional to take care of the immediate problem first; then, call in a PCP to get to the source of the infestation and set up a schedule to keep them at bay. If you don't have pests in your home, don't delay. Get set up with an expert PCP for regular visits that will likely prevent or, at the very least, reduce your need for pest extermination. Expert pest control is a long-term solution to a persistent threat or concern.
More Related Articles:
Talk to a Pro
Call to be connected to a local professional
Is There a Price Difference?
Since extermination is a one-time service and pest control is a recurring service, it only makes sense that the costs of different pest services for your home would differ.
Exterminator Costs
Expert extermination professionals generally cost between $60 and $125 per visit, according to Thumbtack. Some visits can cost hundreds of dollars, and certain treatments such as fumigation can cost even more. The cost of pest extermination depends on the types of pests to exterminate, the size of the space, and the severity of the infestation.
The average cost ranges to exterminate each type of common pest are as follows:
Ants: $130
Cockroaches: $135
Fleas: $170
Mosquitoes: $80
Rats and mice: $200
Spiders: $90
Termites: $1,000 to $2,500
Wildlife removal: $475 to $575
Pest Control Costs
Hiring an expert PCP starts with a visit to your home. According to HomeGuide, this can cost $300 to $550 on average. However, if you sign a contract for continuing services, the initial inspection may only cost about $180.
Once the PCP has completed the initial visit, subsequent visits cost between $40 and $45 per month, or $100 to $300 quarterly. Periodic pest control visits tend to cost less per visit when there's a shorter period of time between visits. That's because, since there's less time for pests to reestablish themselves, the amount and extent of control methods needed are generally less.
These prices are based on a home smaller than 1,500 square feet. You can add an estimated $25 for every additional 1,000 square feet.
Elocal Editorial Content is for educational and entertainment purposes only. Editorial Content should not be used as a substitute for advice from a licensed professional in your state reviewing your issue. Systems, equipment, issues and circumstances vary. Follow the manufacturer's safety precautions. The opinions, beliefs and viewpoints expressed by the eLocal Editorial Team and other third-party content providers do not necessarily reflect the opinions, beliefs and viewpoints of eLocal or its affiliate companies. Use of the Blog is subject to the
Website Terms and Conditions.
The eLocal Editorial Team operates independently of eLocal USA's marketing and sales decisions.