Don't Be Alarmed! You Can Install a Home Alarm System for Less Than You Think
by Team eLocal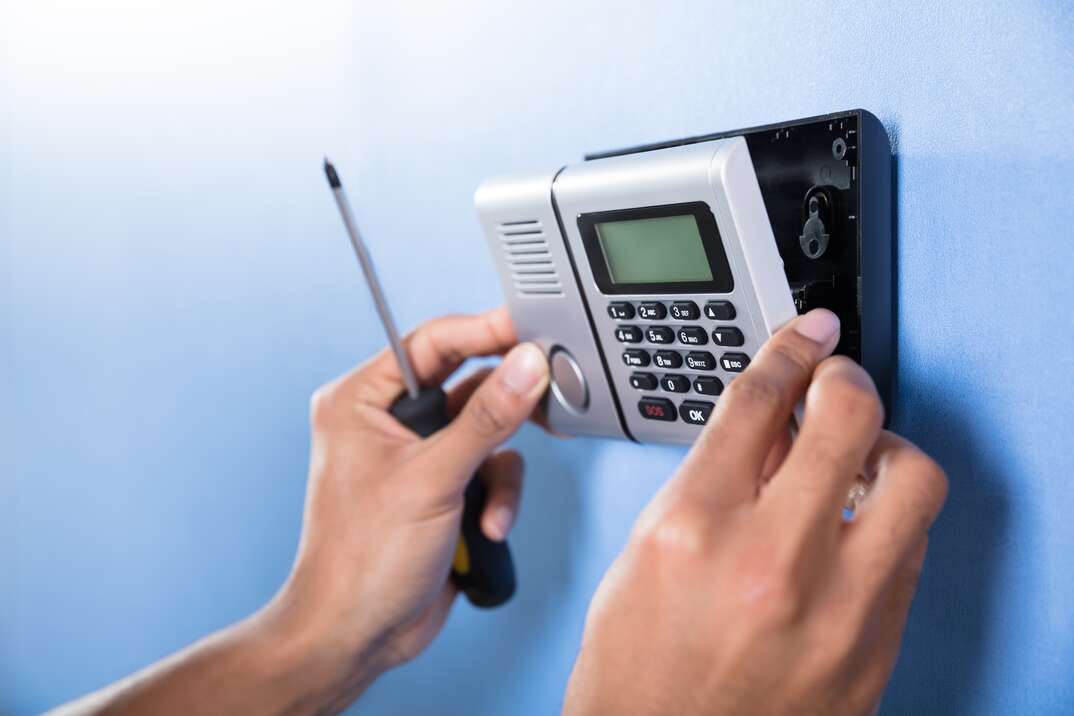 According to a recent study by the University of North Carolina, around 60% of burglars said they avoid targeting residences with home alarm systems installed. Furthermore, roughly half said they would discontinue their attempt if they discovered an alarm during the course of a burglary.
Read More Home Improvement Articles
Therefore, installing a home alarm system is an effective way to deter burglary attempts and protect your home and property. However, many homeowners choose not to install an alarm system because of the potential costs.
Fortunately, protecting your home doesn't have to cost a fortune, and options are available to suit most budgets. Let's explore how much a home alarm system costs, including installation and monthly monitoring fees.
What Are the Different Types of Home Alarm Systems?
Burglar alarm systems have multiple sensors that detect when someone tries to open a door or window. They may also include motion sensors that detect someone walking through your home and screen sensors that detect someone entering an open window. The sensors then activate the siren, alerting you to the intruder.
Many home alarm systems have additional features that can make your home more secure and deter intruders. For example, you can purchase systems with cameras to monitor movements around your home or install floodlights that activate when they detect motion.
Smart home alarm systems allow you to control your home's security remotely from a smartphone or another hand-held device. For example, they may integrate with smart locks and lighting systems. Another advantage of these systems is that they include 24/7 monitoring. The monitoring service will contact law enforcement automatically whenever your system detects a potential break-in.
Talk to a Pro
Call to be connected to a local professional
How Much Does a Home Alarm System Cost?
How much a home alarm system costs depends on its features. According to HomeGuide, homeowners spend around $570, which includes the cost of equipment, installation and a monitoring contract. The average price range for home alarm systems is between $300 and $840.
The alarm system itself could cost as little as $100 for a basic sensor-and-siren setup. However, you could spend as much as $1,500 upfront for an advanced system with motion detectors, cameras and smart connectivity.
Wired alarm systems typically cost between $800 and $1,600 to purchase and install. The cost for wireless systems varies more widely, generally between $200 and $2,000.
Home Alarm System Add-Ons
You may decide to purchase add-ons to make your home more secure. Common price ranges include:
More Related Articles:
How Much Does Home Alarm System Installation Cost?
You should expect to spend up to $250 for a professional to install your home security alarm. However, the vendor may include free or low-cost system installation in your contract. These figures include the cost of activating your home alarm system.
How Much Does Home Alarm System Monitoring Cost?
Many advanced home alarm systems require you to pay a monthly fee for remote monitoring. Manufacturers often offer cheap equipment and installation only to charge high monitoring fees, so it's essential to check all the costs involved before committing. Monthly monitoring costs vary between providers, but you should expect to spend between $25 and $50 on average.
Are There Other Costs Associated With Installing an Alarm System?
You may wish to consider purchasing a warranty and repair plan for your home alarm system. These contracts allow you to access free or low-cost repairs and get a new system if you discover a manufacturing fault. However, it's worth asking for a detailed cost breakdown to help you assess if the contract is worth signing up for.
Some home alarm system vendors require homeowners to commit to a fixed-term monitoring contract. Therefore, you may have to pay an early termination fee if you decide you don't want the service anymore. However, many other companies allow you to subscribe on a monthly basis without any long-term commitment.
Elocal Editorial Content is for educational and entertainment purposes only. Editorial Content should not be used as a substitute for advice from a licensed professional in your state reviewing your issue. Systems, equipment, issues and circumstances vary. Follow the manufacturer's safety precautions. The opinions, beliefs and viewpoints expressed by the eLocal Editorial Team and other third-party content providers do not necessarily reflect the opinions, beliefs and viewpoints of eLocal or its affiliate companies. Use of the Blog is subject to the
Website Terms and Conditions.
The eLocal Editorial Team operates independently of eLocal USA's marketing and sales decisions.