How Much Does Tree Removal and Stump Grinding Cost?
by Team eLocal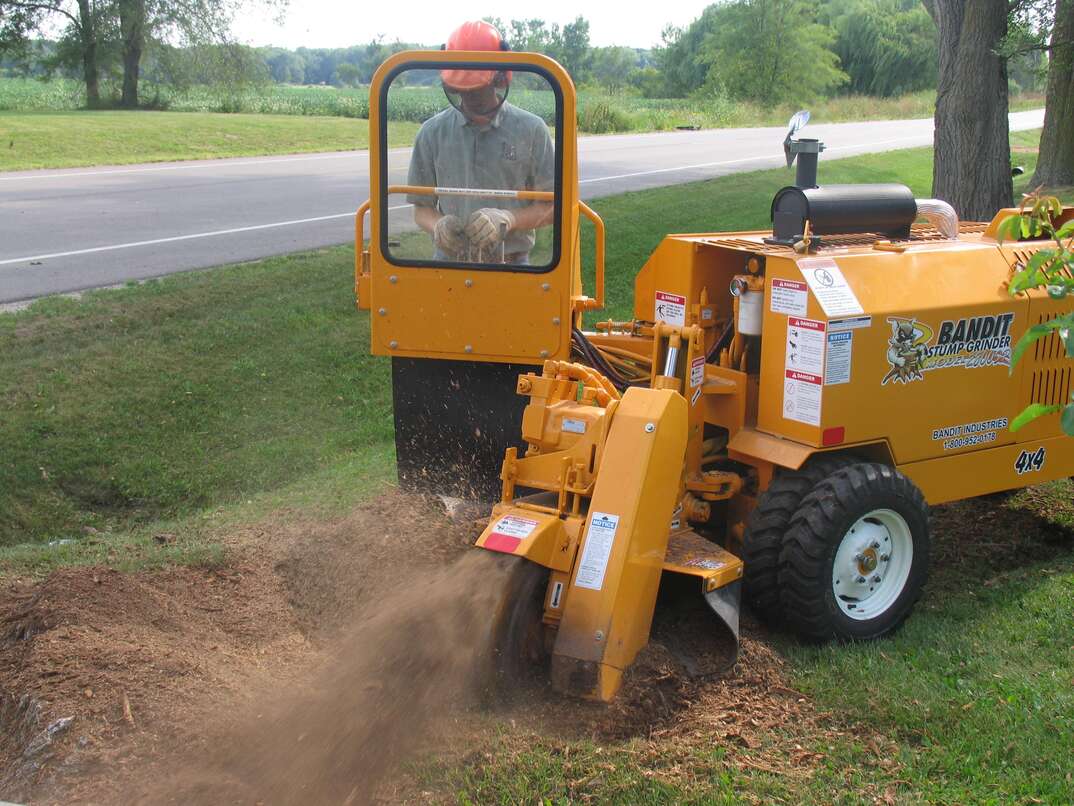 If a tree in your garden is causing an eyesore or growing precariously close to electrical lines, reaching for your axe and dealing with the problem yourself can be tempting. However, there's more to tree removal than meets the eye.
Read More Landscaping Articles
Attempting to chop down a tree could be dangerous if you don't know what you're doing, so it's usually safest to call the professionals. Here's a look at how much that'll cost.
How Much Does Tree Removal Cost?
According to Lawn Love, professional tree removal costs between $385 and $1,070 (CAD 520 and CAD 1,450) on average.
You can estimate how much you'll spend on tree removal more accurately if you know the size of your tree. Typically, tree removal contractors charge between $9.50 and $14.50 (CAD 12.90 and CAD 19.70) per foot in height.
What Factors Affect the Cost of Tree Removal?
Unsurprisingly, the size of your tree is the main factor affecting the cost of tree removal. The taller the tree, the more dangerous and time-consuming it is to remove — and the more you'll spend.
For example, removing a tree up to 30 feet tall could cost between $285 and $435 (CAD 390 and CAD 590). Meanwhile, removing a large tree measuring over 80 feet high could cost as much as $2,000 (CAD 2,700).
However, these figures don't reveal the complete picture. Various other factors can impact the cost of tree removal.
Tree Condition
Generally, it's more expensive to remove diseased or damaged trees. Removing a tree that's in poor condition can be more challenging and take longer than removing a healthy tree.
Tree Type
You could spend more on professional tree removal if you have a hard-to-remove species. Some types of trees are challenging to uproot because they have large root systems. Furthermore, some species reach a taller mature height than others, making them more risky and time-consuming to cut down.
For example, removing a palm tree could cost as little as $310 (CAD 420). At the other end of the scale, removing a pine tree could cost up to $1,450 (CAD 1,970).
Urgency
Tree removal costs more if you need the job done at short notice. It's usually cheaper to schedule services during regular working hours, but you may need emergency removal if the tree is causing a hazard. Many companies charge between $450 and $3,000 (CAD 610 and CAD 4,070) for emergency tree removal services.
Travel
It's often more affordable to hire a local contractor to remove a tree, but that may not be an option if you live in a remote area or somewhere with few tree removal companies. Travel rates can vary between companies, but most charge around 50 cents (CAD 0.70) per mile for traveling more than half an hour to your location.
Area
Like most home services, tree removal costs more in areas with high living costs because it's more expensive to run a business. Therefore, expect to pay more if you live in an expensive city and less in an affordable rural or suburban neighborhood.
More Related Articles:
How Much Does Stump Grinding Cost?
Stump grinding is an alternative to stump removal. Instead of pulling up the stump and root ball, the contractor uses specialized machinery to grind the stump and roots below the soil level to turn them into mulch.
LawnStarter estimates that stump grinding costs between about $160 and $450 (CAD 215 and CAD 610) on average. Some companies charge flat rates for stump grinding, while others calculate costs based on the stump's diameter. Expect to pay between $2 and $3.50 (CAD 2.70 and CAD 4.75) per inch if your contractor charges based on diameter.
Stump grinding services rarely cost less than $100 (CAD 135) per visit because contractors usually charge a minimum callout fee.
What Factors Affect the Cost of Stump Grinding?
Your stump grinding company may charge more than average if your stump is particularly challenging or time-consuming to remove, especially if they charge by the hour. Dense hardwood stumps are often the most expensive to remove because they take longer to grind into mulch.
The terrain can also affect how much you pay for stump grinding. Accessibility issues, slopes and challenging soil conditions can make the job more time-consuming and increase your final bill. Some companies also charge more to grind stumps in rocky soil to mitigate the risk of damage to their equipment.
Many homeowners don't want the mulch removed after stump grinding because it can help add moisture to lawns and flowerbeds. Expect to pay between $2 and $4 (CAD 2.70 and CAD 5.40) per inch of your stump's diameter if you want your contractor to remove the mulch.
All CAD conversions are based on the exchange rate on the date of publication.
Elocal Editorial Content is for educational and entertainment purposes only. Editorial Content should not be used as a substitute for advice from a licensed professional in your state reviewing your issue. Systems, equipment, issues and circumstances vary. Follow the manufacturer's safety precautions. The opinions, beliefs and viewpoints expressed by the eLocal Editorial Team and other third-party content providers do not necessarily reflect the opinions, beliefs and viewpoints of eLocal or its affiliate companies. Use of the Blog is subject to the
Website Terms and Conditions.
The eLocal Editorial Team operates independently of eLocal USA's marketing and sales decisions.