How Much Does It Cost to Hire a Landscaper?
by Team eLocal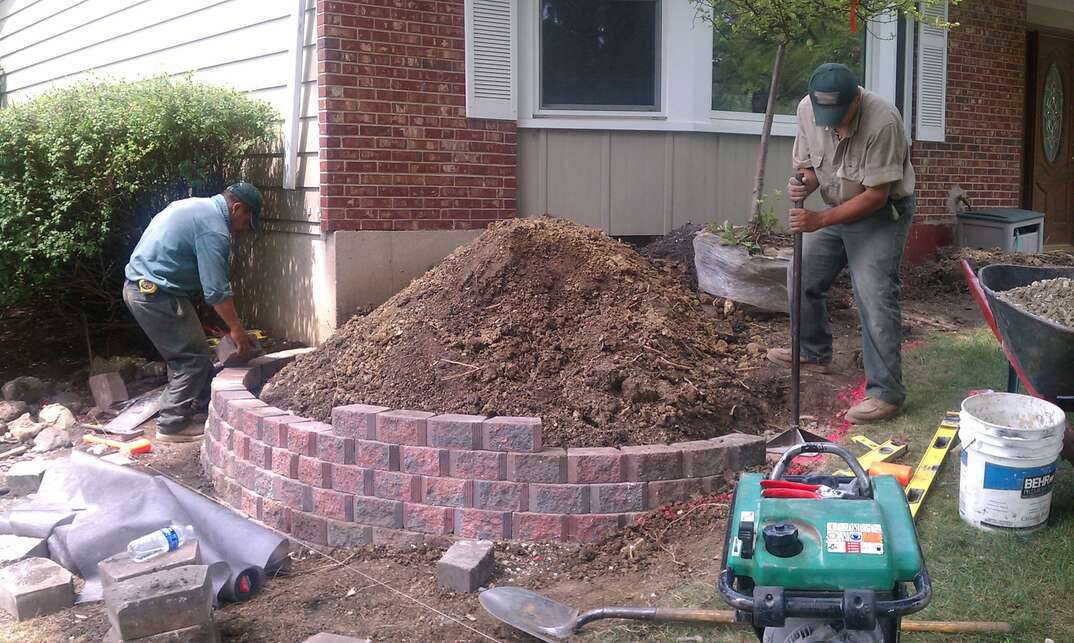 You just can't put a price on a perfectly manicured lawn, well-trimmed trees and immaculate flowerbeds. Well … your landscaper can.
Read More Home Improvement Articles
The total cost depends on what you're doing, but landscaping projects often cost several thousand dollars. And while you can DIY some landscaping installation and design projects, having a professional handle the work gives you picture-perfect results, and you get the advantage of their expertise.
How Much Does It Cost to Hire a Landscaper?
Several factors go into the total landscaping cost for your project. You'll find that rates vary from company to company. The size and scope of the project can have a large impact on the cost. The current condition of the space can also affect the price. If your yard is overrun with weeds or otherwise in poor condition, the landscaping company will have to do a lot more prep work, leading to a higher project cost.
Here are some common landscaping projects and how much you can expect to pay for them.
Pond Installation
A pond is a large-scale landscaping project that comes with a large price tag. You can expect to pay between $7,000 and $8,500 (CAD 9,400 to CAD 11,450) to have a pond installed. If you want a more affordable water feature, you can get a midrange water fountain for about $1,080 (CAD 1,450).
Grass and Lawn Options
If your lawn is full of weeds or isn't growing well, a landscaping company can help revive it for you. Having a landscaper seed your lawn will usually cost around 5 cents (CAD 0.07) per square foot. If you prefer sod, the installation will cost you about 40 to 60 cents (CAD 0.54 to CAD 0.81) per square foot. You can also have turf installed, which will run about $5,000 to $20,000 (CAD 6,700 to CAD 27,000) for a 1,000-square-foot yard.
Landscape Design
A landscape designer can help you plan your entire outdoor space. Their services typically run from about $2,200 to $6,180 (CAD 3,000 to CAD 8,400) for landscaping plans, according to LawnStarter.
Fire Pit Installation
Adding a fire pit to your backyard creates a cozy gathering spot for family and friends. You can get portable fire pits, but installing a permanent one in your backyard creates a sturdier, more aesthetically pleasing option. According to Lawn Love, a fire pit usually costs around $830 (CAD 1,100) to have installed.
Tree Services
Trees in your landscape can add shade and beauty, but they can also be costly to plant and maintain. If you have existing trees to maintain, you can expect a landscaping service to charge between $75 and $500 (CAD 101 and CAD 674) to trim them. Removing a tree can run between $200 and $1,500 (CAD 269 and CAD 2,021).
If you want to plant new trees, the cost can vary depending on the size of the trees. The cost to plant small trees around 4 feet to 6 feet tall is about $100 (CAD 140) per tree for both the tree and the labor. Medium trees of about 8 feet to 10 feet cost about $255 (CAD 345) per tree. For large trees that are 14 feet to 20 feet tall, you can expect to pay about $2,425 (CAD 3,265) per tree.
Flower Bed Installation
Planting flowers might seem easy, but a lot goes into properly choosing and placing flowers. If you have a professional install a flower bed, Lawn Love says you can expect the flower bed cost to average around $2,500 (CAD 3,400), with a common price range of $1,000 to $3,000 (CAD 1,350 to CAD 4,050) for a 5-foot by 12-foot bed.
More Related Articles:
Talk to a Pro
Call to be connected to a local professional
How Can You Save Money on Landscaping Projects?
If the average landscaping cost is more than you want to spend, there are ways to reduce the costs. Here are some ideas:
Do it yourself. For a smaller project, consider doing the work yourself. Keep in mind that renting special equipment can add up. Estimate your costs accurately to see if it's worth your time to do it yourself.
Prep the area before the pros arrive. Cleaning up the space and doing any necessary demo before the landscaping crew arrives can lower your final landscaping cost. You'll cut down on labor costs and get the project started faster.
Scale back your plans. If the full project you want to do is outside your budget, focus on one smaller project, or go smaller on your plans. If you wanted a large deck and patio, shrink it down to a smaller but still functional size.
Consider your skills and comfort level with landscaping work when deciding how to handle your outdoor space.
All CAD conversions are based on the exchange rate on the date of publication.
Elocal Editorial Content is for educational and entertainment purposes only. Editorial Content should not be used as a substitute for advice from a licensed professional in your state reviewing your issue. Systems, equipment, issues and circumstances vary. Follow the manufacturer's safety precautions. The opinions, beliefs and viewpoints expressed by the eLocal Editorial Team and other third-party content providers do not necessarily reflect the opinions, beliefs and viewpoints of eLocal or its affiliate companies. Use of the Blog is subject to the
Website Terms and Conditions.
The eLocal Editorial Team operates independently of eLocal USA's marketing and sales decisions.