VIDEO: 8 Easy Steps for Giving Your Oven Some Overdue Lovin'
by Matt Schmitz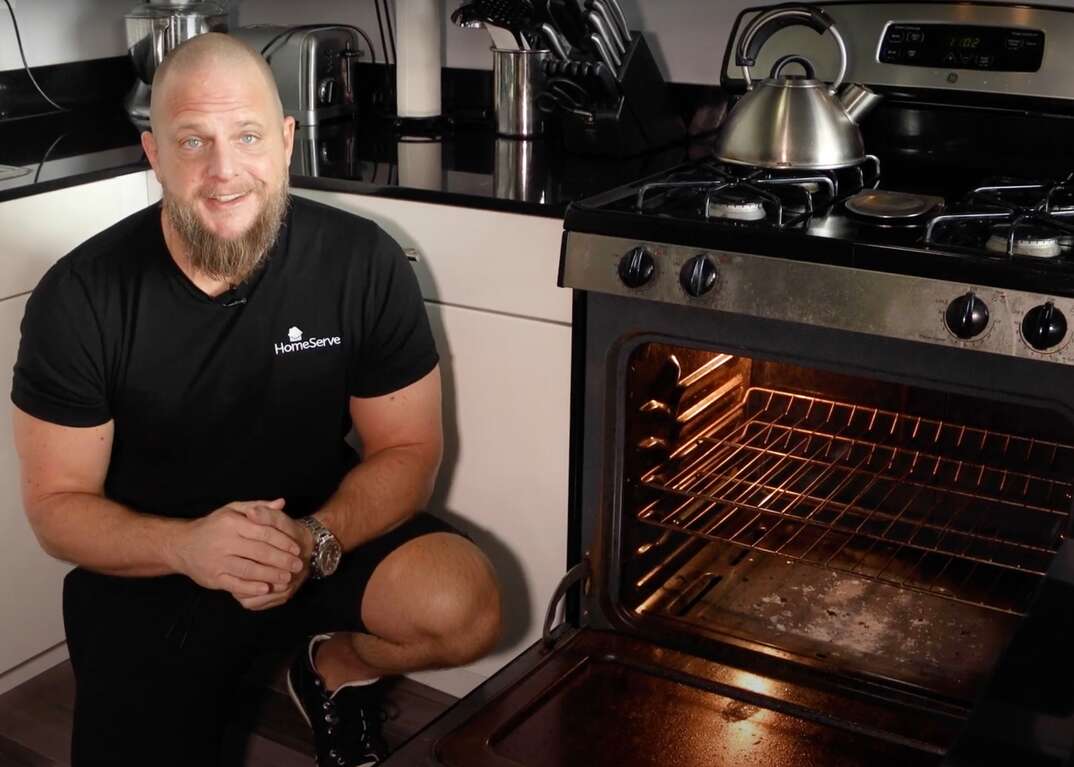 So, Thanksgiving 2014 was lit! That's great, but it doesn't mean you want your guests to be able to deduce just how awesome it was when they see the greasy, caked-on layer of filth covering the inside of your oven — nor that you clearly haven't cleaned your oven since.
Read More Home Improvement Articles
Look, we're not judging. Maybe you don't cook, your spouse doesn't clean and, by the looks of your filthy, disgusting oven, you two clearly don't communicate. Combine those ingredients, bake at 375 degrees for, like, a decade — and you've got a recipe for ridicule with a side of clean-shaming when holiday houseguests start arriving.
If you've neglected your oven and need to wipe away your kitchen's dirty little secret fast, we're gonna tell you how. Trust us: If we can do it, you can do it.
Follow these eight easy steps for givin' your oven some overdue lovin' ...
1. Gather What You'll Need
You're going to need:
Latex gloves
Oven cleaner found in most grocery stores
A bucket lined with a garbage bag
Non-abrasive scrubbing pads and utility rags
Newspapers (you know, those foldy things you used to get news from before smartphones)
2. Prep the Area
Cleaning your oven can be a messy business. Lay down the newspapers to protect your floor from falling filth as you clean. (If you can't find a newspaper, use old towels you don't mind ruining).
3. Remove the Racks
Take the racks out of the oven and set them aside.
4. Cover It in Cleaner
While wearing the gloves, spray a liberal amount of cleaner inside the oven and on the racks. (There are other so-called "natural" methods, but for serious caked-on crud, you may just want to go with the canned chemical stuff from the store.)
Take care to avoid spraying the burners and electrical elements as much as possible.
5. Hurry Up and Wait
Follow the manufacturer's instructions on how long you should let the cleaner sit and do its stuff. That could be anywhere from 5 minutes to half an hour for a normal amount of buildup, and much longer following a period of gross neglect.
More Related Articles:
6. Start Scrubbin'
It's time to do the dirty work of scrubbing away the grime. Using non-abrasive scrubbing pads will ensure that grime comes off, but your oven's interior remains intact.
7. Wipe It All Away
Use a rag to wipe off excess cleaner until it's all gone. You can toss the soiled rags and newspapers in the bucket as you work your way through the oven.
8. Back to the Racks
Repeat the steps for your oven racks if you'd like to clean those as well, then replace them in the oven when you're through.
And there ya have it: Like it never happened. And, don't worry … we won't tell if you don't.
Watch the video below from our partners at HomeServe for a step-by-step oven-cleaning demonstration:
Elocal Editorial Content is for educational and entertainment purposes only. Editorial Content should not be used as a substitute for advice from a licensed professional in your state reviewing your issue. Systems, equipment, issues and circumstances vary. Follow the manufacturer's safety precautions. The opinions, beliefs and viewpoints expressed by the eLocal Editorial Team and other third-party content providers do not necessarily reflect the opinions, beliefs and viewpoints of eLocal or its affiliate companies. Use of the Blog is subject to the
Website Terms and Conditions.
The eLocal Editorial Team operates independently of eLocal USA's marketing and sales decisions.