How to Deep-Clean a Refrigerator
by Michael Franco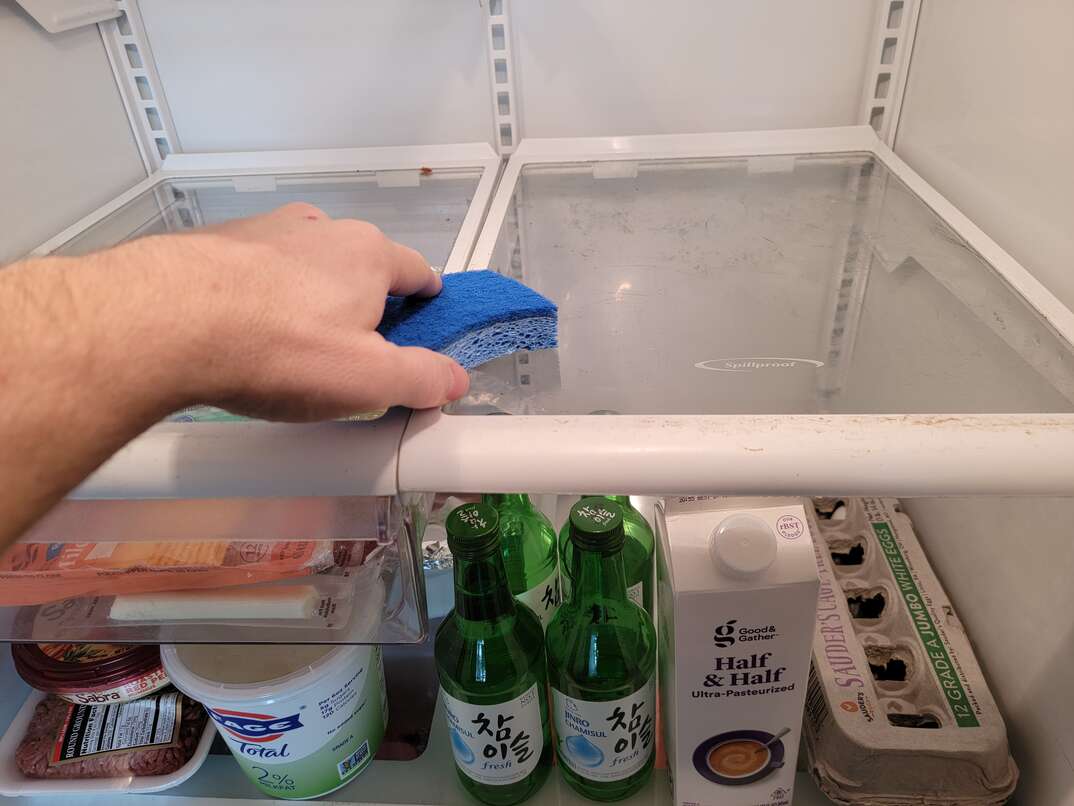 It might not be high on your list of "fun things to do this weekend," but deep-cleaning a refrigerator is an important task that should be done at least once a year to maintain hygiene, prevent food contamination and keep your fridge running efficiently.
Read More Home Improvement Articles
Because it's at the heart of your food-storage system in your kitchen, it's essential to keep your refrigerator clean so that bacteria and other harmful substances don't find their way into your meals.
How to Clean the Inside of Your Refrigerator
Things You'll Need
Before getting started, you'll need a few basic items:
Cooler stocked with ice
Clean rags
Cleaning solution (see below)
Bucket for your cleaning solution
Towels
Hairdryer (optional)
Duster
Hand vacuum (optional)
Spray bottle (optional)
Step 1: Turn Off the Refrigerator
While not necessarily important for safety reasons, cleaning your refrigerator can take quite a while, so leaving the door open while it is running can waste significant amounts of energy. You can turn off the fridge either by turning its temperature dial all the way to zero, or by unplugging the unit. You can also turn off power to the unit by flipping the circuit breaker.
Step 2: Empty the Fridge
Next, remove all items from the refrigerator, including food, drink, condiments and whatever else you may have stored in there. Have a cooler nearby with a good supply of ice to keep particularly perishable items like milk, cold cuts and meats cold while you work.
Step 3: Discard Expired or Spoiled Food
This is a great time to check the expiration dates of all food items, and discard anything that has expired or has gone bad. Doing so will keep your family safe from potentially spoiled food, and it will create more space in the refrigerator when you restock it.
Step 4: Remove Shelves and Drawers
Remove all shelves, drawers and other removable parts from the refrigerator. Doing so should be relatively self-explanatory, but if you have difficulty getting any components out, refer to your refrigerator's owner's manual.
Step 5: Create Your Cleaning Solution
You can use a mix of mild dish soap and warm water to clean all the interior parts of your refrigerator. However, you might prefer to use vinegar or baking soda instead. To use vinegar, create a solution that is three parts water to one part white distilled vinegar. Alternatively, you could use a baking soda solution in a ratio of two tablespoons to each quart of water. Baking soda is an excellent natural cleaner and deodorizer that can help to eliminate any lingering odors.
Step 6: Soak Shelves and Drawers
Soak the shelves and drawers in warm, soapy water. The best place to do this is your bathtub, which you can fill with hot water and a cleansing solution. Using a mild dishwashing detergent is best to avoid any damage to the plastic or glass. Alternatively, you can use your vinegar or baking soda formula here, too.
Soak components for about 20 and 30 minutes to help to loosen any tough stains and debris. If you don't have a bathtub, a large plastic storage bin, or even a kiddie pool, can be a good stand-in. If that's not available, simply give the refrigerator components a good scrub. The gritty side of a sponge should be strong enough to remove tough stains, but gentle enough not to scratch plastic or glass components.
Step 7: Clean the Interior
Using your cleaning solution, wipe down the interior of the fridge with a clean cloth or sponge. You can use your cleaning solution in a small bucket, or you can put it in a spray bottle and apply it as you work your way through the unit. Always start at the top of the refrigerator and work your way down.
Step 8: Pay Attention to Tough Stains
For tough stains, apply a mixture of water and vinegar to the affected area and let it sit for a few minutes before wiping it away with a clean cloth. Just as with the removable refrigerator components, you should be able to use the scrubbing side of a sponge to get these stains off without damaging the plastic.
Step 9: Clean the Gaskets
The gaskets on the doors of the refrigerator can be a breeding ground for bacteria. Your sponge should be able to get them clean, but you can also use a toothbrush or small brush to get between the grooves and clean them even more thoroughly.
More Related Articles:
Step 10: Rinse with Clean Water
Fill a bucket or spray bottle with clean water. Using a fresh rag, give everything a good rinsing wipe.
Step 11: Dry Everything
Once you have finished cleaning, make sure to dry everything inside the refrigerator completely before putting it back in the fridge. Doing so will prevent the growth of mold and mildew. This holds true for all of the removable components as well.
Step 12: Reassemble
Put all the shelves, drawers and other removable parts back into the refrigerator.
Step 13: Restock
Finally, restock the fridge with all the items you removed earlier. Make sure to organize them properly to avoid any cross-contamination. If you have multiples of certain items like condiments or eggs, try to organize them so that the oldest are at the front — first in, first out.
Step 14: Turn the Refrigerator Back On
Either plug the unit back in, turn the temperature gauge back up or flip the circuit breaker back to its "on" position.
Talk to a Pro
Call to be connected to a local professional
How to Clean Your Freezer
Cleaning the freezer compartment of your refrigerator follows much the same routine as cleaning the inside of the fridge itself. You'll want to turn it off, empty the items into a cooler and remove and clean all internal components. In this case, however, you'll want to wait until the freezer has completely defrosted and all ice has melted before beginning to clean. As you wait for this to happen, placing towels around the base of the compartment can keep water from spilling all over the kitchen floor.
You can help with the defrosting process along with a hair dryer, which can help you loosen and remove larger chunks of ice. Never use a sharp item like a knife or screwdriver to chop away at the ice because you risk damaging the coating on the freezer's plastic components.
Once the freezer is empty, follow the instructions above for cleaning and reassembling it. It is especially important that your freezer compartment, gaskets and all of the removable components are completely dry before you turn it back on, as any moisture left behind will refreeze and could take up space or prevent drawers from moving smoothly.
How to Clean the Outside of Your Refrigerator
Once all the interior surfaces of your refrigerator are clean, you can give the outside a little love. Pull the refrigerator out from the wall and unplug it. Use a duster to remove buildup on the top of the refrigerator, and use either the duster or a handheld vacuum to remove particles from the vents on the back of the refrigerator. If your fridge has exposed coils, use the duster or a soft brush to get them clean.
Then, wipe down all exterior surfaces with a dry microfiber cloth and follow up with your vinegar and water solution applied with a spray bottle and clean rag. White vinegar is safe to use on stainless steel refrigerators as well. Dry everything, plug the fridge back in, roll it into place and give yourself a pat on the back for a job well done.
Elocal Editorial Content is for educational and entertainment purposes only. Editorial Content should not be used as a substitute for advice from a licensed professional in your state reviewing your issue. Systems, equipment, issues and circumstances vary. Follow the manufacturer's safety precautions. The opinions, beliefs and viewpoints expressed by the eLocal Editorial Team and other third-party content providers do not necessarily reflect the opinions, beliefs and viewpoints of eLocal or its affiliate companies. Use of the Blog is subject to the
Website Terms and Conditions.
The eLocal Editorial Team operates independently of eLocal USA's marketing and sales decisions.