Does Handwashing Really Use More Water Than a Dishwasher?
by Michael Franco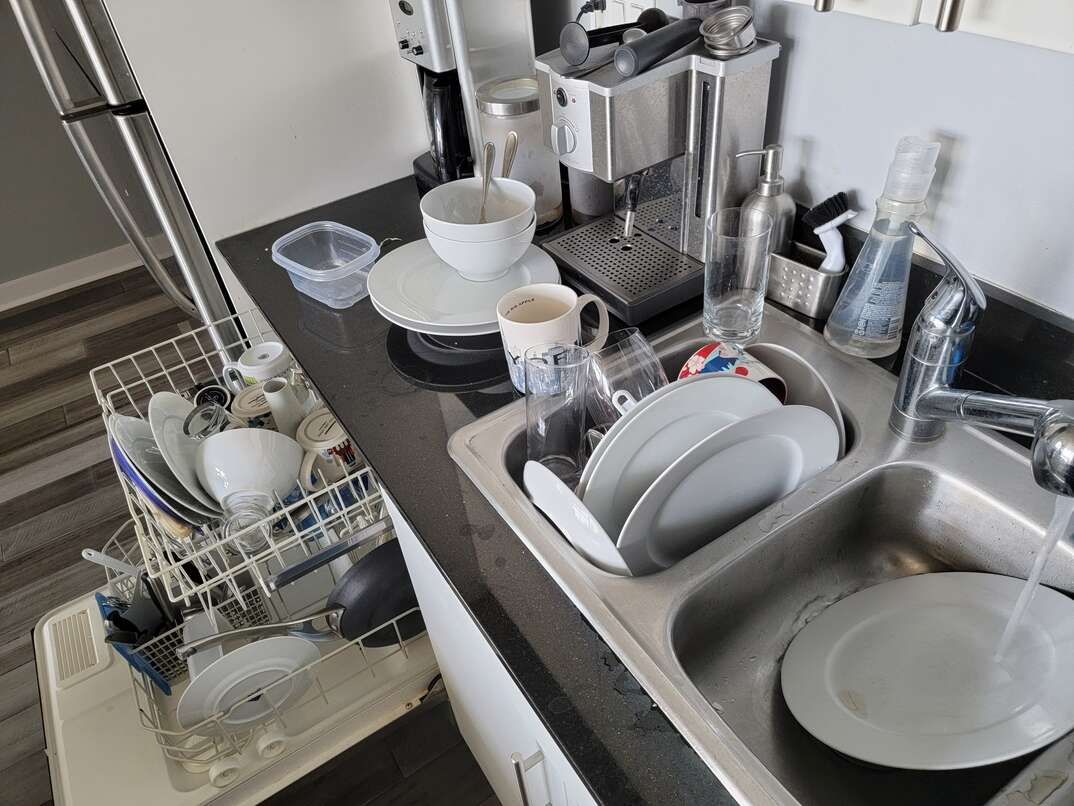 In the realm of domesticity debates — right after the over/under toilet paper controversy — comes the question of whether washing dishes by hand really uses more water than running your dishwasher.
Read More Home Improvement Articles
It would seem that a large machine that operates for hours would have to use more water than a 10-minute wash-up in the sink, right? Well, the answer isn't really quite so clear-cut. While dishwashers tend to win based on water usage alone, a 2013 study at UCLA found that in terms of pure energy usage, handwashing and using a dishwasher came out pretty much in a dead heat. Plus, with dishwashing soap manufacturers weighing in on the debate, it can be hard to figure out where the truth lies.
Fear not: Here, we'll take a look at both ways of getting your dishes clean to help you understand which method might suit your household best.
Washing By Hand
Firstly, let's look at the water used when handwashing dishes.
The key metric to remember here is that most household faucets in the U.S. produce water at a flow rate of 2.2 gallons per minute. That means that if you run the kitchen tap continuously for 10 minutes, it will use up 22 gallons of water. That's actually a little bit more than what goes down the drain during an eight-minute-long shower, so it's a significant amount of water.
Of course, these are rough averages, and the amount of water you use when washing your dishes by hand can vary greatly. In fact, in a study conducted by Germany's University of Bonn, the researchers found that the amount of water used at the sink ranged from 8.7 to 116 gallons. This means that consciously controlling your water usage while washing dishes at the sink can have a big impact. So doing things like filling one basin with soapy water and another with clean water and keeping subsequent rinsing to a minimum can go a long way toward cutting down on water usage.
Using a Dishwasher
Now let's consider the water usage of a dishwasher. According to the US Department of Energy, standard dishwashers can not use more than 5 gallons of water per cycle, which is significantly less than handwashing. Furthermore, if the dishwasher holds an Energy Star certification, it will only use about 3.5 gallons of water per cycle.
But that's water usage only. Remember, the UCLA study showed that overall energy usage between handwashing and machine washing was about even. That mostly has to do with how hot you make your water in both scenarios and the energy it takes to heat up that water.
Also, it's important to remember that using a dishwasher is truly most effective when it is fully loaded. Yet the UB study showed that, of the 200 households that participated, about 20% of the time, the machines were only partially full and water temperatures were set at higher levels that made the reported energy usage for the machines significantly higher than the label would lead you to believe. Also, most dishwashers use heated drying cycles, which require a fair amount of electrical energy to power.
More Related Articles:
The Verdict
So, which one? Does handwashing really use more water than a dishwasher?
For the most part, yes. You will definitely save water washing your dishes in the machine versus at the sink. Because modern dishwashers are so efficient, you'd have to be able to wash all your dishes by hand in under two minutes to match the water used by machines. If you have an older dishwasher, though, you'll want to look at your original paperwork to figure out how much water it uses, because it can be quite a bit more than is mandated in current models.
However, there are other lifestyle factors to take into account in this debate.
If you live alone or with just one other person, it might simply take too long to completely fill a dishwasher to take advantage of its efficiencies. In the meantime, you might find yourself quickly running out of silverware and coffee cups. In this case, pre-soaking your dishes in the sink and giving them a quick scrub and rinse might make the most sense for you.
On top of that, many dishwashing detergent manufacturers recommend that you don't pre-rinse dishes before putting them in the dishwasher if you're going to run it right away. A quick scrape is usually all that's needed, because detergents are actually meant to adhere to and remove left-behind food particles. However, if the dishes are going to sit in the dishwasher for any period of time — as could be the case in a smaller household — it is recommended that you pre-rinse, so that left-behind food doesn't harden, making the dishwasher's task harder to accomplish. In such an instance, you'll need to take into account the water you use to pre-rinse the dishes at the sink. On top of that, you also have to add in the water you'll use handwashing items that aren't suitable for the dishwasher, like wooden spoons and knives.
That being said, if you have a large family and do a lot of cooking, handwashing dishes can use up a lot of water. In this case, using a dishwasher is more efficient.
Most families find that a combination of both dishwashing methods works best for them. If you can load and run a dishwasher right away, it's certainly the way to go. Otherwise, just be aware of the amount of water you're using at the sink — and how hot you make it — and your overall water bill should remain at an acceptable level.
Elocal Editorial Content is for educational and entertainment purposes only. Editorial Content should not be used as a substitute for advice from a licensed professional in your state reviewing your issue. Systems, equipment, issues and circumstances vary. Follow the manufacturer's safety precautions. The opinions, beliefs and viewpoints expressed by the eLocal Editorial Team and other third-party content providers do not necessarily reflect the opinions, beliefs and viewpoints of eLocal or its affiliate companies. Use of the Blog is subject to the
Website Terms and Conditions.
The eLocal Editorial Team operates independently of eLocal USA's marketing and sales decisions.