How to Get Rid of Nuisance Birds
by Shelley Frost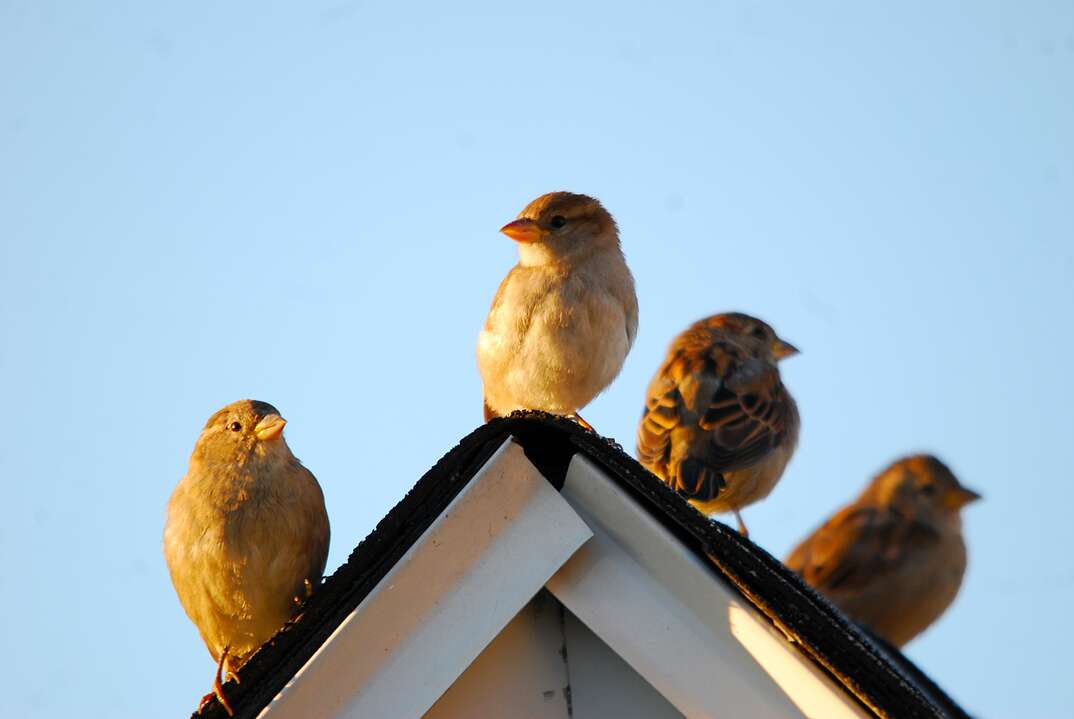 From nonstop chirping at all hours to disgusting droppings all over your property, birds building nests around your home can be a pain.
Read More Pest Control Articles
Getting rid of nuisance birds can be a little more challenging if they have active nests on your property. Find out how to get rid of birds and how to keep birds away, so you won't get more feathered visitors building nests.
How Do You Get Rid of Birds Who Have Built a Nest?
When you're figuring out how to get rid of birds, removing the nests might seem like the logical answer, but that could be illegal. The Migratory Bird Treaty Act says you can't destroy a nest if it contains chicks or eggs or if young birds depend on it to survive. You also can't relocate the nests of some protected species. Some states have additional laws about removing wildlife, including birds, so it's important to research those regulations before you do anything.
If it's legal to remove the nest and it's free of eggs and babies, you can relocate or dispose of it. Always wear gloves and long sleeves when handling a nest since it may have parasites and bacteria. When the nest is gone, sanitize the area with disinfectant. This helps remove the scent of the nest and clears up any bacteria that might be remaining.
If you're uncomfortable with removing the nest yourself, call a wildlife exclusion company to help. Birds are considered wildlife, not pests, so a pest control company probably can't help. You want a professional with experience in bird removal because they know how to get rid of birds safely and legally.
More Related Articles:
Talk to a Pro
Call to be connected to a local professional
How to Keep Birds From Making Nests in Unwanted Places
Dealing with nests can be a hassle, but there are several ways to prevent birds from building a nest around your home to start with. These tips can help you figure out how to keep birds away.
Use Bird Spikes
Bird spikes might sound barbaric, but they won't hurt birds. The little rods that stick out are too dull to injure them. However, they make perching and nesting difficult. You can install them almost anywhere in your home, including ledges and eaves.
Make Noise
Loud noises can deter birds from coming near your home. Wind chimes are an easy way to do this. The chimes are appealing to you but not to the birds.
Add Flashes of Light
Flashing light can discourage birds from building a nest around your home. They don't like to be disturbed in their nests. During the day, anything with a reflective surface that moves with the wind can work. Examples include little mirrors, CDs and shiny beads. At night, a motion-sensor strobe light can create disruptive light to encourage birds to move along.
Cut Out Food Sources
Even if you don't have a bird feeder in your yard, you could be feeding the birds without realizing it. Pet food is an example. Avoid feeding your pets outside if possible, or feed them near the house and bring the remaining food inside when they're done eating. They might also scavenge to find food in an open trash can, so keep your trash bins covered.
Cover Up Holes
Birds sometimes choose a hole or nook in your home as their nesting spot. This includes dryer vents, chimneys and other openings. If you have holes on the side of your home that shouldn't be there, fill them in with wood, expanding foam or other materials. Many of these openings need to remain open, though. You can't block your dryer vent or chimney. You can buy a commercial cover or use hardware cloth to keep birds out of your dryer vent. Installing a chimney cap can keep birds out of that area.
Encourage Nesting Away From Your House
Creating an appealing nesting spot somewhere else could keep your house bird free. Keep the bushes and trees trimmed near your home to cut back on nesting space, but leave brushy areas at the back of your property. Hanging a birdhouse away from your house can also give birds a good place to live.
Elocal Editorial Content is for educational and entertainment purposes only. Editorial Content should not be used as a substitute for advice from a licensed professional in your state reviewing your issue. Systems, equipment, issues and circumstances vary. Follow the manufacturer's safety precautions. The opinions, beliefs and viewpoints expressed by the eLocal Editorial Team and other third-party content providers do not necessarily reflect the opinions, beliefs and viewpoints of eLocal or its affiliate companies. Use of the Blog is subject to the
Website Terms and Conditions.
The eLocal Editorial Team operates independently of eLocal USA's marketing and sales decisions.