How to Measure for a New Fridge
by Lee Soren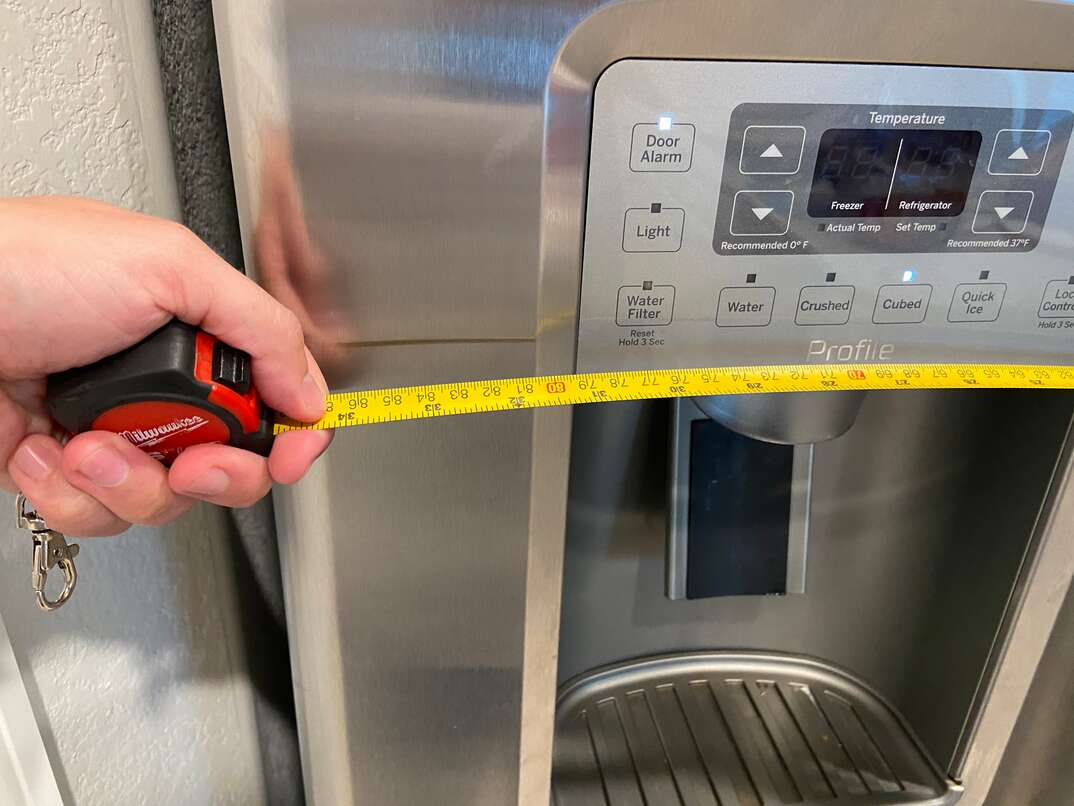 Today's high-tech refrigerators can create shopping lists, store recipes and track expiration dates, all while making sure your produce stays crisp and delicious. With all these fancy fridge features to choose from, it's easy to forget that refrigerator dimensions matter, too, especially if your new appliance has to fit into a tight kitchen alcove.
Fortunately, to get accurate measurements, you'll need nothing more than a measuring tape. Here's how to measure for a fridge, so you won't be left in a squeeze on delivery day.
Step-by-Step: How to Measure for a New Fridge
Fridge dimensions vary widely, so before choosing an appliance, you'll need to measure the space it'll be slotted into, as well as the entry path. Follow these steps to get the most accurate measurements and ensure a perfect fit.
Step 1: Remove Your Current Refrigerator
To get accurate measurements, you'll need full access to the recessed space where your new fridge will sit. Slide your old fridge onto a layer of cardboard to protect your kitchen floor. To pull it out fully, you may need to unplug the power cord. If your unit has an ice maker, disconnect the water line according to the manufacturer's instructions.
Step 2: Measure the Alcove
Using a tape measure, measure the space's height, width and depth. Because fridge alcoves aren't always perfectly level or square, take each measurement from three different locations. If these measurements differ, the smallest one represents the maximum height, width and/or depth of the appliance the space can accommodate. If you don't have an alcove, consider doorways, kitchen islands and other factors that limit the space you'll have for a fridge.
Step 3: Add Space for Ventilation
Most refrigerators include vents for airflow, so include space around the unit for proper ventilation when measuring. This Old House suggests leaving at least 1 inch of space on each side to promote energy efficiency and reduce the risk of equipment failure. However, individual manufacturers may have different ventilation requirements.
Step 4: Measure Areas Along the Entry Path
Before you purchase a fridge, consider the delivery path appliance movers will take. Measure the height and width of doorways, hallways, staircases and other areas of concern. Measure each opening in at least three places to account for discrepancies, and always use the smallest number for calculations. It can also be helpful to note whether doors or hardware that can be removed to add space for maneuvering.
Step 5: Write It Down
It's easy to misremember numbers, so write down all measurements — or type them into your phone's note-taking app — so you'll have thorough, accurate dimensions when shopping.
Step 6: Measure the New Fridge
Most retailers clearly list refrigerator sizes on display items. However, it's a good idea to bring a tape measure when shopping and measure the model you're interested in purchasing. For height, measure from the floor to the top of the door's hinges, which can add up to an inch to the overall height. Depth measurements should include door handles, back coils and any other protruding features. You should also take a depth measurement with the doors open 90 degrees to make sure you'll have enough space in front to open them fully, which is often necessary for accessing a pull-out freezer, sliding storage drawers or veggie bins.
Step 7: Compare Dimensions
For a good fit, the tallest, widest and deepest dimensions of your new refrigerator should be smaller than the smallest, narrowest and shallowest dimensions of the alcove (and the path to get there).
More Related Articles:
What Is a Standard Size Refrigerator?
Although there isn't a single standard fridge size, refrigerator dimensions typically fall into the following ranges:
24 to 40 inches wide
29 to 36 inches deep
62 to 72 inches high
However, typical refrigerator width, depth and height ranges vary, depending on the type of refrigerator you're looking at. For example, top- or bottom-freezer refrigerators typically run from 23 to 36 inches wide and can be anywhere from 65 to 69 inches tall. French door and side-by-side refrigerators often have similar dimensions, typically ranging from 30 to 36 inches wide and 67 to 70 inches tall.
Most configurations are also available as counter-depth refrigerators, which run between 24 and 30 inches deep. These units are designed to sit flush against standard cabinets for a streamlined look and are ideal for shallower kitchens.
How Do You Measure a Refrigerator's Storage Capacity?
When purchasing a new refrigerator, you may also want to know its storage capacity, which is measured in cubic feet. The interior space in most modern fridges ranges from 10 cubic feet to 25 cubic feet. To calculate this space, take out removable drawers and shelves, and measure the unit's interior height, width and depth. Multiply these numbers together to get the cubic space.
Elocal Editorial Content is for educational and entertainment purposes only. Editorial Content should not be used as a substitute for advice from a licensed professional in your state reviewing your issue. Systems, equipment, issues and circumstances vary. Follow the manufacturer's safety precautions. The opinions, beliefs and viewpoints expressed by the eLocal Editorial Team and other third-party content providers do not necessarily reflect the opinions, beliefs and viewpoints of eLocal or its affiliate companies. Use of the Blog is subject to the
Website Terms and Conditions.
The eLocal Editorial Team operates independently of eLocal USA's marketing and sales decisions.