How to Choose the Right Dryer For Your Home
by Shelley Frost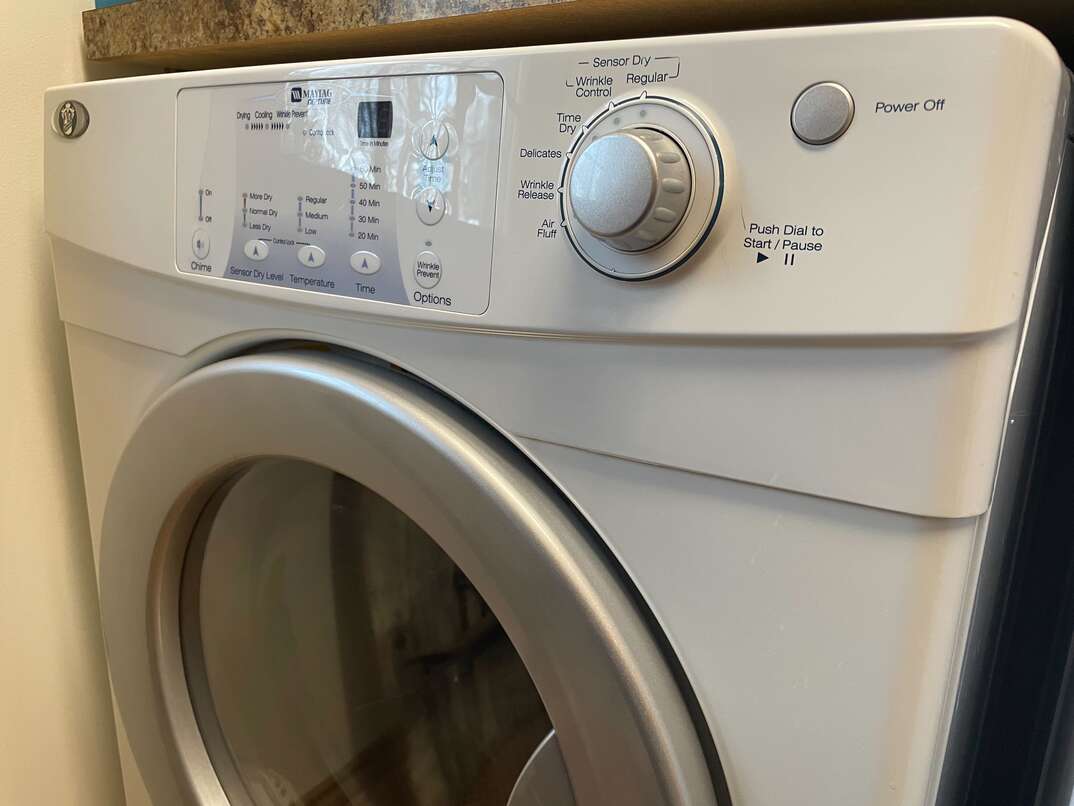 Your clothes dryer isn't the most exciting part of your home, but it's a highly functional appliance that you probably can't imagine living without.
When it's time to figure out how to choose a dryer, the choices you make are important. What you choose affects how well the dryer works for your family. Dryers come with more considerations than you might realize. When deciding how to choose a dryer, keep the following factors in mind.
Capacity
If you're looking at standard, full-size dryers, you can expect the dryer capacity to be around 6 to 7.5 cubic feet. This size handles most loads of laundry, as well as some bulkier items, such as your bedding. Standard dryers are typically 27 to 29 inches wide.
When space is limited, you might consider a smaller compact dryer, which is usually no more than 24 inches wide. Compact dryers typically have a capacity of around 3.5 cubic feet, which is about half the size of a standard dryer. This option might require you to do smaller loads of laundry, but it can often work if you have a small family.
Think about your future needs, as well as your current ones. For example, if you're planning to have kids soon, going with a larger-capacity dryer can make laundry easier as your family grows.
Talk to a Pro
Call to be connected to a local professional
Power
Many types of dryers offer similar amounts of power, making drying times similar. However, there can be some slight differences. Gas dryers use gas to generate heat and 120-volt electrical outlets to turn the drum and power other electrical components, while electric dryers use a 240-volt outlet as the only power source.
Gas dryers typically dry clothes a little faster than electric dryers because they heat faster. You can also choose between vented and ventless dryers. Ventless dryers typically use less energy, so your laundry might take longer to dry.
Stacked Vs. Side-by-Side
Stackable washer and dryer sets offer a space-saving option if you need to squeeze the appliances into a closet, the corner of your bathroom or another small space. If you want this option, ensure you choose a stackable dryer. You typically need to buy a stacking kit as an additional piece.
Side-by-side washers and dryers are typically easier to access. You can also use the tops of the appliances to hold laundry baskets or as a folding area. However, side-by-side setups take up more floor space and aren't always possible.
More Related Articles:
Gas or Electric
Gas and electric dryers each offer unique benefits that can help you decide which option is ideal for your home. Electric dryers are usually less expensive to purchase, but gas dryers are often more affordable to operate over time. Gas dryers also tend to heat faster and might shorten the drying time.
If you're replacing an existing dryer, it's easiest to choose the same power source for your new appliance. It makes the installation process easier without the need to run new lines. However, you can switch from one to the other. If you're going from gas to electric, you'll need an electrician to install a dedicated 240-volt outlet. For a switch from electric to gas, you'll need a plumber to run a gas line to your laundry room.
Additional Features
When deciding how to choose a dryer, consider which additional features you want, but keep in mind that all those extra bells and whistles usually mean you'll pay more for the dryer. Some extra features to consider when shopping for a clothes dryer include:
Digital displays: Newer models often use digital displays and touchscreens for a more modern look and easier controls.
Wi-Fi compatibility: Smart dryers let you control the appliance from an app on your phone. You can get alerts about the cycle finishing on your phone, choose delayed starts and keep an eye on the cycle without being in the laundry room.
Steam dry: Some models add a steam dry option that can help reduce wrinkles.
Extra settings: Newer dryers often have a wide range of setting options and cycle types. This can include additional settings, such as timed drying, automatic drying based on clothing type and moisture sensors to determine when the clothes are dry. Temperature controls can vary from air dry to high heat. Extra settings, such as sanitize and express cycles, can also offer more flexibility.
Compare features and prices to find a model that fits your needs and stays within your budget.
Elocal Editorial Content is for educational and entertainment purposes only. Editorial Content should not be used as a substitute for advice from a licensed professional in your state reviewing your issue. Systems, equipment, issues and circumstances vary. Follow the manufacturer's safety precautions. The opinions, beliefs and viewpoints expressed by the eLocal Editorial Team and other third-party content providers do not necessarily reflect the opinions, beliefs and viewpoints of eLocal or its affiliate companies. Use of the Blog is subject to the
Website Terms and Conditions.
The eLocal Editorial Team operates independently of eLocal USA's marketing and sales decisions.