Storage Ideas for Small Kitchen Appliances
by Shelley Frost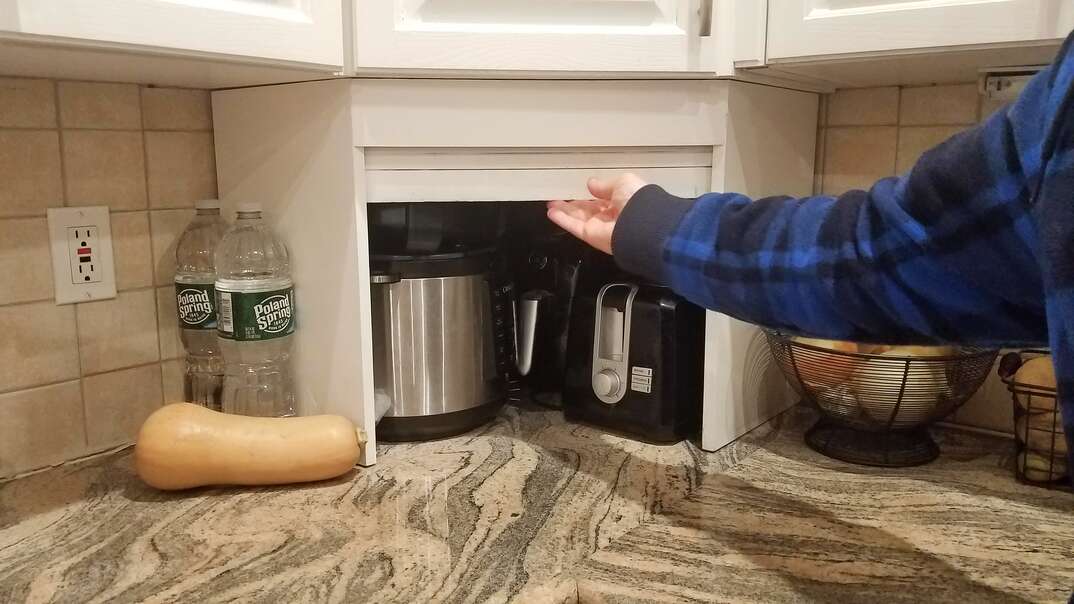 Toaster, blender, coffee maker, juicer, food processor, air fryer … the list goes on and on. And they're all lined up on your countertop, taking up more space than they ought to — especially considering how little you actually use them.
Tired of appliances cluttering your countertops? Upgrading your kitchen appliance storage keeps appliances accessible when you need them and out of the way when you don't.
Storage Ideas For Small Kitchen Appliances
You have those go-to appliances you just can't live without. And you probably have a few others that don't get as much use. No matter how often you pull them out, your appliances take up a lot of space. Having the right storage keeps your kitchen looking streamlined and makes it easier to get to your appliances. Try these kitchen appliance storage ideas to organize your kitchen.
Talk to a Pro
Call to be connected to a local professional
1. Appliance Garages
Appliance garages are small nooks that keep your appliances behind closed doors. They're often built into your cabinetry. You might add them to a corner or underneath your upper cabinets with the appliances sitting on the countertop. When you need an appliance, simply open the door and slide it out. When you're done, tuck it back in its garage so it's out of sight.
2. Shelf Risers
If you have a designated kitchen appliance cabinet, you can make more room with shelf risers, especially if the space between the existing shelves is high. It gives you another layer of storage for shorter appliances like waffle makers that don't need the full height of the shelf.
3. Pull-Out Racks
Shoving lots of gadgets into your kitchen appliance cabinet can keep your countertops open, but it's not always easy to get the appliance you need if it's in the back. A pull-out rack in the cabinet makes it easier to reach everything, even the appliances in the back. Load the appliances you use often toward the front and the lesser-used items in the back. When you need something, simply slide the rack out until you find what you need.
4. Open Shelving
If you spend time picking out the cutest appliances, why not show them off? Anchor open shelving to a blank section of a kitchen wall to hold your prettiest appliances. They're easy to grab when you need them, and you make use of a wall area that would otherwise go unused. Measure the appliances you want to display to make sure the shelving you choose is deep enough.
More Related Articles:
5. Countertop Spots
Leaving appliances out on the countertop is an option, but those spots are usually reserved for your everyday appliances like your toaster or coffee maker. Put them in a corner or out of the way to minimize how much space they take up.
6. Up-High Storage
Items that only get used occasionally can go in less accessible spaces. Look for spots like the upper cabinet shelves or on top of your cabinets to store these items. You might even take them to another room, such as an extra storage closet.
Tips for Kitchen Appliance Storage
These kitchen appliance storage tips can help you maximize your space and storage effectiveness.
Pare down your collection. Everyone has at least a few rarely used kitchen appliances that just collect dust. Quesadilla maker, anyone? Sort through your appliances and give those questionable purchases a new home — in someone else's kitchen. You can also ditch duplicates or appliances that only serve one purpose you can easily replicate with another appliance.
Sort what's left. Organize the appliances you're keeping based on how often you use them. This helps you prioritize their storage locations. Gadgets you use every day might earn a spot in your easily accessible kitchen appliance cabinet. Appliances that only make appearances on special occasions get a less convenient spot.
Think seasonally. Your kitchen appliance storage might change with the seasons based on what you use most at different times of the year. Ice cream makers might be in heavy rotation in the summer but never see the light of day in winter. Move them to a less convenient storage spot for the winter.
Revisit your storage solutions. Habits can change over time, so checking in on your appliances and storage methods at least a few times helps you make sure it still works for you.
Customizing your kitchen appliance storage to your space and needs keeps your kitchen functional and organized.
Elocal Editorial Content is for educational and entertainment purposes only. Editorial Content should not be used as a substitute for advice from a licensed professional in your state reviewing your issue. Systems, equipment, issues and circumstances vary. Follow the manufacturer's safety precautions. The opinions, beliefs and viewpoints expressed by the eLocal Editorial Team and other third-party content providers do not necessarily reflect the opinions, beliefs and viewpoints of eLocal or its affiliate companies. Use of the Blog is subject to the
Website Terms and Conditions.
The eLocal Editorial Team operates independently of eLocal USA's marketing and sales decisions.