Why Is My Refrigerator Warm?
by Shelley Frost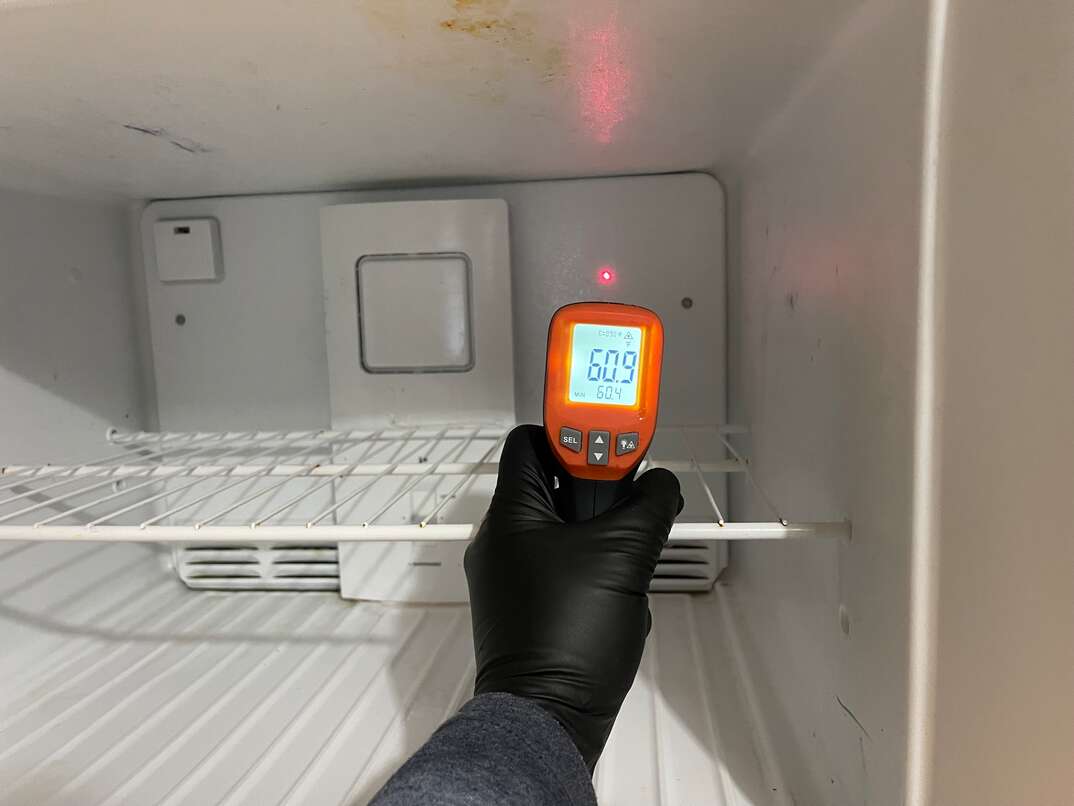 Is your refrigerator a tad on the warm side, even though you have the settings as low as they'll go? Maybe it's not cooling at all, or it's just a little warmer than it should be. Your fridge's temperature shouldn't exceed 40 degrees Fahrenheit (4 degrees Celsius) to ensure food safety, and your freezer should stay at 0 degrees Fahrenheit (-18 degrees Celsius) or lower.
If your fridge feels a little warm, placing a thermometer inside can help you determine the exact temperature. Here's what to do if you find that your fridge's temperature falls above that 40-degree mark.
What Are Some Reasons My Refrigerator Is Warm?
Several issues can make a refrigerator warm. Something could be wrong with the unit, or the problem may stem from how you use it. Here are some of the most common reasons for a warm refrigerator.
Overfilled Fridge
Is your fridge filled to the brim? Too much food in your refrigerator can make it difficult for the cooled air to circulate. This can make the temperature warmer than it should be.
Wrong Settings
Sometimes, it's a simple case of the settings getting changed. Check the settings on the fridge, and adjust them to a lower setting to see if that fixes the issue.
Poor Seal
The seal around your refrigerator door helps it close tightly. If the gasket is damaged, it won't be able to get an airtight seal, which can allow the cooled air to escape. Look for gunk caked on the gasket, loose areas, cracks or other damage. The door might also have sealing issues if the appliance isn't level.
Blocked Vents
Vents inside your refrigerator help with airflow between the freezer and fridge. Blockages can prevent proper cooling. Make sure there isn't any food blocking the vents in the fridge, and check for ice buildup in the freezer.
Malfunctioning Components
Several components that make your refrigerator operate can malfunction, leaving it warmer than it should be. Some of these components include the following:
Electrical control board: This component monitors your refrigerator's temperature and controls the compressor, fan and defrost system and adjusts the temperature as needed. When the control board isn't working correctly, it might be unable to make the necessary adjustments to maintain an ideal temperature.
Evaporator fan: A malfunctioning evaporator fan can keep the fridge from cooling properly. The fan might go out completely, or it could have something caught in the blades that keeps it from working correctly. Signs of an evaporator fan that isn't working correctly include chirping or high-pitched noises.
Evaporator coils: Your evaporator coils can freeze over, which increases the temperature in the refrigerator. If this happens, there could be something wrong with your defrosting system.
Condenser coils: If your condenser coils are dirty, it could stop the fridge from cooling properly. It's a good idea to vacuum the coils at least twice per year, but you might need to clean them more often if you have pets or live in a dusty area.
More Related Articles:
Talk to a Pro
Call to be connected to a local professional
Why Is My Refrigerator Warm, But My Freezer Is Cold?
If your freezer is cold, but your refrigerator is warm, look for an issue that's limited to the fridge portion, such as a bad gasket around the door or incorrect settings. Blocked vents in the fridge could increase the temperature only in that compartment. Issues with the defrost system can also cause this situation. If the evaporator coils start to accumulate frost, the fridge might warm up, even though the freezer stays cold.
Can I Fix These Issues Myself, Or Do I Need to Call an Appliance Repair Technician?
Some of the issues that cause a refrigerator to become warm are things you can fix yourself. This includes simple fixes, such as changing the refrigerator setting, leveling the fridge, cleaning or replacing the gasket, moving food away from the vents and vacuuming the coils.
If there's an issue with a malfunctioning component, it might be better to call an appliance repair technician. However, depending on how comfortable you are with appliances, you may be able to handle the job yourself. For example, if you find something stuck on the blades of the evaporator fan, you can clean it off and see if that fixes the problem. If you don't know anything about appliance repair, calling a technician is easier and ensures the problem gets fixed correctly.
When you do any type of troubleshooting or cleaning, always unplug your refrigerator. This is especially important if you're taking off panels and inspecting internal parts. Unplugging the appliance or shutting off power to the outlet reduces your risk of electric shock. If you get in over your head as you try to troubleshoot or repair the refrigerator, stop what you're doing and call an appliance repair company to take over for you.
Elocal Editorial Content is for educational and entertainment purposes only. Editorial Content should not be used as a substitute for advice from a licensed professional in your state reviewing your issue. Systems, equipment, issues and circumstances vary. Follow the manufacturer's safety precautions. The opinions, beliefs and viewpoints expressed by the eLocal Editorial Team and other third-party content providers do not necessarily reflect the opinions, beliefs and viewpoints of eLocal or its affiliate companies. Use of the Blog is subject to the
Website Terms and Conditions.
The eLocal Editorial Team operates independently of eLocal USA's marketing and sales decisions.