Why Isn't My Oven Heating Up?
by Team eLocal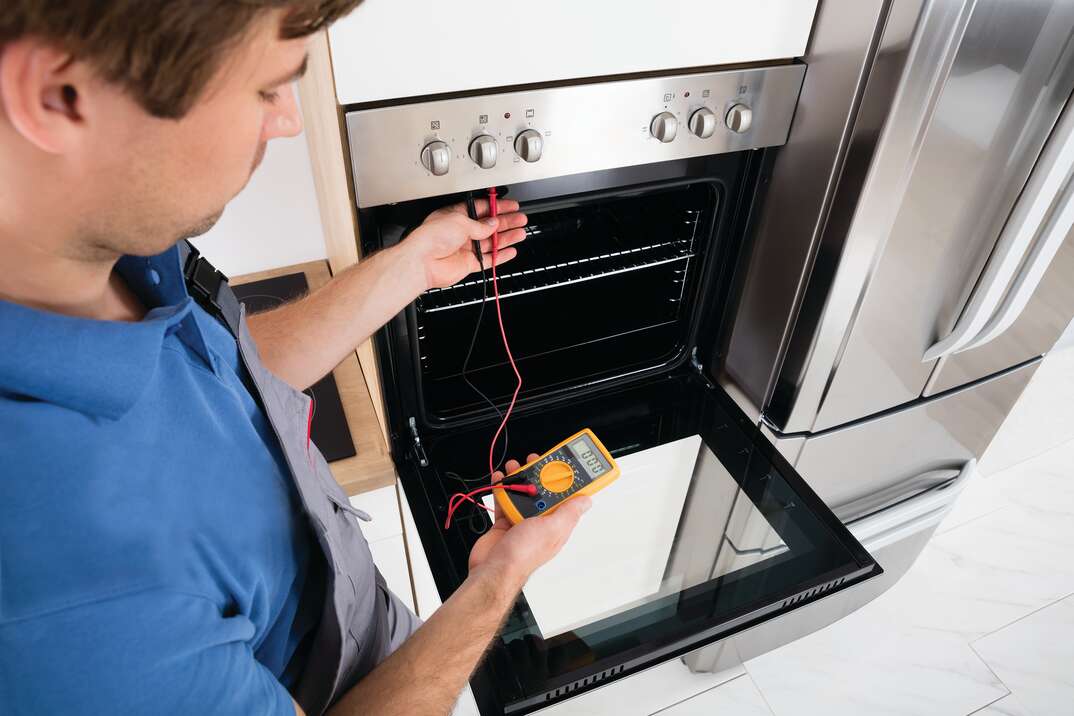 When you're looking forward to a freshly-baked cake or batch of cookies, a stone-cold oven is the last thing you want. There are various potential causes of an oven not heating up; which is to blame often depends on whether you have a gas or electric oven.
You don't necessarily need to call a technician to fix a faulty oven, but you should always turn off the power supply first. Otherwise, you could get an electric shock while inspecting your oven for broken components. While you're there, check to see whether the circuit breaker has flipped, as this prevents electricity from reaching your oven. If the circuit breaker looks fine, it's time to consider the following reasons for an oven not heating up.
Why Is My Electric Oven Not Heating Up?
Your electric oven contains multiple components that control and monitor the temperature. An issue with any of these parts could cause your oven to stop heating or not get hot enough to cook your food. The most common causes of an electric oven not heating up include the following:
Faulty Element
Electric ovens usually have two heating elements, one at the top and one at the bottom. Your oven won't heat up properly if either element breaks or develops a fault.
Fortunately, detecting a broken element is straightforward. Functioning elements glow red as they heat up, so the easiest way to check for a problem is to turn the oven on and check whether the elements glow. If they don't, you'll need to call a technician to replace the broken elements.
Broken Temperature Sensor
Many electric ovens contain a temperature sensor bulb that detects the internal temperature during operation. If the bulb breaks, your oven won't heat up when you switch it on.
You can check the condition of your temperature monitor by removing it and inspecting it visually. If it's burnt out, you can replace it yourself or ask a technician to do it for you.
Burnt-Out Switches
Over time, the selector switch or thermostat inside your oven can burn out and prevent your electric oven from heating up. Your user manual should show the location of the selector switch and thermostat, and you can often replace them yourself. However, using the correct component for your oven model is essential.
Calibration Issues
Incorrect calibration could be the culprit if your oven heats up, but the temperature is inaccurate. You can recalibrate an analog oven by locating the calibration dial, following the instructions in your user manual and turning it to adjust the temperature. Alternatively, you can use the calibration buttons to correct the temperature if you have a digital oven.
More Related Articles:
Why Is My Gas Oven Not Heating Up?
Some of the reasons for an electric oven not heating up can also affect gas ovens. For example, a faulty temperature sensor is a common cause of a gas oven that won't heat. Some of the issues that specifically affect gas ovens include:
Gas Supply Issues
The gas supply may be off if your gas oven won't heat up and the burners don't work. This issue often occurs if your technician forgets to turn the gas back on after repairing or installing your oven.
You can usually fix this problem yourself by locating the gas supply valve to your oven and ensuring it's open. If that doesn't work, contact a repair technician for assistance.
Broken Igniter
Your oven igniter is a burner that ignites the gas from the supply pipe. A broken igniter can't light the gas, preventing your oven from heating. You should stop attempting to ignite your oven and turn it off if you suspect an igniter issue to avoid a dangerous amount of gas building up inside your oven.
A broken igniter often looks discolored or shows no resistance when you test it with a multimeter. You can replace a broken igniter yourself by unscrewing the existing igniter and screwing in a new one. However, it's generally safer to call a technician to replace the igniter if you aren't sure how to do it.
Elocal Editorial Content is for educational and entertainment purposes only. Editorial Content should not be used as a substitute for advice from a licensed professional in your state reviewing your issue. Systems, equipment, issues and circumstances vary. Follow the manufacturer's safety precautions. The opinions, beliefs and viewpoints expressed by the eLocal Editorial Team and other third-party content providers do not necessarily reflect the opinions, beliefs and viewpoints of eLocal or its affiliate companies. Use of the Blog is subject to the
Website Terms and Conditions.
The eLocal Editorial Team operates independently of eLocal USA's marketing and sales decisions.