How Much Does It Cost to Switch From a Gas Stove to an Electric Stove?
by Team eLocal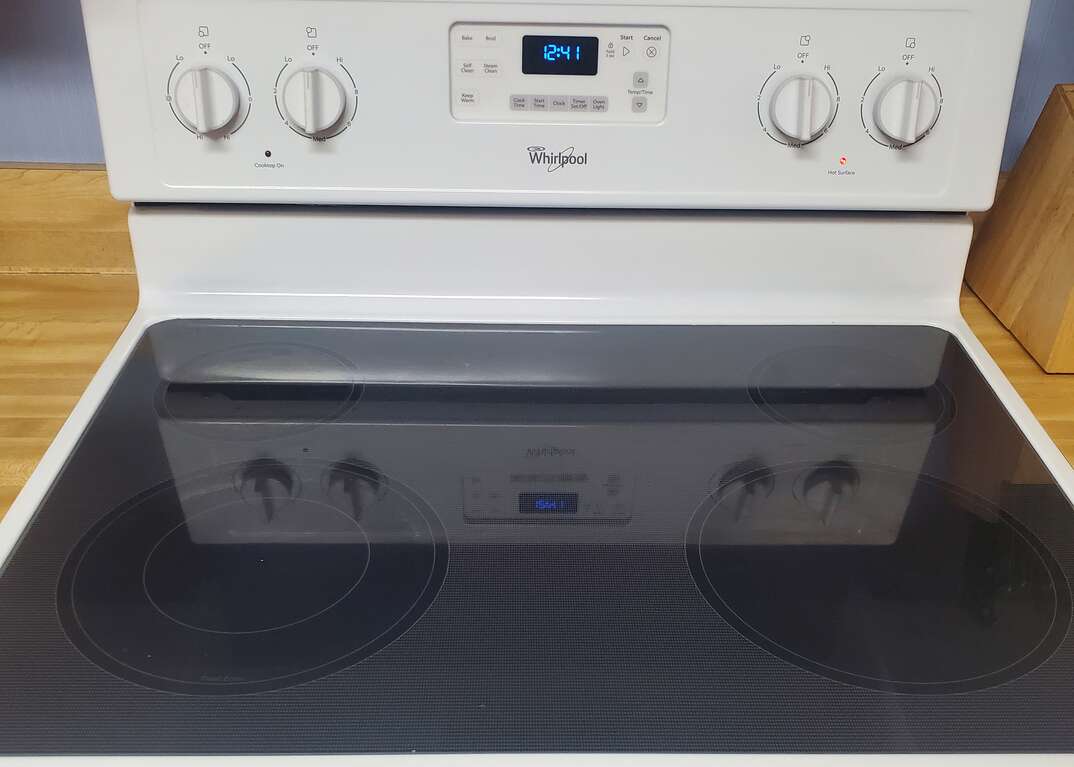 You may have heard about a rumor going around about a ban on gas stoves. We've debunked that particular panic-inducing proposition as it relates to a nationwide ban, but there is some truth to the claim. A few major cities, like Los Angeles and New York, have prevented installations of gas hookups in new builds due to the level of household pollution gas stoves can emit. And many homeowners are just taking the plunge on their own and swapping gas-powered models for electric ones.
If you want to switch from gas to electric in the kitchen, you're probably concerned about cost. Here's what you need to know before you go electric.
Cost of Switching From a Gas Hookup to and Installing an Outlet
One of the costs of replacing a gas stove with an electric stove is installing a dedicated electrical circuit. The National Electric Code requires that major appliances, such as stoves, have their own circuit and that no other appliance can be plugged into that outlet or use that circuit.
Chances are that you have dedicated electrical circuits already run for your refrigerator and appliances such as dishwashers. If you want to install an electric stove in a home that hasn't ever had one, you'll need to run a circuit and install an outlet for the stove.
This work should be done by an electrician or someone very well-versed in home electrical work. On average, it may cost around $300 (CAD 400) to install a new electrical circuit. However, if the location of your stove is more than 30 feet from the electrical panel of your home, it can cost more.
Cost of Disposing of the Gas Stove
In most locations, you can't simply place your old gas stove on the curb and hope the garbage truck hauls it away. Most county or city waste disposal services won't handle appliances or will charge extra for the services. You may have to hire out the disposal to another company.
Start by calling your local municipal service to find out if they will haul the appliance away for free. You might also call a local dump to find out if you can drop off the stove for free and what procedures to follow.
If you buy your new electric stove from an appliance store or major home improvement store like Lowe's or Home Depot, that store may dispose of your old appliance for a fee. Fees might range from $25 to $50 (CAD 35 to CAD 70), though you may be able to negotiate a deal to waive the delivery and disposal fees — especially if you purchase a higher-end stove.
Finally, you can rent a roll-away dumpster and let the dumpster company deal with getting rid of the appliance. This may involve extra fees, though, as the dumpster company will also have to pay them when disposing of the appliance. Dumpsters can cost $200 to $700 (CAD 270 to CAD 950) or more. You might only want to consider this option if you don't have another choice or if you have other things to get rid of. For example, if you're engaging in an overall kitchen remodel on top of swapping out your stove, this might be a cost-effective solution.
More Related Articles:
Cost of a New Electric Stove
The cost of a new electric range can vary widely, depending on a variety of factors. Are you replacing your gas cooktop with induction, or do you want a high-end luxury range with eight burners and multiple cooktop options? These types of appliances may cost more than basic electric stove options.
At The Home Depot in April 2023, for example, electric stove prices range from around $500 to more than $6,000 (CAD 675 to CAD 8,125+). On average, most homeowners are looking at costs ranging from $450 to $2,800 (CAD 600 to CAD 4,000).
Other Associated Costs
Depending on the nature of the installation and the existing electrical setup for your home, you may run into additional costs when switching from a gas stove to an electric stove.
First, if your existing panel doesn't have room for another appropriate dedicated circuit, you may have to get it upgraded. That can cost $800 (CAD 1,100) or more, depending on the size of the upgrade required.
The electrician may need to make cuts in the wall, floor or ceiling of certain areas to run the required electrical components. If that's the case, you may need to install molding, spackle and drywall or otherwise address the holes once the electrical work is done. These can often be DIY tasks, and in that case, you'll only pay the price of the materials required.
Inflation Reduction Act Credits and Rebates Could Cut Costs
As part of the Inflation Reduction Act, you may qualify for up to $840 in the form of a rebate if you purchase a new electric stove. You might be eligible for an additional $500 reimbursement to help pay for the costs of switching from gas to electricity. And if you need to do major work to your home's electrical panel to add another dedicated circuit, you could get up to $4,000 in the form of a tax credit. This all depends on whether you qualify. Visit the Database of State Incentives for Renewables and Efficiency to learn more.
Talk to a Pro
Call to be connected to a local professional
Is It Cheaper to Run an Electric Stove Over a Gas Model?
It really depends on the current fuel and electric costs in your area. In most areas, gas stoves cost less to operate. However, electric stoves are more energy efficient. That means more of the energy you use in operating the stove transfers to the process of cooking the food, so you operate the stove for less time. That could result in savings.
Induction cooktops are the most efficient option. Around 90% of the energy used to operate the stove transfers to cooking the food.
All CAD conversions are based on the exchange rate on the date of publication.
Elocal Editorial Content is for educational and entertainment purposes only. Editorial Content should not be used as a substitute for advice from a licensed professional in your state reviewing your issue. Systems, equipment, issues and circumstances vary. Follow the manufacturer's safety precautions. The opinions, beliefs and viewpoints expressed by the eLocal Editorial Team and other third-party content providers do not necessarily reflect the opinions, beliefs and viewpoints of eLocal or its affiliate companies. Use of the Blog is subject to the
Website Terms and Conditions.
The eLocal Editorial Team operates independently of eLocal USA's marketing and sales decisions.