How Much Does It Cost to Repair a Dishwasher?
by Team eLocal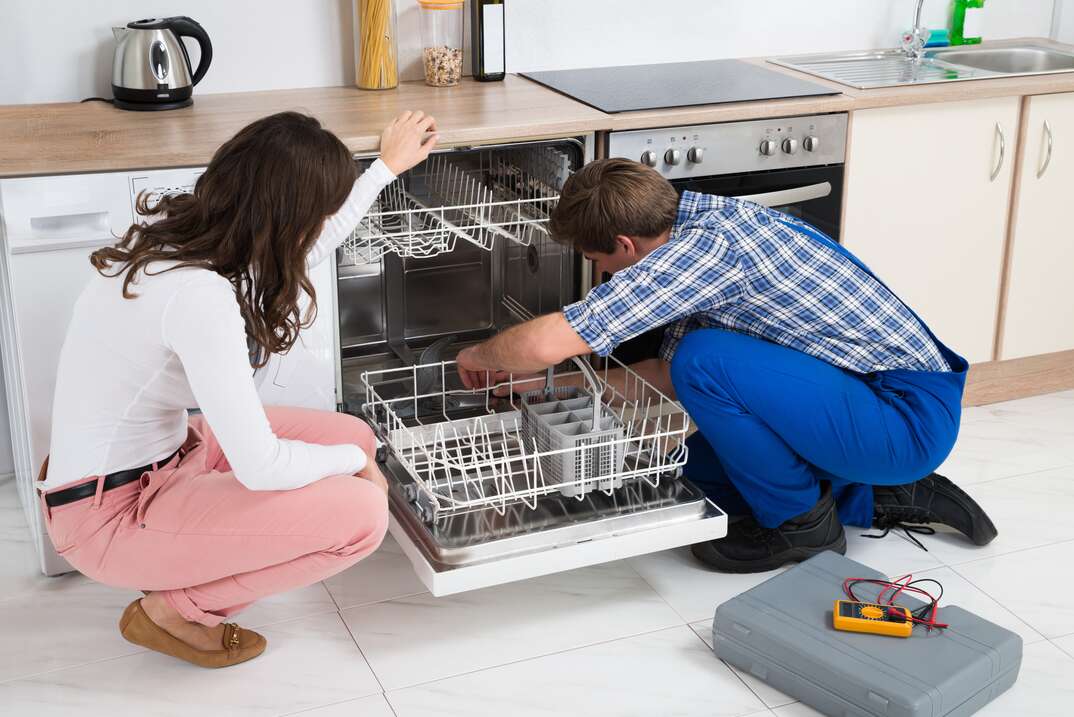 Most people don't enjoy washing dishes by hand, especially if it involves scrubbing caked-on grease and debris from pans. Around 54% of American households own a dishwasher and use it at least once per week, and many have come to rely on this appliance.
Therefore, it's hardly surprising that a broken-down dishwasher can cause significant worry and inconvenience. Fortunately, dishwasher repairs are often cheap and straightforward, but it could be worth replacing an older unit if it develops an expensive fault.
How Much Does the Average Dishwasher Repair Cost?
According to HomeGuide, dishwasher repairs cost between $100 and $300 (CAD 135 and CAD 410) on average. However, how much you'll spend depends on several factors, including typical appliance repair costs in your area and the complexity of the issue. Quick, straightforward fixes could cost as little as $70 (CAD 95), while major repairs can reach up to $650 (CAD 890).
Most appliance repair technicians charge between $50 and $125 (CAD 70 and CAD 170) per hour. However, many companies also charge a minimum callout fee of $70 to $130 (CAD 95 to CAD 175), so you're unlikely to pay less than $70 (CAD 95) for minor repairs taking under an hour. You may incur additional costs if your technician has to travel a long way to reach your property or has issues accessing your dishwasher.
How Much Do the Most Common Dishwasher Repairs Cost?
Replacing a faulty inlet valve is one of the most common dishwasher repairs, and it's also one of the most affordable. You may need a new inlet valve if there's no water supply to your dishwasher or you notice leaks or temperature issues. Expect to spend between $10 and $40 (CAD 13 and CAD 55) for the valve itself and between $80 and $170 (CAD 110 and CAD 230) for parts and labor.
Other cheaper repairs include replacing parts like the filter, seals and drain hose. You may pay $100 to several hundred dollars to repair or replace parts like the drain pump, sprayer arm or motor.
At the other end of the scale, replacing your dishwasher's control board usually costs between $200 and $600 (CAD 275 and CAD 820), including a new board and professional installation. The control board controls your appliance's cycles and can cause error codes and running issues when it fails.
More Related Articles:
Is It Cheaper to Repair or Replace a Dishwasher?
Whether it's cheaper to replace or repair your dishwasher depends on whether the appliance repair cost exceeds the price of a new unit. Dishwasher prices vary by manufacturer, but most homeowners spend between $400 and $1,200 (CAD 545 and CAD 1,635). You'll usually pay an extra $200 to $500 (CAD 110 to CAD 680) if you want your new dishwasher professionally installed.
As the most expensive dishwasher repair is around $650 (CAD 890), it's almost always cheaper to repair your existing unit— particularly if your warranty still covers the costs. However, replacing your dishwasher could be more cost-effective if you need multiple repairs or your dishwasher is nearing the end of its expected lifespan. Dishwasher repairs become less economical once your machine is eight years old or older, especially if it breaks frequently.
How Long Does a Dishwasher Last?
Dishwasher lifespans vary widely between brands. You can expect a budget dishwasher to last up to eight years, while premium units could last for 15 years or longer. You can extend your dishwasher's lifespan for as long as possible by maintaining it carefully and having small issues repaired as quickly as possible.
All CAD conversions are based on the exchange rate on the date of publication.
Elocal Editorial Content is for educational and entertainment purposes only. Editorial Content should not be used as a substitute for advice from a licensed professional in your state reviewing your issue. Systems, equipment, issues and circumstances vary. Follow the manufacturer's safety precautions. The opinions, beliefs and viewpoints expressed by the eLocal Editorial Team and other third-party content providers do not necessarily reflect the opinions, beliefs and viewpoints of eLocal or its affiliate companies. Use of the Blog is subject to the
Website Terms and Conditions.
The eLocal Editorial Team operates independently of eLocal USA's marketing and sales decisions.