Do I Need to Scrape my Tongue?
by Lee Soren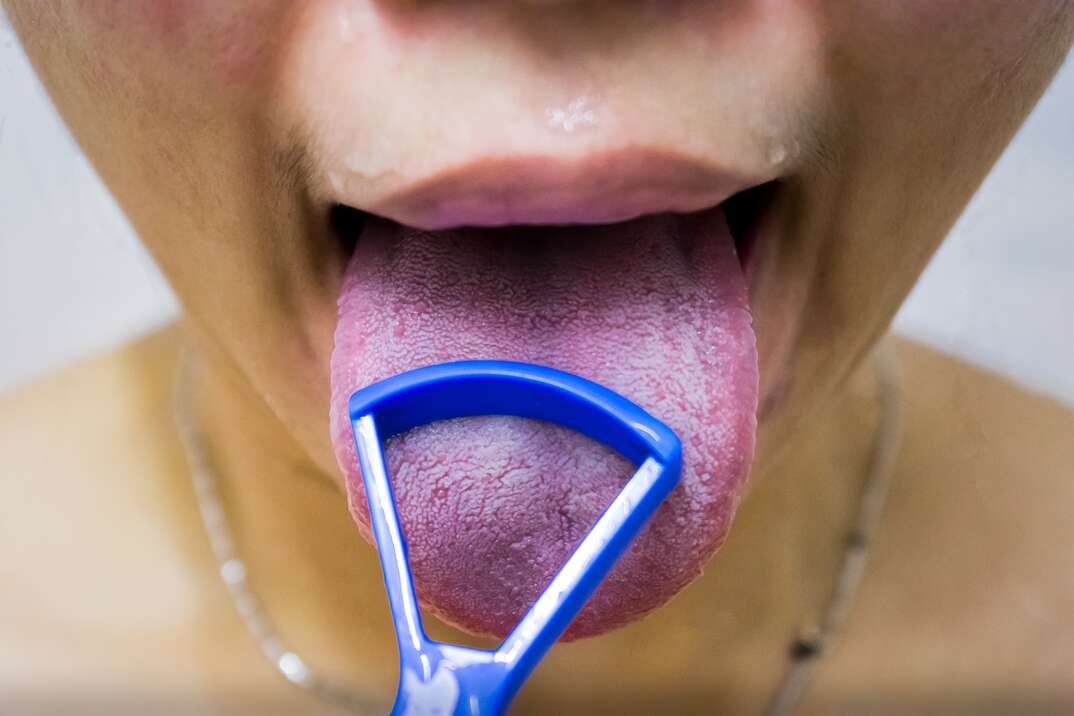 You can have a sharp tongue if you're angry, and you might hold your tongue rather than say something you'll regret. Sometimes, if you don't have the right words, the cat may even get your tongue. But, when it comes to your oral health, a clean tongue is highly underrated.
Fortunately, you can keep your tongue clean and fresh through a process known as tongue scraping. Here's why you may want to incorporate this lesser-known aspect of dental hygiene into your daily routine.
What Is Tongue Scraping?
Tongue scraping is a method of tongue cleaning in which you remove buildup from your tongue using a tool called a tongue scraper. It's done by gently running the tool along the top of your tongue until your tongue feels clean. This practice, which has been around for centuries, can potentially freshen your breath, enhance your taste and improve your overall oral health.
Talk to a Pro
Call to be connected to a local professional
What Does Tongue Scraping Do?
Tongue scraping removes plaque and other debris, such as food particles, dead cells and bacteria, which can build up on the surface of your tongue. According to a study published by the National Library of Medicine, tongue scraping has been shown to significantly reduce plaque levels in children.
The potential benefits of tongue scraping may also include:
A cleaner-feeling mouth
Fewer odor-causing bacteria that lead to bad breath
Lowered risk of gum inflammation and disease
Fewer cavities
Reduced risk of cancer, heart disease and other serious illnesses linked to oral health
Diminished white or filmy appearance
Improved taste discernment
Do You Need to Scrape Your Tongue?
Keeping your mouth healthy is important, but to date, studies on the benefits of scraping your tongue are limited. The American Dental Association currently doesn't have formal recommendations for tongue scraping, and tongue scraping should never replace brushing and flossing.
Ultimately, deciding whether to scrape your tongue comes down to personal preference. If you don't like the feel of tongue scraping, you can also opt to brush your tongue with your toothbrush, which can deliver similar benefits.
Are Tongue Scrapers One-Size-Fits-All?
Tongue scrapers come in various sizes, shapes and materials, including:
Plastic scrapers: If you want to try tongue scraping, a plastic device may be an ideal choice. These tools consist of one or more U-shaped plastic wires, and they may or may not have a handle. Plastic scrapers are typically inexpensive and should be replaced frequently. Disposable options are also available.
Metal scrapers: Scrapers made from stainless steel, copper and other durable metals don't need to be replaced as often. Although they're more costly than plastic scrapers, they can last indefinitely if cared for properly.
Brush scrapers: Brush scrapers often resemble toothbrushes, and they may have either bristles or ridges. Because they're narrower than other types of scrapers, they may require several passes to clean your entire tongue. Brush scrapers should typically be replaced every few months.
Tongue cleaners of all kinds can be purchased at most drugstores for less than $10.
More Related Articles:
What Can Happen If You Don't Scrape Your Tongue?
If you don't clean your tongue regularly, debris — including harmful bacteria — can build up on the surface. This buildup can potentially cause bad breath, dull your sense of taste and negatively impact your overall oral health.
How Often Should You Scrape Your Tongue?
Colgate recommends cleaning your tongue twice daily, so try adding tongue scraping to your morning and evening oral hygiene routine. To maximize the benefits, brush and floss your teeth first. Then, after rinsing your mouth, run a tongue scraper (or the edge of a metal spoon) along the top of your tongue, starting at the back and working forward. Use light pressure and rinse off the scraper before making another pass. When your tongue feels clean, rinse out your mouth again.
Run the tongue scraper under warm water, so it's ready for the next use, and store it in a clean, enclosed place. If you leave your scraper on the bathroom counter, it can accumulate harmful bacteria.
Will Tongue Scraping Hurt?
Tongue scraping typically shouldn't hurt. Scrapers are designed to be gentle on your mouth and won't cut your tongue. If you feel pain during scraping, apply less pressure to the device.
Tongue cleaning can stimulate your gag reflex. If this happens, start by scraping only the front part of your tongue. As you grow accustomed to scraping, slowly begin to move farther back as tolerated.
If you do have pain when cleaning your tongue, contact your dentist for a professional evaluation.
Elocal Editorial Content is for educational and entertainment purposes only. The information provided on this site is not medical advice. Editorial Content is not intended to be used for diagnosis or treatment. We are not physicians or a substitute for advice from a physician. The opinions, beliefs and viewpoints expressed by the eLocal Editorial Team and other third-party content providers do not necessarily reflect the opinions, beliefs and viewpoints of eLocal or its affiliate companies. Use of the Blog is subject to the
Website Terms and Conditions.
The eLocal Editorial Team operates independently of eLocal USA's marketing and sales decisions.