Why Is My Dentist Upselling Me?
by Shelley Frost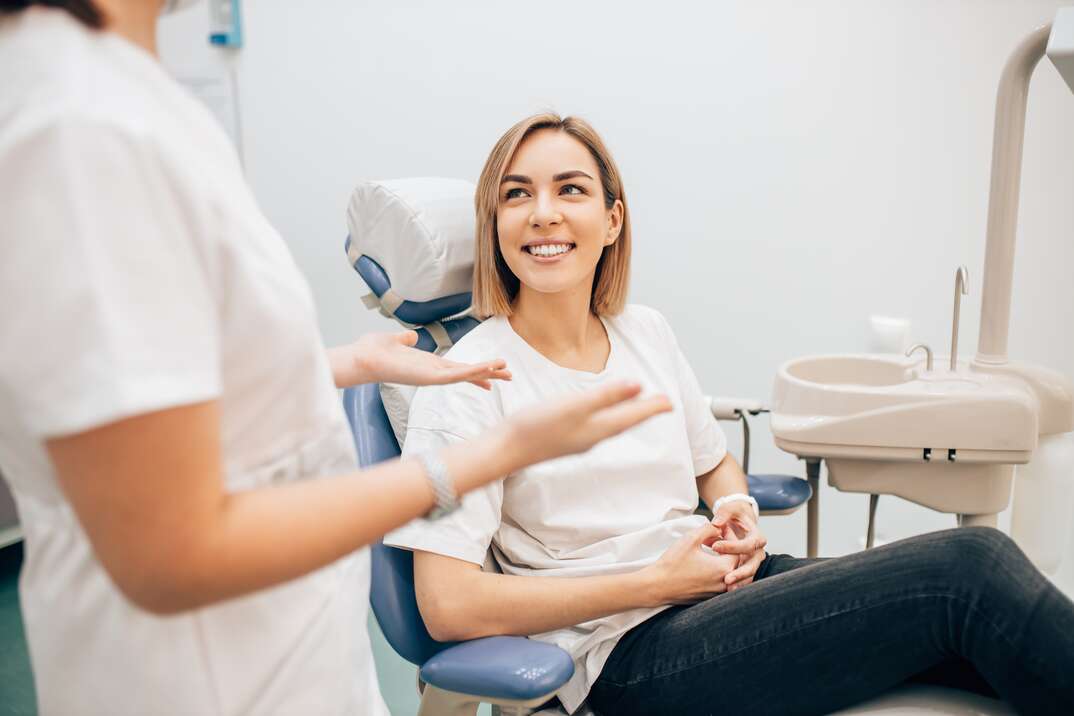 "Would you be interested in a fluoride treatment today?" If this sounds like something your dentist has said, you may be frustrated at their attempt to "upsell" you during your appointment.
Are you tired of your dentist upselling you when you just want a checkup? Most people aren't dental pros, so they don't know which services are worth it and which ones are offered purely to make money.
Why Does My Dentist Ask Me About Extra Services That Cost More?
A typical dental checkup includes specific services, such as a professional cleaning, X-rays and an exam. Extra dental services that your dentist thinks you might need are optional and in addition to those included items. A dentist upselling you those services could simply be informing you of the additional options so you can make a decision about them.
In some cases, it could be a service that only certain people need based on their situation. Fluoride treatments are usually only beneficial if you have a high risk of cavities, for instance. If your dentist spots the early signs of decay or recognizes risk factors in your life, they might offer that treatment.
Sometimes, those extra services aren't covered by insurance. In the fluoride example, in-office dental treatments are usually covered by insurance for kids but not for adults. Your dentist might offer those services separately because they won't fall under your insurance coverage.
In some cases, a dentist upselling a patient could simply be to make more money. The more services they perform, the more income the office has.
Talk to a Pro
Call to be connected to a local professional
Do These Services Actually Work, or Are They a Scam?
Most dental services your dentist offers do work. Fluoride can help strengthen your tooth enamel and prevent cavities. Deep cleanings can help treat gum disease. However, not everyone needs these services. Most extra services should be offered because of a dental concern. For instance, scaling and root planing, which is a deep-cleaning procedure, is usually only necessary if you have chronic periodontitis. If your dentist pushes you to get a service that you don't think you need, they could be upselling you to make money.
Do Dentists Get Commissions for Selling These Services or Products to You?
A dentist might not necessarily get a commission to upsell you, but they can make more money for the dental practice. Convincing you to get extra treatments or services you don't need means they can bill the insurance company and get paid for those services. If you're paying out of pocket, they also earn more money.
Some dental offices might have sales quotas for the extras they push. Dentists and hygienists might receive bonuses for selling items. This is more common at chain dental offices backed by private investors.
How Do You Tell If Your Dentist Is Trying to Sell You Something Useful?
There are some signs to look for that could indicate your dentist is recommending an unnecessary procedure. This includes:
Strong sense of urgency to complete the treatment
Very few details about the procedure or why you need it
Special deals that seem scammy or too good to be true
Recommendations for extensive and unexpected work
Start by finding a dentist you trust. If you always feel like your dentist is upselling you or pushing unwanted services, it could be time for a new dentist. Getting a second opinion on extensive dental services can also help you determine if you really need those things or if your dentist is just trying to get more money out of you. When looking for a dentist, avoid offices that offer special deals, such as free tooth whitening, to get you to see them. They might be more likely to push you into more services once you walk in the door.
Ask your dentist for proof of why they're recommending extra services. For example, if they recommend a deep cleaning, they should be able to show you the signs of periodontitis. If they want you to get a fluoride treatment, they should give you specific risk factors that make you more susceptible to tooth decay. They should be willing to show you the X-rays or other evidence that you need a specific treatment.
Elocal Editorial Content is for educational and entertainment purposes only. The information provided on this site is not medical advice. Editorial Content is not intended to be used for diagnosis or treatment. We are not physicians or a substitute for advice from a physician. The opinions, beliefs and viewpoints expressed by the eLocal Editorial Team and other third-party content providers do not necessarily reflect the opinions, beliefs and viewpoints of eLocal or its affiliate companies. Use of the Blog is subject to the
Website Terms and Conditions.
The eLocal Editorial Team operates independently of eLocal USA's marketing and sales decisions.