How Much Does Radiant Floor Heating Cost?
by Hannah Stephens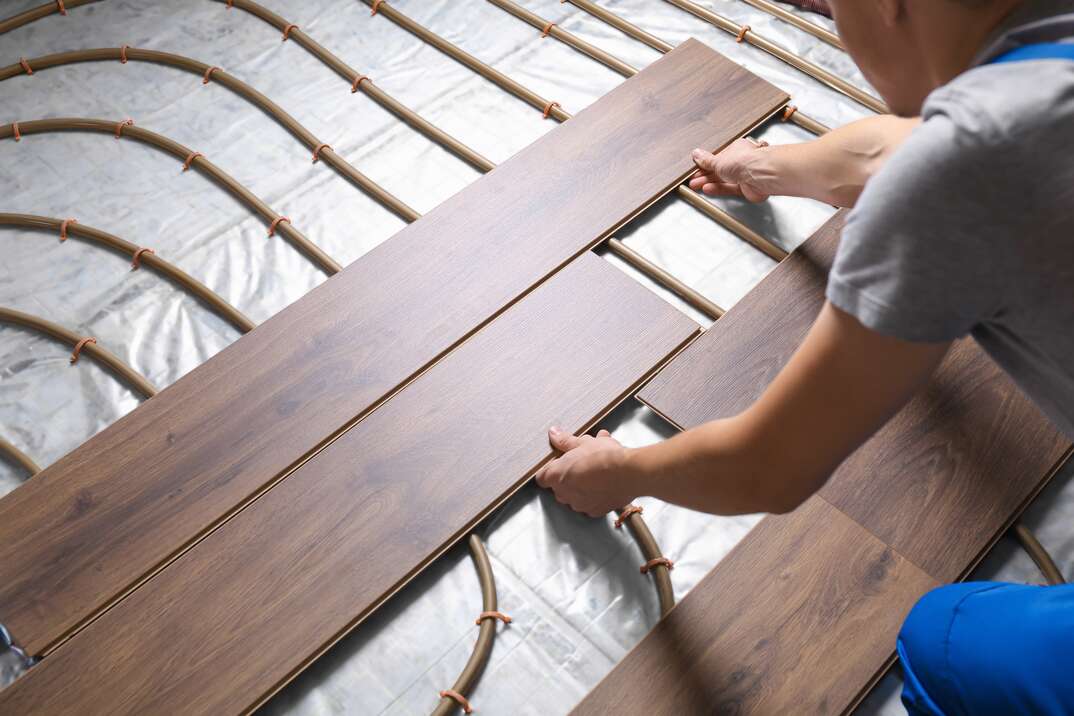 If you can't bear the feeling of a chilly floor underfoot, radiant floor heating could be worth considering. These systems warm the floor and surrounding room so you won't get a shock when you step out of the shower or get out of bed.
Read More Heating and Cooling Articles
Pricewise, radiant floor heating systems can be expensive. Here's what to know about costs before you go ripping up your floor to begin this project.
What Is Radiant Floor Heating?
Radiant floor heating systems use pipes, wires or mats under the floor to generate heat. This heat radiates throughout the room to keep your home warm. While installing radiant heating systems is often more expensive than traditional options, it's usually more energy efficient.
Talk to a Pro
Call to be connected to a local professional
How Much Does It Cost to Install Radiant Floor Heating in a New Build?
Installing floor heating in a new build is often cheaper than installing it in an existing home. Understanding the cost difference between the most common types of radiant heat flooring can help you choose the best option for your budget. (Pricing data from LawnStarter)
Hydronic Heated Floors
Hydronic radiant heat flooring consists of a network of pipes beneath the floor. Hot water flows through the lines from a boiler or water heater to warm the room. These systems are ideal for larger areas and cost less to run than electric systems, but they can take longer to heat up. You'll also need to invest in regular maintenance.
Most homeowners spend between $6 and $20 (CAD 8 and CAD 26) per square foot on hydronic radiant heating, including materials and labor. Geothermal systems draw heat from the earth via a heat pump and cost between $5 and $16 (CAD 6.60 and CAD 21) per square foot. Propane-powered systems are slightly more expensive at $6 to $18 (CAD 8 to CAD 24) per square foot.
Electric Heated Floors
Electric heated floors are budget-friendly and ideal for small rooms, like bathrooms. However, they're unsuitable for larger areas and can be costly to run. On the other hand, they require minimal maintenance and heat up quickly.
Installing an electric radiant heat system involves placing electric mats or cables beneath the floor. The mats or cables heat up when electricity passes through. Most companies charge between $8 and $15 (CAD 10.55 and CAD 20) per square foot for materials and labor.
Solar Heated Floors
Solar-powered radiant heat flooring is the most expensive option at $11 to $17 (CAD 15 to CAD 22) per square foot. However, it costs significantly less to run than other floor heating systems because it generates energy from sunlight. This environmentally friendly solution is ideal for sunny areas, but it may be unsuitable if you live in a colder climate.
More Related Articles:
How Much Does Radiant Floor Heating Cost in an Existing Floor?
The cost to install heated flooring in an existing building is similar to a new build. However, you may pay extra to prepare the floors.
Removing existing flooring costs between $1 and $4 (CAD 1.32 and CAD 5.28) per square foot. You may also need to reinforce or replace your subfloor to support your new floor heating system. Subfloor replacement costs between $2 and $7 (CAD 2.64 and CAD 9.23) per square foot.
What Factors Impact the Cost of Flooring With Radiant Heat?
Several factors can affect how much installing radiant floor heating costs. Exploring these cost factors makes it easier to anticipate hidden costs and budget more accurately.
New Thermostat
Installing a smart thermostat allows you to control the temperature inside your home automatically. Thermostats compatible with radiant heat flooring typically cost between $200 and $500 (CAD 264 and CAD 660) installed.
Water Heater or Boiler Installation
If you're installing a hydronic system, you may need a new boiler or water heater. According to Architectural Digest, most homeowners pay between $1,200 and $16,000 (CAD 1,626 and CAD 21,700) for a new boiler and installation labor. Meanwhile, installing a water heater typically costs about $1,400 (CAD $1,900), on average, based on data from Forbes.
Flooring Material
The type of flooring covering your radiant heat system can significantly impact how much your project costs, because you'll need to pay to replace it after the system is installed. Vinyl and carpet are cheaper options, while something like hardwood or tile could cost a pretty penny, depending on the exact material you use.
All CAD conversions are based on the exchange rate on the date of publication.
Elocal Editorial Content is for educational and entertainment purposes only. Editorial Content should not be used as a substitute for advice from a licensed professional in your state reviewing your issue. Systems, equipment, issues and circumstances vary. Follow the manufacturer's safety precautions. The opinions, beliefs and viewpoints expressed by the eLocal Editorial Team and other third-party content providers do not necessarily reflect the opinions, beliefs and viewpoints of eLocal or its affiliate companies. Use of the Blog is subject to the
Website Terms and Conditions.
The eLocal Editorial Team operates independently of eLocal USA's marketing and sales decisions.